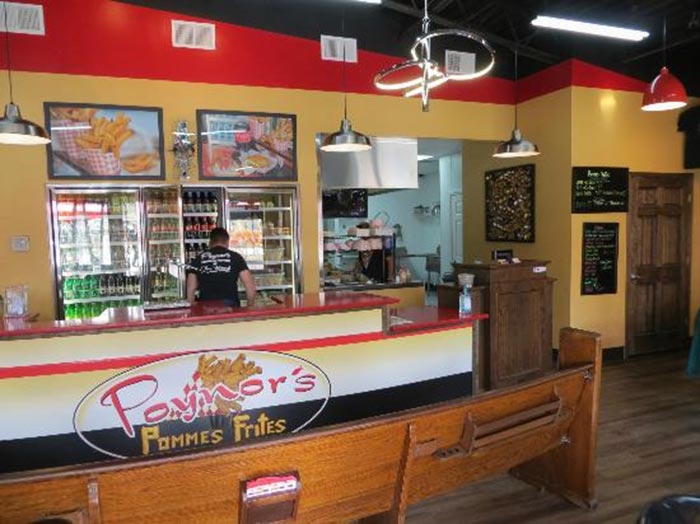 Looking for unique Pigeon Forge restaurants? Look no further than Poynor's Pomme Frites – a bit of Belgium in the Smoky Mountains. Specializing in authentic German food, you'll love the brats, pomme frites (that's French fries for those of you who's high school French is a tad rusty), and their unique specialty dessert – spaghetti ice.
Located in The Island Pigeon Forge, this restaurant offers guests a chance to grab some great street food to enjoy while walking around the center, looking through shop windows, enjoying kids rides, and planning a trip up the Smoky Mountain Wheel.
So, when you head out from your Pigeon Forge cabin, make sure to include this one of a kind restaurant on your itinerary for a day of excitement and adventure in the Smokies.
Brats Galore at Poynor's Pomme Frites
Nothing says "German food" quite like a delicious brautwurst. Poynor's Pomme Frites offers several varieties of this German specialty. Not a bratwurst connoisseur? Not to worry! The husband and wife duo who own this unique establishment will happily point out which wurst will delight your taste buds. All brats come on fresh baked brotchon and you can always add sauerkraut for an additional charge. Here's a sample of the delicious brats you can enjoy at Poynor's:
Original-

A delicious, lightly seasoned brat made from Pork and Veal



Currywurst –

A lightly seasoned brat made from pork and veal that comes served sliced or whole with ketchup and curry powder



Veal–

All beef brat, lightly seasoned with lemon zest



Nuemberger –

Bratwurst made with veal and pork, lightly seasoned



Thueringer –

Smoked Pork & Beef bratwurst



Weisswurst –

Bratwurst made from pork, veal, lightly seasoned with a dash lemon zest.



Knackwurst –

Slightly smoked brat made from pork and beef and lightly seasoned.
Pomme Frites –The Royalty of French Fries at Poynor's Pomme Frites
At Poynor's, making French fries is serious business. These aren't frozen fries thrown in a deep fryer. It takes 2 days to make these fries taste like they do. They start with a fresh potato, soak it in a secret mixture, quick fry it, dry it, chill it, deep fry it again and serve it up with their unique selection of sauces. Choose from 25 sauces, including:
The Black Forest Sauce –

The house signature. A creamy roasted garlic mayo

Pffefferkorn -

A unique peppercorn ranch

Bohemian Kase -

Warm cheese sauce

Cuc-koo -

A delicious horseradish based sauce
Curry Ketchup
Rosemary Garlic Mayo
Lemon Dill Mayo
Spicy Pineapple Mayo
Sweet Chilli
And more!
With so many flavor combinations, your taste buds will be craving to try more of the flavors offered here later in your trip. You can choose from regular or large serving sizes, allowing you to share as much (or as little) as you choose to with friends and family.
Poynor's Pomme Frites' Absolutely Unique Dessert
Hopefully, you'll have saved enough room for the highlight at Poynor's – its signature dessert, Spaghetti Ice! Italian immigrant Dario Fontanella in Mannheim, Germany invented this dessert, which is model to look like your average plate of spaghetti, in the late 1960's. Although, not well known outside of Germany, Spaghetti Ice (Spaghettieis in German), is truly a sight to behold.
First, your server will run vanilla bean ice cream through a pasta maker, creating noodles of sweet ice cream. Then, a delicious "marinara" of raspberry or strawberry sauce is drizzled over the ice cream noodles. The sauce is then topped with flecks of white chocolate "parmesan." Of course, no spaghetti would be complete without meatballs, so your delicious dessert is topped with chocolate hazelnut chocolate balls. Two gingerbread "breadsticks" accompany your sweet spaghetti treat.
Poynor's also offers fresh baked cookies as well as a special ice cream sandwich made with these delicious fresh baked cookies called the Achtung Landon Slide.
Final Thoughts on Poynor's Pomme Frites
Poynor's Pomme Frites Pigeon Forge offers vacationers a unique restaurant where you can enjoy a great taste of German food. From its selection of quality bratwursts to its large selection of sauces to enjoy with their delicious pomme frites, this restaurant proves you don't have to travel the world to get a unique taste of its flavors. Make sure to add one of the most unique Pigeon Forge restaurants to your itinerary of restaurants to try on your vacation.
Contact:
Poynor's Pomme Frites
131 The Island Drive
Suite 3107
Pigeon Forge, TN 37863
865-774-7744
B
- Poynor's Pomme Frites
Written by Brittany Tipton