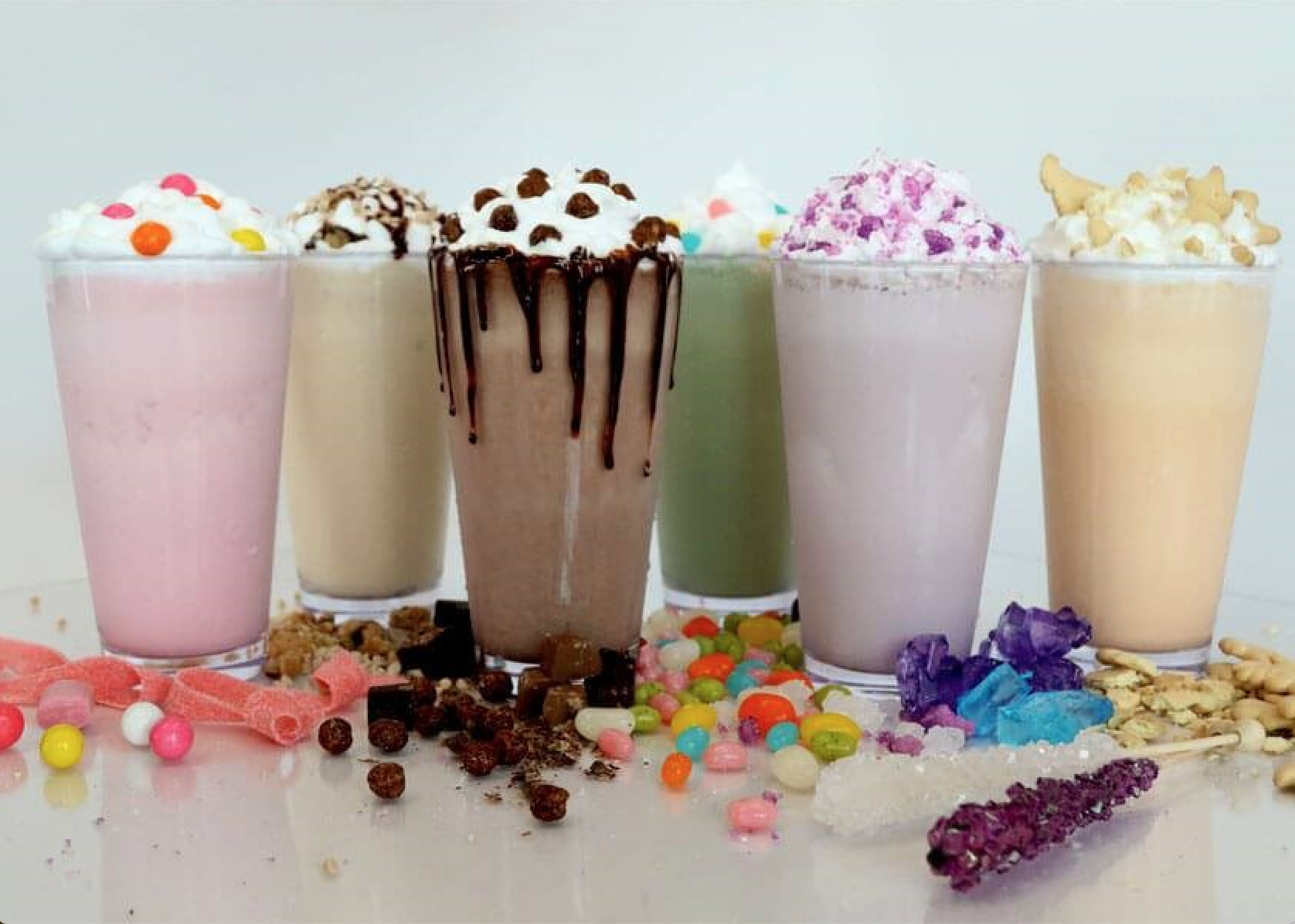 Have a hankering for mini-golf and sweets? Get them all in one stop at Crave Mini-Golf in Pigeon Forge. With both an indoor and outdoor putt-putt course, mini-bowling, a sweet shop, and a milkshake bar, this Pigeon Forge attraction offers a sweet family outing on a spectacular Smoky Mountain vacation. It's no surprise that this attraction was voted the best mini-golf in Pigeon Forge and featured by the Travel Channel as one of the top 13 mini-golf courses in the country!
This unique attraction features candy-themed decorations, making delightfully delectable mini-golf courses that resemble a Candy-Land Board game. There's even a new wacky way to play golf at this Pigeon Forge mini-golf attraction. Play "Crave Style" to add another layer of fun to your family's golf game. Spin the disk in front of each hole before teeing off and follow every wacky direction you land on. Additionally, if you land on a candy or ice cream icon, mark it on your scorecard. When you collect 19 candies or 19 ice creams, you can exchange them for a sweet treat at the concession stand. Here's more of what to expect at Crave Mini-Golf:
Outdoor Golf Course:
Crave Mini-Golf Pigeon Forge boasts a two-tiered outdoor golf course with 19 holes of candy-themed fun. Golf your way through the candy sculptures of Rock Candy Mountain, Bubblegum Garden, and Jellybean Jungle, complete with giant lollipops, bubble gum trees, rock-candy stalagmites, and more.
This fully-handicap accessible course starts on the grounds level, winds up a hill, and then onto the roof. Multi-challenge holes offer more than one way to bring in a sweet victory at this fun attraction that offers competition and challenging holes for all ages!
Indoor Course: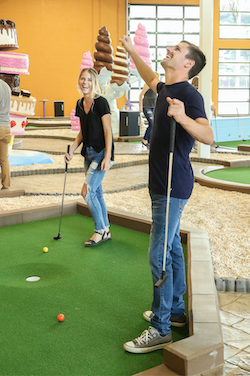 Rainy day? No problem! Crave's indoor golf course in Pigeon Forge offers a sweet escape for any weather. With cocoa cliffs and ice cream canyons, you'll embark on a "Sugar Safari" on this 19-hole course.
Mini-Bowling
Enjoy some more family fun in the Smokies with a round of mini-bowling at Crave Pigeon Forge. Complete with cool lighting effects and placed in a sleek lounge with modern décor, you'll enjoy all the fun of traditional bowling but with a faster pace (and even better - no ugly, worn bowling shoes). This is bound to be a fun activity for everyone in the family!
Sweet Shop and Milkshake Bar:
All the fun and excitement of mini-golf or mini-bowling is bound to work up an appetite. Why not swing by the Crave's Sweet Shop or Milkshake Bar on the way out?
The Sweet Shop offers a chance to mix and match your favorite sweets with pay-by-the-pound containers of favorite sweets as well as zany sweets like 4-foot Pixie sticks!
The Milkshake Bar offers another chance to enjoy some sweet treats. Create your own indulgent creation or chose from one of 6 signature shakes that include:
Bubblegum Garden Milkshake- Super Rainbow and strawberry ice cream combined with pomegranate and cotton candy flavor shots come together to create a shake combination that pops. Topped with bubble gum.

Cocoa Cliffs - A chocolate lover's dream! Chocolate ice cream and syrup make up this delightful treat. Topped with cocoa puffs
Rock Candy Mountain- With vanilla ice cream and cherry, orange, raspberry, and grape shots, this sweet treat is a delightfully fun purple!
So, whether you decide to golf indoors or outdoors or just swing by for a sweet treat, you can enjoy awesome attractions like Crave Mini-Golf when you stay at Pigeon Forge Cabin rentals that place you close to the Parkway!
Contact:
Crave Golf Club
2925 Parkway
Located between lights 4 & 5 on the Parkway
Pigeon Forge, TN 37863
865-366-3403
B
- Crave Mini-Golf Pigeon Forge
Written by Brittany Tipton