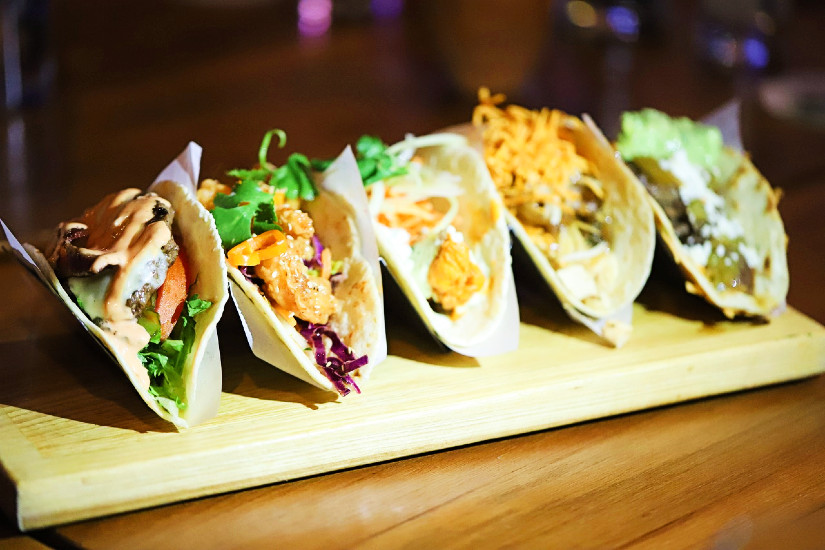 When vacationing in Pigeon Forge with your favorite people, there's no chance food isn't high on your list of priorities. By checking out Azul Cantina in Pigeon Forge, you'll enjoy an innovative cuisine mixed with Tex-Mex classics, ensuring nothing less than a satisfied appetite.
About Azul Cantina
The goal for the team behind Azul Cantina is to put a twist on traditional Tex-Mex dining that's packed with flavor by using wood-grilling methods and traditional Mexican cooking styles.
We have to say, they more than deliver. Every recipe is made from scratch with authentic ingredients for an authentic experience. In addition to excellent food, the atmosphere is fun and inviting, making the restaurant easily one of the best places to eat in Pigeon Forge.
Breaking Down Menu Options
While this list is by no means all-inclusive, you'll see a wide range of options below to provide an idea of what to expect when you arrive:
Appetizers
Chips & Salsa Flight: Fire-roasted salsa, salsa verde, and Azul cremiso salsa served with Azul chips.
Elotes Ribs: Sweet corn quartered into ribs and fried, tossed in Tanjin, cotija cheese, cilantro, lime, and elote sauce.
Matcha Wings: Mesquite smoked wings tossed in spicy salsa matcha, served with jicama and avocado dressing.
Fresh Made-to-Order Guacamole: Traditionally prepared guacamole served with Azul chips.
Entrees
Hamburguesa: Freshly ground beef, Oaxaca cheese, red chili sauce, lime crema, mustard, pickles, and lettuce on a gourmet bun served with roasted jalapeno and potato wedges.
Birria Burrito: Braised beef with special spice mix wrapped in a tortilla, topped with crema, pico de gallo, and shredded lettuce, served with dipping consommé, rice, and beans.
Pork Carnitas Tacos: Shredded seasoned pork, grilled pineapple, and marinated cabbage medley topped with ranchero sauce and served with refried beans and rice.
Shrimp Taco: Grilled shrimp topped with marinated cabbage medley, pico de gallo, cilantro puree, roasted jalapeno, served with refried beans and rice.
Ancho Dry Rub Ribeye: Certified Hereford ribeye grilled on a wood-fired open flame, topped with Ancho chili compound butter, and served with potato wedges, charro beans, and rice.
Desserts
Churros: Hot cinnamon and sugar-dusted churros served with chocolate, strawberry, and caramel dipping sauces.
Tres Leches: Traditional vanilla cake drizzled with caramel, smoked flake salt, and covered with three cream sauce.
In addition to excellent food, Azul Cantina boasts a fully developed bar, leading to several drink options, from wines and beers to margaritas, frozen cocktails, and more. Whatever you like, you'll find something that appeals to your tastebuds.
Final Thoughts on Azul Cantina in Pigeon Forge
Between the welcoming atmosphere, friendly staff, and incredible food, you can't go wrong with making Azul Cantina in Pigeon Forge one of your stops on your next vacation in the Smoky Mountains.
Contact:
Azul Cantina
2655 Teaster Lane
Pigeon Forge, TN 37863
865-409-5852