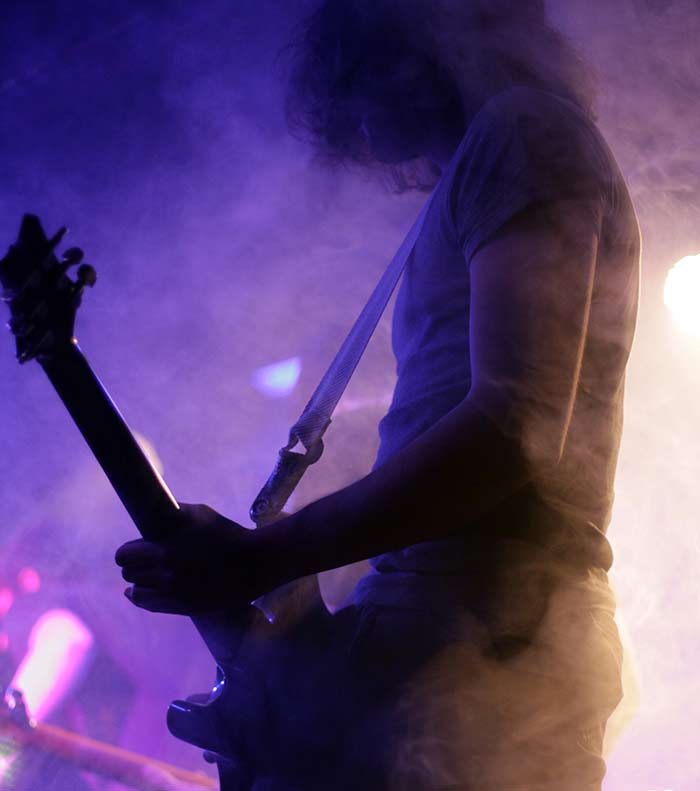 Live Rock N Roll Theater presents a rock and roll show that brings rock favorites from the 50's to today to the stage of this show in Pigeon Forge. Rock out to the sound of wailing guitars, pounding drums, and slick bass riffs. Enjoy hits from every era of the genre as preformed by this rock show in Pigeon Forge's talented band.
Live Rock N Roll's superb Rock and Roll Show in Pigeon Forge
Imagine walking into the theater. The lights are dim. The lead singer of the band grabs the mic stand as he wails along with the raucous sounds of powerful guitar riffs, the thumping of the bass drum, and the driving rhythm of the bass. Top of the line lighting adds to the ambiance as the band plays some of your favorite rock songs.
Everyone loves a good rock show. Pigeon Forge boasts many country theater shows, but few that focus solely on rock. Let the stunning live performances at this rock show in Pigeon Forge take you back in time to revisit the hits from every era. From the "I Wanna Hold Your Hand" to a "Whole Lotta Love," these talented musicians will perform some of your favorites. With three stages and ample seating this is a rock show in Pigeon Forge that is not to be missed. See one of three stellar performances!
Remembering the 80's - Hear the music from the era of prosperity, decadence, and excess of an era not to be forgotten. From songs from the blockbuster hits of the decade to the wailing guitars and vocals of hair metal, watch as your favorite artists from the era come to life on stage before you in this rock and roll show in Pigeon Forge.
Rockin' Comedy Hour - Looking for laughter and great music all in one place? This late night, adult rock show in Pigeon Forge provides edgy comedy along with some of your favorite rock and roll hits. Offering SNL type sketches and improv comedy, this show will have you cracking up all night.
The History of Rock n' Roll Concert - This uplifting, family-friendly rock and roll show in Pigeon Forge takes the audience on a journey through the history of rock. Follow Johnny, an aspiring rock star looking to make it big in the music industry, as he along with the "Ghost of Rock n' Roll" journey from the 50's to today in an attempt to save rock and roll. Sing along to everything from KISS to Nirvana.
Whichever rockin' experience you choose, you're sure to be singing along and tapping your toes to the performers talent and passion for the raw, gritty music of rock and roll, which can't be found at the other Pigeon Forge theater shows. Don't pass up the chance to take a souvenir photo with Gene Simmons before you leave!
Save at the Live Rock n' Roll theater's Rock Show in Pigeon Forge
While you can choose to see only one of rock and roll show, save when you purchase the the "Rockin' Three Bundle," which gives you access to all three of these exciting Pigeon Forge theater shows! This amazing value provides you with three shows to see during your unforgettable trip to the Smoky Mountains.
Stay close to fantastic Pigeon Forge theater shows!
When you stay in one of Cabins USA's cabin rentals in Pigeon Forge, TN, vacationers to the Smokies receive the benefits of proximity to all the attractions and entertaining Pigeon Forge Theater Shows, including Memories Theater Pigeon Forge, as well as the space and comfortable amenities of a home away from home. Come see why a cabin vacation is the best way to enjoy the Smokies and all it has to offer.
Contact:
Live Rock N Roll Theater
2135 Parkway
Pigeon Forge, TN 37863
865-908-5400
B
- Live Rock N Roll Show Pigeon Forge Tennessee
Written by Brittany Tipton