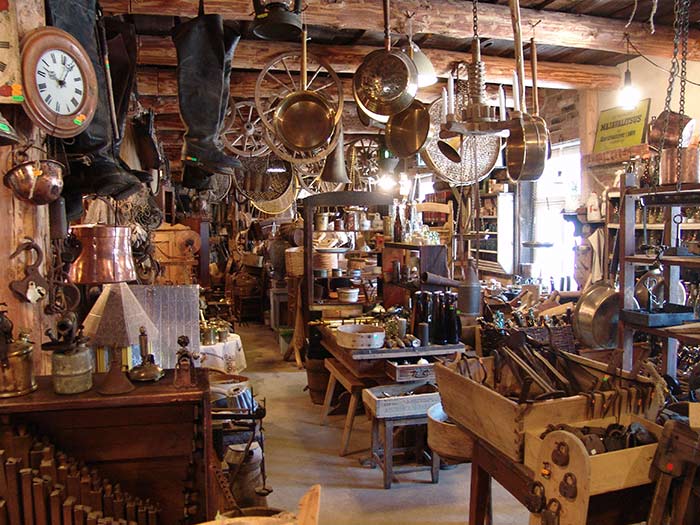 Gatlinburg Antiques shopping offers visitors to the Smokies a chance to buy a piece of East Tennessee history. From furniture to fun bric-a-bracs from a bygone time, collectibles to antique china, Gatlinburg Antiques offer a glimpse at life in the area's past. Spend the afternoon browsing through these stores' offerings and looking for relics from East Tennessee's interesting history when you go Gatlinburg Antiques shopping!
Entering into a Gatlinburg Antiques shop, the musk of well-loved items from a time long-ago fills the air. Old oak armoires and cherry tables stand as a reminder of an era when furniture didn't come disassembled in boxes, but when each piece was carefully crafted by a carpenter. Glassware in shades of green,blue, and red rest on the shelves, nestled in between treasured trinkets from another time - a ceramic salt and pepper shaker set, a lone tea cup, or a souvenir coffee mug. Gatlinburg Antiques shopping provides shoppers with the opportunity to discover items from their grandparents or great-grandparents lifetimes (perhaps even further back) and experience nostalgia for a different time and a different way of life.
Gatlinburg Antiques shopping gives shoppers a chance to find one-of-kind pieces from the Tennessee Valley as well as around the globe. Whether you are looking for an antique table for your dinning room, primitive home decor, a project to refurbish yourself, or high-end treasures from Europe, there is a Gatlinburg Antiques shop that suits your needs and your budget. Schedule a day for fun-filled Gatlinburg Antiques Shopping and step back into time with the treasures these stores contain.
Gatlinburg Antiques
Mountain Girls Primitives
204 Glades Rd,
Gatlinburg, TN 37738
(865) 430-2141
Mountain Girls Primitives provides shoppers with a wide assortment of Gatlinburg Antiques. Every item in the store is locally-produced and handmade. Specializing in primitive decor (everything from painted windowsills to adorable wool bunnies) and offering a wide assortment of antique furnishings, this shop stocks almost everything you'd want to find on your Gatlinburg Antiques Shopping trip. Stop by to find candles, signs, and furniture to give your home that country flair you want!
Morton's Antiques Coins
407 Parkway, Gatlinburg, TN 37738
(865) 436-5504

This Gatlinburg Antiques shop stands above the rest with its selection of high-end European and American antiques. Featuring pieces from RS Prussia, Dredson, and Tiffany, these quality pieces stand as the epitome of fine decor of their era. In addition to high-end antiques, Morton's offers collectible coins, paper money, and baseball cards. Come in to buy a truly unique treasure for your antiques collection.
Stay Close to Gatlinburg Antiques Shopping
Cabins USA offers several Gatlinburg rentals that place guests in the heart of the action of the Smokies. Spend less time travel to get to Gatlinburg Antiques shops and more time enjoying browsing through the unique trinkets that the shops offer. After finishing your day Gatlinburg Antiques shopping, you might want to check out the other shopping options the Great Smoky Mountains area provides. If you can't get enough of antiques in Gatlinburg, check out antique stores in Wears Valley, Sevierville, and Pigeon Forge.
Written by Brittany Tipton