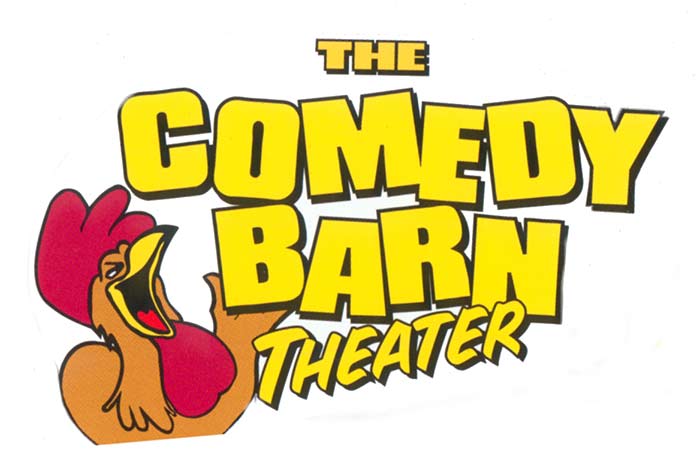 A long-time staple for vacationers in the Smoky Mountain area, Comedy Barn Theater Pigeon Forge, TN provides visitors with the sort of comedy that's hard to find these days- clean and family-friendly. Filled with a variety of acts for everyone in the family as well as ample opportunity for audience participation, it's no wonder why visitors return to this theater show in Pigeon Forge year after year. Come see what has everyone laughing at The Comedy Barn!
Laugh your Socks Off at The Comedy Barn Theater Pigeon Forge, TN!
Upon entering Comedy Barn in Pigeon Forge, TN, a staff member will take a picture of you and your group. Make sure to strike a silly pose as these pictures are available for purchase after the show as a souvenir. The aroma of freshly popped popcorn kernels fills the lobby as you make your way towards the theater. Concessions, such as popcorn, candy, sodas, etc., are available prior to the show for guests to enjoy throughout the performance.
Take your seat in the theater and prepare for some side-splitting comedy. Be careful about sitting in the first few rows as it's not unusual for performers to pull guests in these seats on stage for a little audience participation! Once the curtain opens, guests will be completely in stitches the entire show.
Endless Entertainment at Comedy Barn in Pigeon Forge, TN
With sketches that involve cloggers, lively music, and a juggler on stilts, there is never a dull moment in this theater show in Pigeon Forge. Danny (aka "The Ping-Pong Guy") will have the audience in a fit with his fast-paced humor. The trained cat act will definitely entertain the cat-lover in your group. Far apart from your average house cat, watch in amazement as these cats circle around their trainers' shoulders. If cats aren't your animal of choice, there are plenty of other animal acts within this show. Witness the amazing feats of Arnold, The Mind-Reading Pig. Equally impressive are the tricks performed by beautiful, well-trained parrots. The ventriloquist also features a live dog as one of his dummies!
The most entertaining aspect of Comedy Barn Theater Pigeon Forge, TN is the amount of audience participation. Since this show provides comedy for the whole family, even kids in the audience are called on stage! From becoming a live dummy for the ventriloquist to performing an improv sketch, audience members truly become part of the show at this theater show in Pigeon Forge. If called on stage, let your inner wit or simply contagious laughter steal the show to get the entire audience and even the performers doubled-over with laughter. At the end of the show, you can purchase a DVD of you debut performance at Comedy Barn Theater Pigeon Forge, TN.
With non-stop laughter throughout, it is no wonder why Smoky Mountain vacationers highly recommend Comedy Barn in Pigeon Forge, TN as the best comedy show in the area for the whole family! Make sure to take advantage of combo pack that gives you discounted ticket prices to several area shows. Simply purchase a Hatfield and McCoy's Dinner Show ticket at full price and then you can see the Comedy Barn, The Smith Morning Variety Show, The Smoky Mountain Opry, or Magic Beyond Belief for only $19.95 for adults and kids get in free!
Looking for another theater show in Pigeon Forge?
Cabins USA strives to offer guests who stay in our superior cabins for rent in Pigeon Forge with plenty of information to help plan the Smoky Mountains getaway of their dreams. Check out our Theater Shows page for additional shows in the area to fill your itinerary as well as our other Area Information pages to discover all the attractions the Smokies' have to offer!
Contact:
The Comedy Barn Theater
2775 Parkway
Pigeon Forge, TN 37863
865-428-5222
http://www.comedybarn.com
Written by Brittany Tipton