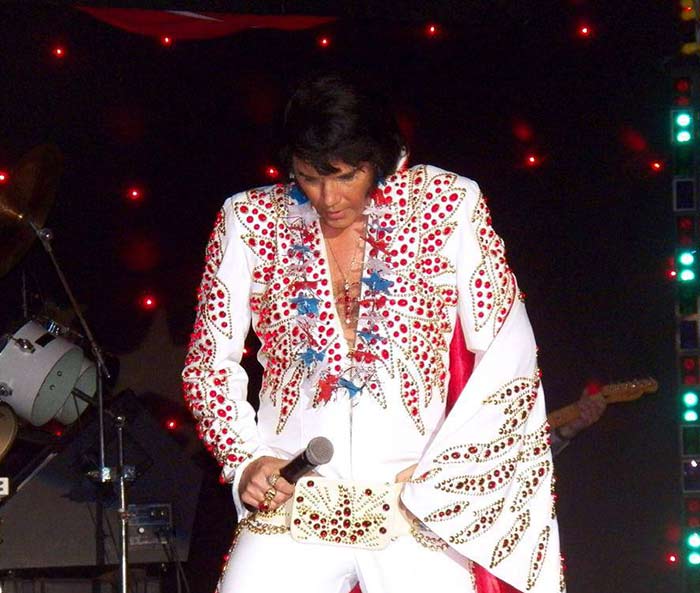 At Memories Theater Pigeon Forge, Elvis never leaves the building! There's no wondering why this Elvis Show in Pigeon Forge, Tennessee remains longest running show in the area. For 25 years, Memories Theater Pigeon Forge has put on a stellar legends show that takes you back to days gone by through music performed by top-notch impersonators. With talented tribute artists from around the country, everyone is sure to enjoy watching as your favorite stars come to life on stage at this legends show to remember.
The Memories Theater Pigeon Forge Show Experience
Memories Theater Pigeon Forge seeks to transport its audience into the past with stunning performances from its tribute artists and form memories with family members in the present. This salute to legendary artists features Elvis and 4 other of his friends each show. The tribute artists put on such convincing performances that you'll wonder if those conspiracy theories about Elvis are true!
Watch as Elvis gyrates his hips and belts some his most beloved tunes, from "Bridge Over Troubled Water" to "Burning Love." With sequined costumes and back up singers, this Elvis show in Pigeon Forge, Tennessee strives for the most authentic performance to make you feel like the King is really in the building.
However, Elvis isn't the only star to walk across the stage in this legends show. With new tribute artists gracing Memories Theater Pigeon Forge's stage every 2 to 3 weeks, it's like a new show each time you visit this Elvis theater in Pigeon Forge.
Watch as Marilyn Monroe saunters around stage singing "Diamonds Are a Girl's Best Friend." Listen as Willie Nelson sings "Always on My Mind" from his heart, donning his trademark bandana. See Dolly Parton, Hank Williams, Jr., and Johnny Cash sing their country classics. Watch Cher put on a stellar performance of her hits in full costume.
However, Memories Theater Pigeon Forge doesn't just have stars from days gone by. Enjoy performances from Kenny Chesney, Jason Aldean, and other contemporary stars sing their chart-topping hits. You'll have to do a double-take to make sure it's not actually them!
Memories Theater Pigeon Forge offers the chance to reminisce about your favorite artists from the past, enjoy contemporary artists, and make your own memories watching this unforgettable Elvis Show in Pigeon Forge, Tennessee!
Stay close to Memories Theater Pigeon Forge!
Cabins USA offers Pigeon Forge, Tennessee cabins that place vacationers to the Smokies right in the heart of all the action. Visit this Elvis theater Pigeon Forge one night and rock out at Live Rock N Roll theater the next. Pigeon Forge vacation rentals offer all the comforts of home in a peaceful mountain setting while maintaining close proximity to every attraction imaginable. Come see why cabin stay is the best way to relax in the Smokies!
Contact:
Memories Theater
2141 Parkway
Pigeon Forge, TN 37863
800-325-3078
http://www.memoriestheatre.com
B
- Memories Theater In Pigeon Forge TN
Written by Brittany Tipton