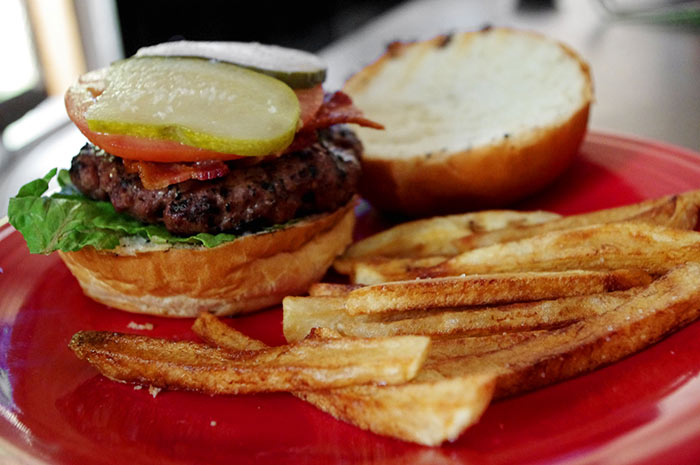 There's something undeniably iconic about 1950's style diner. From the bright yellow, blue, and red glows of the neon accents to the red vinyl in the dining booths, a diner invokes a more wholesome time where a malt, a good burger, and some friends were all you needed for a good time. Hop back in time at Mel's Classic Diner, where you can enjoy the atmosphere of an authentic 50's diner.
From the checkerboard flooring to the colossal ice cream sundaes, this Pigeon Forge restaurant is 100% retro. So bring some change for the jukebox and enjoy a meal from the past. Vacationers staying in cabins in Downtown will want to add this to their list of Pigeon Forge restaurants to try on their vacation.
Breakfast at Mel's Diner
Start the day out right with a hearty breakfast at Mel's Classic Diner. Whether you're planning to shop until you drop nearby at The Island or head up to the Great Smoky National Park for a hike in the Smoky Mountains, the best way to start your day in the Smokies is with a wholesome breakfast to keep you energized and charged through the day. At Mel's Diner, try these delicious classic diner breakfasts:
Mo for your Money Special-

Get 2 Eggs, hash browns or grits, 2 pancakes (a short stack) or biscuits and gravy, as well as a side of 2 slices of juicy bacon and 2 sausage patties. The best value on the menu!

The Supreme 3 Egg Omelet-

Choose from 6 different variations of delicious omelets filled with your choice of cheese, bacon, sausage, ham, veggies, and more.

Hot Mama's Egg White Omelet-

A healthier alternative omelet that comes stuffed with peppers,onions,tomatoes, and mushrooms and served with a side of hash browns or grits.

Carl's Gut Buster Breakfast-

Enjoy 2 eggs, hash browns or grits, 2 pancakes or biscuits and gravy with your choice of country ham, Virginia baked ham, or country fried steak.
Whatever you choose to eat for breakfast at Mel's Diner, you can be sure that it will keep your belly full for a day of adventure in the Smokies.
Lunch and Dinner at Mel's Classic Diner
Since Mel's Diner is open from 7 am to 12 am, you can enjoy a meal at just about any time of day. If you decide to swing by this 50's style diner for lunch or dinner, you can enjoy a wide assortment of American classics from burgers to chicken tenders. Here are just a few of the highlights from the Mel's Diner Menu:
A wide selection of burgers, including everything from Cajun burgers to chilli burgers.
Country Fried Steak
Liver and Onions
Made-from-Scratch Meatloaf
Pulled Pork Platter
Handbreaded Catfish
Plenty of delicious sandwiches including fried bologna, Philly Cheesesteak, French dip, and the unique Thunderbird made with BBQ chicken, bacon, and cheese.
Make sure to bring an appetite when you eat at Mel's Classic Diner in Pigeon Forge, where, no matter what you choose, you can enjoy large portions of delicious food.
Desserts at Mel's Diner
At Mel's Classic Diner, they save the best for last. If you still have some room left after your large meal, you won't be disappointed with these classic desserts. Indulge in your sweet tooth with these sweet treats:
Hot Fudge Cake
Strawberry Cheesecake
Homemade Cobbler
Malts
Milkshakes
Rootbeer Floats
Gigantic Banana Splits
Treat yourself to one of these sweet treats on your Smoky Mountain vacation at Mel's Classic Diner.
Final Thoughts on Mel's Classic Diner
If you're vacationing in the Smokies and are in the mood for some classic American dishes in a 50's style diner setting, Mel's Diner is the place for you. You'll see why other vacationers rave about the great food and fast service at this Pigeon Forge restaurant. After you've finished your big burger and banana split, you can head back to your nearby cabin to relax, unwind, and maybe enjoy a movie night with friends and family.
Contact:
Mel's Diner
119 Wears Valley Road
Pigeon Forge, TN 37863
865-429-2184
B
- Mel's Classic Diner Pigeon Forge
Written by Brittany Tipton