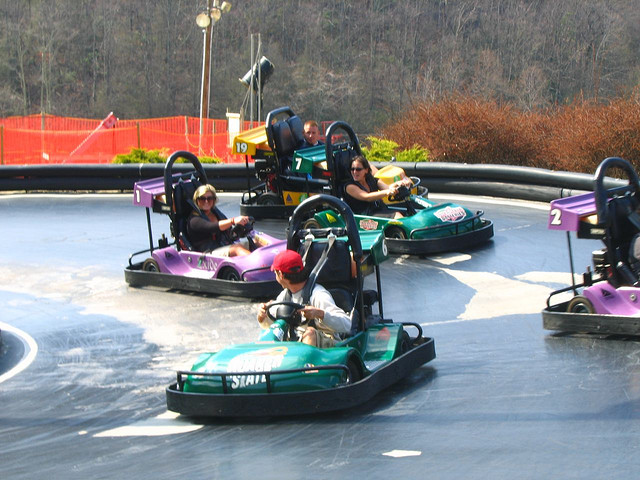 Smoky Mountain go-kart tracks have long been a staple family fun adventure in the East Tennessee area, and there doesn't seem to be any slowing down in their popularity.
Pigeon Forge offers the largest selection of Smoky Mountain raceways sure to keep speed demons happy. While Sevierville may not have as many go-kart tracks, their NASCAR Speedpark boosts the largest number of varied tracks in one location, from kiddie go-kart tracks to serious mini- race cars set for high speed racing competition.
Start your engines today and head to one of the several Smoky Mountain go-kart tracks for a racing adventure the whole family will love.
Go-Kart Tracks
Kids of all ages will enjoy the taking the turns of Smoky Mountain go-kart tracks at high speeds! Enjoy some friendly family competition as your inner race car driver speeds off in full force. With several Amusement Parks offering indoor and outdoor tracks, there are several choices in Smoky Mountain raceways to add a bit of adrenaline to your Smoky Mountain vacation.
Speed Parks
Speed Parks provide unique go-kart tracks built to handle specially designed go-karts with safety features that permit safe operation at speeds exceeding 35mph.Helmets and seat belts are required and age limits are in place at these extreme Smoky Mountain go-kart tracks. Let your inner Jeff Gorden, Dale Earnhardt Jr., or Danica Patrick come out at these high-speed Smoky Mountain raceways for one of the highlights of your Smoky Mountains family vacation.
Please Note: Cabins USA LLC's, hereinafter referred to as Cabins USA, area information, area events, and blog pages are provided as a public service. Cabins USA does not endorse any of the products, vendors, consultants, or businesses referenced in these web pages. Any mention of vendors, products, businesses, or services on the Cabins USA web site is for informational purposes only. Users of this web site are responsible for checking the accuracy, completeness, currency and/or suitability of all information. The inclusion of this information does not imply endorsement by Cabins USA. Furthermore, specific questions regarding any content should be directed to the appropriate organization and not necessarily to Cabins USA.