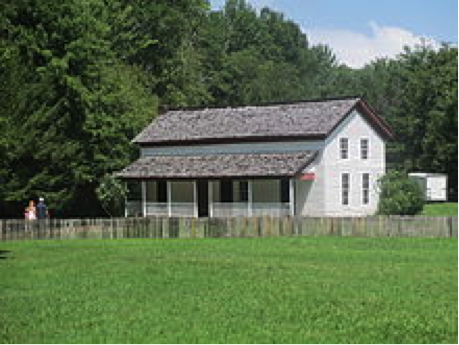 The Great Smoky Mountains National Park, established June 15,1934 and covering 522,419 acres, is the nation's most visited National Park. There is no entry fee to this national park, which receives over 9 million visitors annually. Below are some history and facts about the Great Smoky Mountains National Park along with links to pages of additional information in and nearby the Smokies park.
Surrounding the Great Smoky Mountains National Park, from the Tennessee side, are the cities of Pigeon Forge, Sevierville, Townsend and Gatlinburg Tennessee. Gatlinburg is less than a mile from the Sugarlands Visitors' Center and Ranger Station where visitors can enjoy exhibits on wildlife, geology, and the history of the park. The Visitor's Center also sells books, maps and souvenirs.
Newfound Gap , at an elevation of 5,048 feet, is the lowest gap in the Smoky Mountains and is halfway between the border towns of Gatlinburg and Cherokee. In 1940, from the Rockefeller Memorial, Franklin D. Roosevelt dedicated the Great Smoky Mountains National Park. There's ample parking for autos and buses with clear days presenting some of the most spectacular views accessed in the park by auto. Within the park there are a total of sixteen mountains reaching higher than 6,000 feet in elevation.
The Townsend Tennessee park entrance is host to Cades Cove, an 11 mile loop road featuring a number of preserved historic buildings to include an operating grist mill, churches, cantilever barns, outbuildings and early settler log cabins. Cads Cove is the single most frequented destination in the national park. Self-guided automobile and bicycle tours offer visitors a glimpse into the way of life of early settlers. Other historical areas within the park include Roaring Fork, Cataloochee, and Elkmont.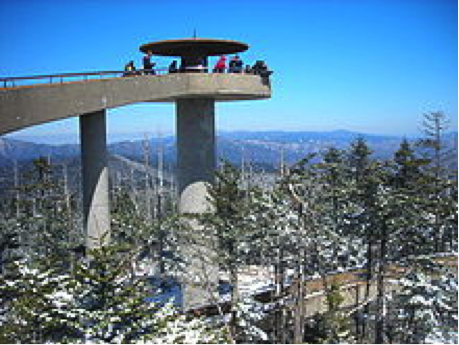 Hiking in the Great Smoky Mountains National Park is one of the most enjoyed activities. There are over 850 miles of trails and unpaved roads in the park for hiking. Mount Le Conte is one of the most visited hiking destinations in the park with an elevation of 6,593 feet, the tallest mountain east of the Mississippi River. Laurel Falls and Clingman's Dome trails offer relatively easy, short, paved paths to their respective destinations. Clingman's Dome Trail is an uphill climb to a fifty-foot observation deck, where visitors can glimpse Tennessee, North Carolina, and Georgia mountains on clear days. The Laurel Falls Trail leads to a cascading 80-foot waterfall. There are many more trails marked throughout the park with photo opportunities well worth the hike. Designated backcountry campsites are scattered throughout the park. A permit, available at ranger stations and trailheads, is required for all backcountry camping.
Withing the park, there are plenty of other outdoor activities to enjoy the beauty of the Tennessee Smoky Mountains. Fishing, especially fly-fishing, is a very popular activity in the national park. Brook trout are native to the waters, while both brown and rainbow were introduced to the area. Horseback riding in the park is available near the Cades Cove. Bicycle rentals within Cades Cove are available or visitors may bring their own. Throughout the park, there are plenty of pull-offs and areas to rest or have a picnic. While wildlife is prevalent throughout the Smokies, especially in Cades Cove, please don't invite them to join your picnic by feeding them.
The Great Smoky Mountains National Park was used in filming parts of Disney's hit 1950s TV series, Davy Crockett King of the Wild Frontier, designated an International Biosphere Reserve in 1976, certified as a UNESCO World Heritage Site in 1983, and became a part of the Southern Appalachian Biosphere Reserve in 1988. A 75th anniversary re-dedication ceremony was held on September 2, 2009 with four US Senators, the three US Representatives whose districts include the park, the governors of both Tennessee and North Carolina, Secretary of the Interior Ken Salazar, and Sevier County Tennessee native, singer, and actress Dolly Parton (who also performed).
Interesting Numbers:
About 10,000 species of plants and animals are known to live in the park, and estimates as high as an additional 90,000 undocumented species may also be present. Park officials count more than 200 species of birds, 66 species of mammals, 50 species of fish, 39 species of reptiles, and 43 species of amphibians. The Black Bear population is about 1,500 and an experimental re-introduction of elk that began in 2001 has no current count. There are over 100 species of trees in the park, over 1,400 flowering plant species and over 4,000 non-flowering plants species.
Guests planning to visit the Great Smoky Mountains National Park are usually interested in Gatlinburg and nearby Pigeon Forge TN cabin rentals. We would be glad to have you stay with us while visiting this remarkable national treasure. A log cabin rental in the Smokies is a great opportunity to get a little closer to nature while sharing lifelong memorable moments with family and friends.

Additional Great Smoky Mountains National Park information may be obtained by visiting the Great Smoky Mountains Association. Cabins USA is a proud member of the Great Smoky Mountains Association (GSMA). GSMA is a partnership of volunteers, staff and local businesses dedicated to preserving the Great Smoky Mountains National Park and our national park system for future generations. Park education, interpretation and research promotes the public's greater understanding and appreciation not only for the Park's beauty, but its contribution as a natural biosphere.