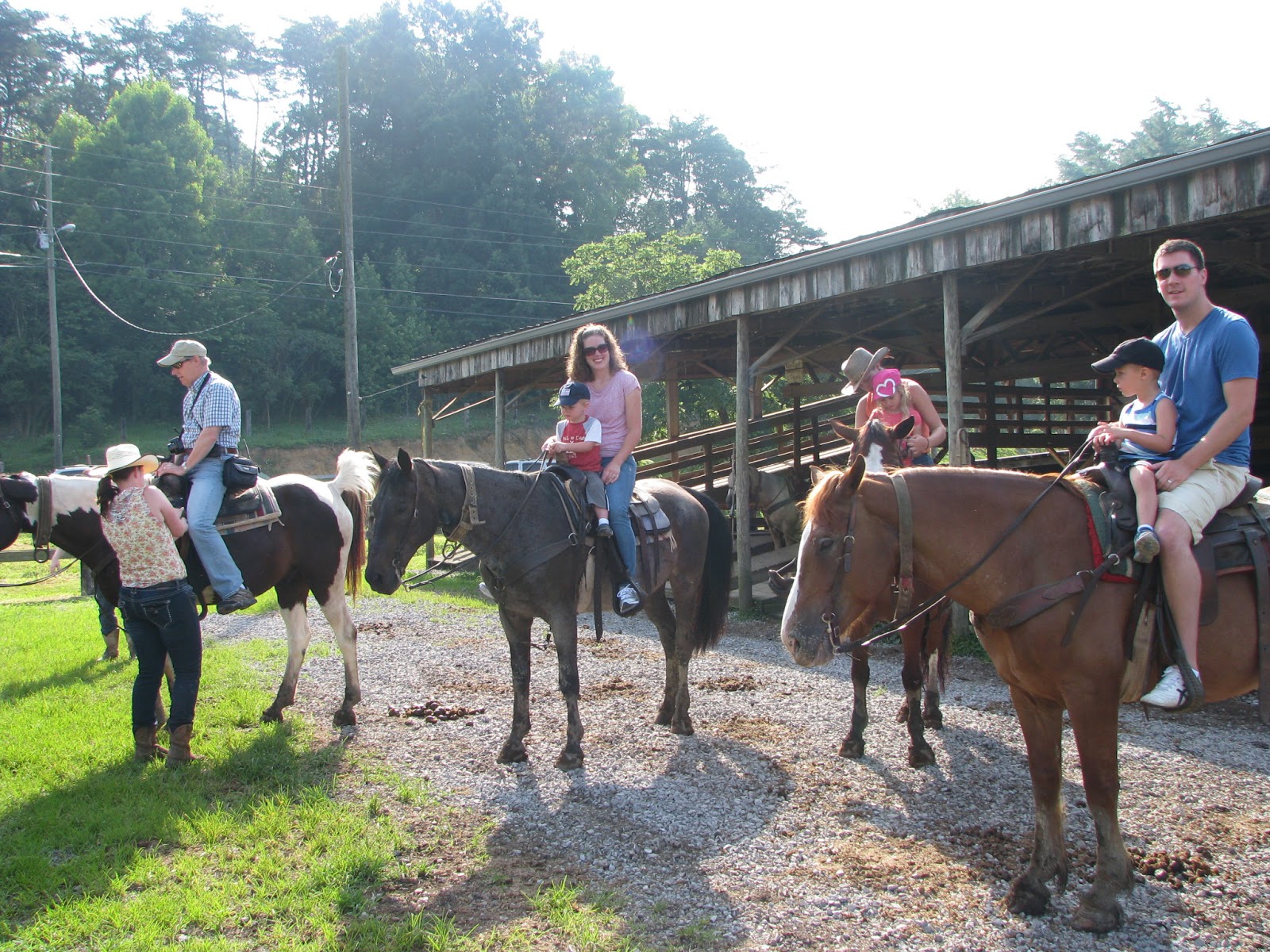 Locate Smoky Mountain area horseback riding stables and start your vacation adventure when you saddle up in the Tennessee Smokies!
Horseback riding in the Smoky Mountains is very popular with several horse riding stables located throughout Gatlinburg, Pigeon Forge, Sevierville and two riding stables located in the Great Smoky Mountains National Park (Cades Cove and Sugarlands areas).
Most Smoky Mountain riding stables offer guided trail rides, there may be a few left offering unguided trail rides. Don't worry if you have little to no riding experience, be sure to honestly share your level of riding skill with your trail guide to ensure you and the correct horse are married up for that perfect ride in the saddle. Many horse trails meander through valleys and some travel along mountainsides. Your trail guides will check weather, trail and other safety issues prior to the first trail ride of the day. Trail guides report throughout the day, as trail conditions are subject to change and horseback safety is paramount.
Horseback Riding Stables
Gatlinburg Horseback Riding Stables
Smoky Mountain Riding Stables
1720 E Parkway, Gatlinburg, TN 37738
(865) 436-5634


Sugarlands Riding Stables
On left just before Great Smoky Mountains Sugarlands Visitor Center
(865) 436-3535
Pigeon Forge Horseback Riding Stables
Middle Creek Riding Stables
Jayell Rd 1/2 Mile Past Dollywood Pigeon Forge, TN
(865) 428-8363
Sevierville Horseback Riding Stables
Cedar Ridge Stables
441 N - 3 mi out of Sevierville
(865) 428-5802


Deer Farm Riding Stables
470 Happy Hollow Ln, Sevierville, TN 37876
(865) 429-2276


Five Oaks Riding Stables
1628 Parkway, Sevierville, TN 37862
(865) 453-8644


Walden Creek Stables
2709 Waldens Creek Rd, Sevierville, TN 37862
(865) 429-0411
Townsend Horseback Riding Stables
Apple Valley Riding Stables
Lamar Alexander Blvd, Townsend, TN
(865) 448-8300


Cades Cove Riding Stables
8224 State Highway 73, Townsend, TN 37882
(865) 448-62860


Davy Crockett Riding Stables
505 Old Cades Cove Road (Near Tuckaleechee Caverns) Townsend, TN 37882
(865) 448-6411


Next To Heaven Ranch
1239 Wears Valley Rd, Townsend, TN 37882
(865) 448-6947
Prices and policies, along with hours of operation, vary from one horse stable to the other. Riders weight, children's sizes, riding double, trail ride lengths and levels of skill are all governed by each stable's policy. Calling ahead to schedule your ride (especially groups of any size) is normally required. Some horse riding stables can accommodate handicap individuals and very small children, this is a great opportunity to ask any additional questions you may have and ensure all policies are met by everyone in your group.
Horse-Drawn Carriage Rides
Pigeon Forge only has one horse drawn carriage in the city, Heritage Carriage Rides in Pigeon Forge's Walden's Landing. These Pigeon Forge carriage rides appear to be the only continuously operating carriage rides in any of the Tennessee Smoky Mountain cities. These carriages aren't your grandma's horse and buggy ride, they are elaborately lighted and decorated horse drawn carriages in the white Princess style, with one or two large horses and a stately dressed driver at the reigns. Seasonally there are hayrides offered in Gatlinburg and other Smoky Mountain area farms (tractor or horse drawn).
Please Note: Cabins USA LLC's, hereinafter referred to as Cabins USA, area information, area events, and blog pages are provided as a public service. Cabins USA does not endorse any of the products, vendors, consultants, or businesses referenced in these web pages. Any mention of vendors, products, businesses, or services on the Cabins USA web site is for informational purposes only. Users of this web site are responsible for checking the accuracy, completeness, currency and/or suitability of all information. The inclusion of this information does not imply endorsement by Cabins USA. Furthermore, specific questions regarding any content should be directed to the appropriate organization and not necessarily to Cabins USA.