Starting on May 20, 2016 we can finally see the most anticipated new dinner show in Pigeon Forge, TN!
Dolly Parton's Lumberjack Adventure Dinner Show celebrates the legacy of Appalachian people who lived in these mountains working in logging and milling towns.
Dolly Parton has been instrumental in making this new show possible and she will even attend a grand opening and ribbon cutting ceremony.
Formerly known as the Lumberjack Feud Dinner Show, this new show was completely revamped with a $25 million investment by Dolly Parton.
Over the years, the beloved country star has contributed so much to her hometown in the Smoky Mountains, with this new dinner show being the latest addition. If this new attraction is any like her other projects, the Lumberjack Adventure Show in Pigeon Forge is definitely something you don't want to miss!
Parton has even written a song entitled, Something More, to contribute to the show.
The theater also has completely redone ticketing and arrival experiences complete with pre-show entertainment. Before the show, kids will love stopping by the Trading Post, an interactive play area where kids can pan for gold and be transformed into a lumberjack or lumberjill. Arrive early so you'll have time to enjoy this brand new feature!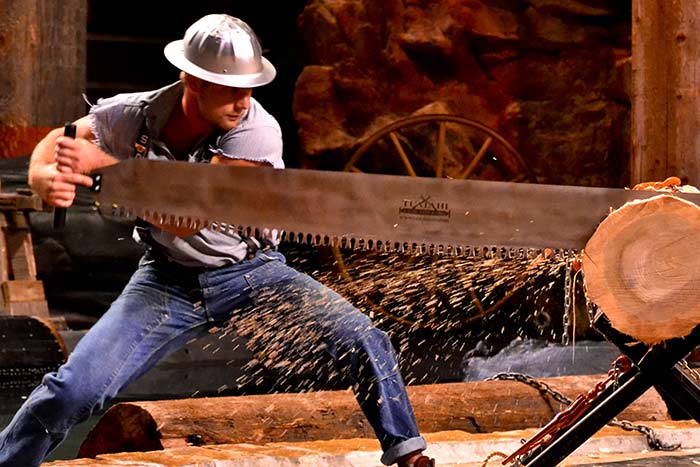 The Show
This new theater is highly anticipated and filled with world class entertainers. In this show with plenty of song and laughs, you also see acrobatic acts, aerial stunts, axe juggling, speed climbing, and other feats of lumberjack strength.
The lumberjacks in this show are actually professional athletes who've traveled the world to participate in competitions. This show puts their talents on full display and seamlessly blends their feats of strength and skill into an evening of family fun!
State of the art lighting, sound, and special effects create an immersive experience that's bound to earn this dinner theater rave reviews.
You won't want to miss this exciting new act on the Pigeon Forge dinner show scene!
The Menu
Along with a thrilling show, you can enjoy a delicious feast fit for a lumberjack! Here's what's on the menu on this multi-course meal:
Creamy Timber Slaw
Homemade Lumberjack Biscuits
Campfire Fried Chicken
Smokehouse Pulled Pork
Home-style Smashed Taters
Sawmill Gravy
Fried Skillet Corn
A Special Lumberjack Dessert
Unlimited tea, coffee, and pepsi products are also included with the meal. A vegetarian or gluten free menu is also available for guests with dietary restrictions.
Lumberjack Adventure Tickets & Discounts
Tickets for Dolly Parton's Lumberjack Adventure Dinner and Show vary according to seating.
Preferred Tickets
Adult: $54.99
Child: $29.99
Regular
Adult: $49.99
Child: $24.99
This dinner show also offers ADA compliant seating as well as hearing assistance and other accommodations for special needs. Be sure to reserve your ticket early to grab a seat before they're sold out!
By reserving a combo ticket, you can save money on two great experiences: The Lumberjack Adventure Show and another top-rated attraction in the Smokies. Here's a list of the places where you can bundle your tickets to save!
Dixie Stampede
Dollywood Theme Park
Ripley's Aquarium of the Smokies
Titanic Museum
Wonderworks
Location & Hours
This brand new theater is located at traffic light #3 in the heart of Downtown Pigeon Forge, TN. Show times are at 5:30 PM and 8:00 PM daily.
Contact:
Lumberjack Adventure Reservations
2713 Parkway
Pigeon Forge, TN 37863
844-322-4400
http://lumberjackadventure.com
B
- Lumberjack Adventure Dinner Show
Written by Mark Frazier