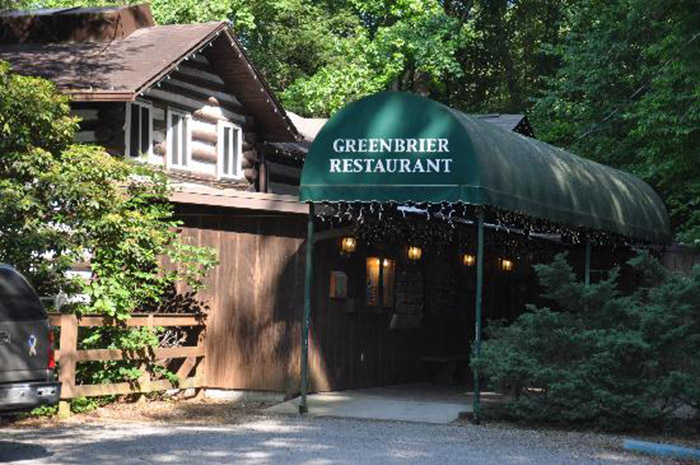 Greenbrier offers quality fine dinning that stands our from other chain or fast food restaurants in Gatlinburg. This Gatlinburg seafood restaurant strives to provide an exceptional dining experience to visitors vacationing in the Smokies. Additionally, the restaurant rests in a wooded setting away from the main drag of the the Parkway, providing diners with generally less of a wait time than those Gatlinburg restaurants in the busy downtown area.
The building housing this Gatlinburg steak restaurant originally housed a lodge that housed travelers in the 1930's. Owned by Blanche Mouffet, lodgers could expect breakfast and a bed at this lodge. Over the years, other organizations occupied the building, including the University of Tennessee's Actors Guild when they performed shows in the area. In 1980, Dean and Barbara Hadden purchased the property and opened Greenbrier restaurant, which is currently operated by their son David.
Come enjoy this Gatlinburg steak restaurant's fine dining offerings and see why it stands out from other restaurants in Gatlinburg.
Greenbrier's Gatlinburg Seafood and Steak Restaurant Offerings
Unlike other restaurants in Gatlinburg, Greenbrier offers a quiet, fine dining atmosphere that will provide the perfect setting for a romantic dinner or a celebratory family dinner. This Gatlinburg seafood restaurant provides quality meal offerings that will tantalize your taste buds.
First Course/Appetizers - There is something for every palette of taste buds. From the delicious caramelized onions of a bowl of French Onion Soup to appetizing escargot in a mouthwatering butter-garlic, these starters will whet your appetite for the rest of the meal.
Salads - Enjoy a delicious house or Ceasar salad at this Gatlinburg steak restaurant that makes in very own homemade salad dressings.
Main Courses - This Gatlinburg steak and seafood restaurant offers tantalizing steak options ranging from filet mignon to New York strip as well as seafood selections ranging from mountain trout to lobster tail. This filling succulent entrees offer fine dining selections not available at other restaurants in Gatlinburg.
Deserts - If you still have room after the main course, Greenbrier offers several sweet treats to end your meal. From the decadent Chocolate explosion to the Southern classic buttermilk custard pie, there is something to give you a sweet bite after your meal. Indulge in a delicious after dinner coffee drink with a splash of Amaretto or Kahlua.
With these delicious meal offerings, there's no wondering why Greenbrier stands as one of the longest running fine dining restaurants in Gatlinburg. Bring your family or special someone for an unforgettable dinner to celebrate a birthday, anniversary, graduation, or any special occasion. Additionally, Greenbrier offers private dinning rooms for larger groups seeking a more private setting for their celebration.
Enjoy other fine dining restaurants in Gatlinburg!
If you'd like to enjoy more quality dining on your vacation, check out these fine dining restaurants in Gatlinburg, Pigeon Forge, and Sevierville for you and your family. Cabins USA seeks to provide quality information for guests staying at our Gatlinburg cabin rentals and Pigeon Forge vacation cabin rentals so that their stay at one of our cabins can be only part of their best vacation yet.
Contact:
Greenbriar Restaurant
370 Newman Rd
Gatlinburg, TN 37738
865-436-6318
B
- Greenbrier Restaurant in Gatlinburg
Written by Brittany Tipton