Paula Deen's Pigeon Forge Restaurant
Paula Deen's Family Kitchen is making a huge splash in Pigeon Forge. With the official opening date set at April 27, 2015, hoards of hungry vacationers and locals are eager to sample the Paula's signature southern flavors.
All the buzz around this new restaurant in Pigeon Forge has taught us one thing: good things happen around the dinner table when Paula Deen is involved.
The new Pigeon Forge restaurant offers a different lineup of delicious dishes than Paula's Savannah restaurant "The Lady and Sons," but will no doubt be a great addition to the Smoky Mountain restaurant scene.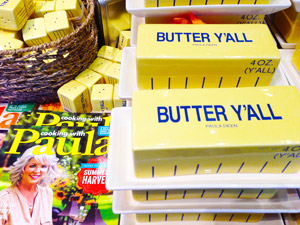 In addition to a 300 seat dining area, the Paula Deen's Family Kitchen will also feature a retail store with décor, cookware, recipes, ingredients, and everything Paula Deen. With southern hospitality, down-home cooking, and Paula's signature flair, Paula Deen's Pigeon Forge restaurant is a must see for your Pigeon Forge cabin vacation!
The Dinner Menu
Paula Deen's Family Kitchen features some exciting dishes from Paula's career as a celebrity chef. Those of us who follow Paula have no doubt seen her prepare her Ooey Gooey Butter Cake. Restaurant-goers can also try down-home favorites like Georgia Fried Catfish, Beef Pot Roast, and her Best Ever Southern Fried Chicken that are bound to be instant classics.
You can tell a lot about a restaurant from the quality of their appetizers. Paula's Family Kitchen doesn't disappoint and offers some country classics like fried green tomatoes with a sweet onion relish and "Shore is Good" crab dip.
Unlike Paula's previous restaurants, the Family Kitchen serves guests family-style. Guests at one table will be served a spread of dishes, sides, and a personal dessert to finish off an incredible meal.
Besides the challenge of choosing from flavorful options like beef pot roast, spare ribs, and chicken-fried pork shops, family-style dining makes a lot of sense in a family-friendly destination like Pigeon Forge! Groups will also enjoy a huge spread of sides with country favorites like green beans, creamy potatoes, squash casserole, collard greens, mac and cheese, and poppy seed tossed salad.
Sharing unforgettable experiences with your friends and family is what the Smoky Mountains are all about, so it's clear Paula Deen knows just what to bring to the table. Better yet, Paula is famously hands-on with her projects, so you may just run into the famous celebrity chef when you stop by for a delicious southern dinner.
The Breakfast Menu
Breakfast at Paula Deen's Family Kitchen is also served family style. From chicken and waffles to the sweet piggies in a blanket to the bananas foster French toast, there are truly decadent breakfast meals to sample. Families will have a choice of sides like apple wood bacon, country ham, fried grits, hash brown casserole, biscuits and gravy and sausage patties.
Hours
Paula Deen's Family Kitchen will be open from 7:30 AM until 10:00 PM Sunday through Thursday. On Fridays and Saturdays, the restaurant will be open till 11:00 PM. If you want to catch a particular meal at the family kitchen, here is the kitchen schedule.
Breakfast 7:30 AM to 10:30 AM
Lunch 11:00 AM to 4:00 PM
Dinner 4:00 PM to 10:00 PM
Guests can try the breakfast menu before 10:30 AM, but after that, diners will enjoy the dinner and lunch menu for the rest of the day.
Location
Where is Paula Deen's new restaurant in Pigeon Forge? The Island of course! This new shopping, restaurant, and attraction destination is making waves in Pigeon Forge with beautiful fountain shows and the chance to see stunning views from atop the Great Smoky Mountain Wheel. Paula Deen's Family Kitchen will add to a solid lineup of restaurants here including Jimmy Buffet's Margaritaville and Mellow Mushroom Pizza.
Contact:

131 The Island Drive
Pigeon Forge, TN 37863
B
- Paula Deen's Family Kitchen
Written by Mark Friazier