When planning your Smoky Mountain vacation, you may be asking: Where should I stay in the Smoky Mountains? Is it better to stay in Gatlinburg or Pigeon Forge? The truth is that the answer to these questions depends on what you want out of your Smoky Mountain vacation.
To help you find the right area to visit for your vacation, we've made a handy guide so that you can find the best place to stay in the Smokies for your getaway!
The Perks of Staying Pigeon Forge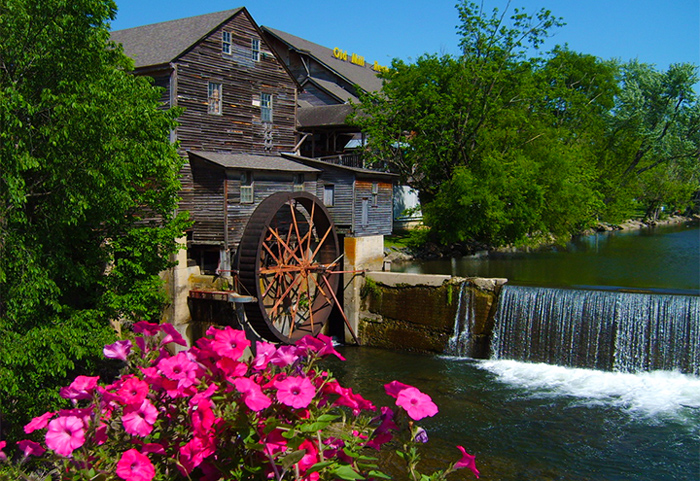 If you're looking for family fun or a destination with something for everyone, consider exploring Pigeon Forge, TN!
As one of the most exciting destinations in the Southeast, there are a seemingly endless number of attractions and activities to enjoy.
From indoor sky-diving to interactive exhibits like the Titanic Museum to outdoor adventures like helicopter tours, horseback rides, and zip lines, Pigeon Forge arguably has something for everyone. This Smoky Mountain town is also home to great entertainment with dinner theaters, music shows, and professional magic acts.
It goes without saying that Dollywood, the famous Smoky Mountain Theme Park proudly created by country star Dolly Parton, is a top reason to stay in this part of the Smokies.
Plenty of Options
Another reason to stay in Pigeon Forge is the huge variety of options. You won't find a selection of restaurants, shopping outlets, mini golf courses, or go kart tracks like this anywhere else in the Smoky Mountains.
Even with glittering attractions, Pigeon Forge is a town with old-fashioned charm: The Old Mill in the heart of the city is a historic grist mill that's made flour, grits, and other grains since 1830.
Big events like car shows, festivals, and conventions draw large groups to Pigeon Forge every year, so you can be sure that this Smoky Mountain vacation spot has plenty of crowd appeal.
A Peaceful Mountain Getaway?
One possible downside of staying in Pigeon Forge is the mile after mile of attractions. After all, some visitors to the Smoky Mountains may be looking for a peaceful retreat away from the busyness of the Parkway.
Fortunately, this is an easy problem to solve. By staying in a Pigeon Forge cabin rental, you can enjoy a beautiful spot in the mountains that's only a short drive from all the best things to do.
Pigeon Forge is also somewhat less pedestrian-friendly than say, Downtown Gatlinburg. This may be true for the city as a whole, but new additions like The Island are becoming a favorite place for taking an evening stroll. This shopping outlet also features the Great Smoky Mountain Wheel gondola ride, a fountain-light show, and a number of restaurants including Paula Deen's Family Kitchen.
The Bottom Line: If you want a vacation with lots of time at great attractions like Dollywood, staying in Pigeon Forge is one of the best ways to maximize your vacation time and get the most out of your experience.
The Perks of Staying in Gatlinburg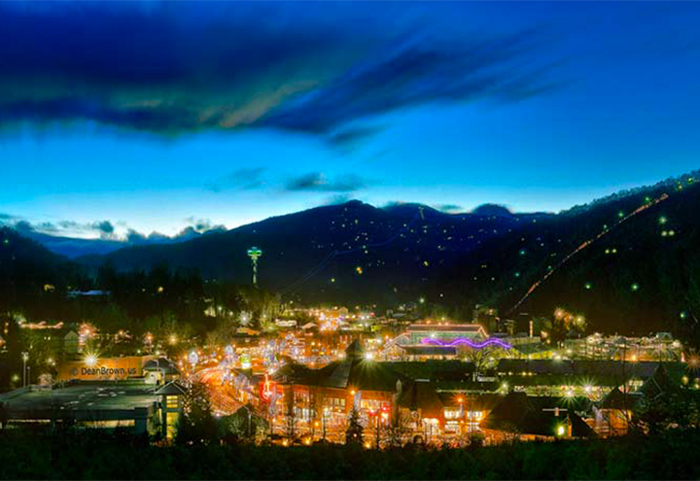 Nestled in a small valley outside of the Great Smoky Mountains National Park, Gatlinburg is a truly charming vacation destination.
Aside from the small town appeal, unique boutiques, and delicious restaurants, the main drag in downtown features Ripley's attractions like the Aquarium of the Smokies. Another popular sight in town is the Gatlinburg Space Needle, an observation tower that showcases the beautiful mountains that surround this peaceful mountain community.
Ober Ski Mountain makes Gatlinburg Tennessee's only destination for winter sports like skiing and snow tubing. But even if you visit in the summer, there are several year-round attractions to enjoy at Ober like indoor ice skating, a mountain coaster, and a wildlife exhibit.
Natural Wonders Only Minutes Away
Gatlinburg is located just outside of the most visited national park in the United States: The Great Smoky Mountains National Park. Several entrances to the national park that are mere minutes from downtown make it easy for guests to explore one of America's greatest treasures.
The Roaring Fork Motor Trail allows vacationers to see waterfalls and historic cabins at the foot of imposing Mt. LeConte. The Sugarlands entrance located on the western side of town gives visitors access to both the Newfound Gap and Cades Cove.
With so many great sights and attractions packed into such a small valley, Gatlinburg can easily become a little crowded. Many visitors also find that parking and dining in Downtown Gatlinburg can be expensive.
A great way to get around traffic and parking fees in Gatlinburg is to ride the trolley system that operates year round. Because Gatlinburg is such a sought after destination, it's also true that staying in the heart of Downtown Gatlinburg can be less budget-friendly than staying in Pigeon Forge. On the other hand, booking a cabin in the mountains is a great way to find deals on lodging in this popular part of the Smokies.
The Bottom Line: If you're planning strolling walking through a lively downtown or spend long days exploring the Great Smoky Mountains National Park, Gatlinburg is an excellent place to stay.
Final Thoughts on Booking a Cabin in Gatlinburg or Pigeon Forge
While there are certainly different advantages to staying in different parts of the Smoky Mountains, it's also true that you'll never be too far from the attractions and sights you want to see.
Since Gatlinburg is only 5 miles away from Pigeon Forge, your dream vacation itinerary doesn't hang on you finding the most convenient place to stay. Instead, a vacation in the Smoky Mountains gives you the freedom to choose between a downtown cabin near all the action or a secluded retreat in the surrounding mountains.
We'd love to hear about your favorite place to see in the Smoky Mountains in our comment section. Where's your favorite place to stay in the Smoky Mountains?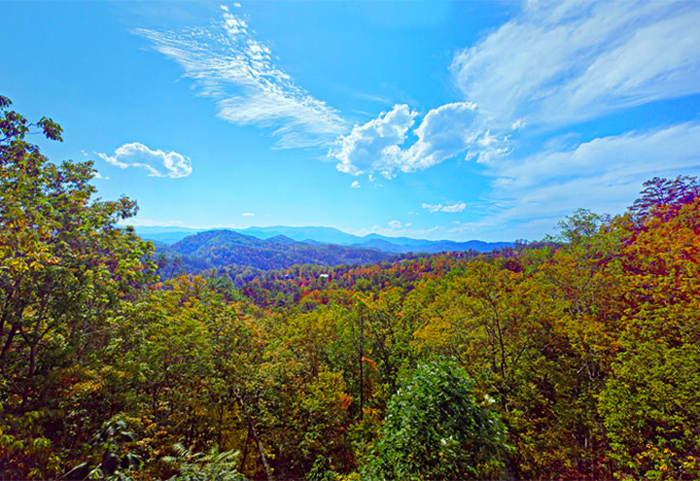 Also, be sure to explore our Smoky Mountain cabins in Pigeon Forge and Gatlinburg for your next vacation! For even more assistance, one of our reservations specialists would be glad to help you find the perfect place to stay in the Smoky Mountains when you call: (865) 429-4121
Written by Mark Frazier