Of all the fantastic attractions in Pigeon Forge, Dolly Parton's Dixie Stampede is a beloved classic that's won over crowds for nearly two decades. With music, a delicious 4-course meal, impressive stunts, and down-home fun, we can expect this family-friendly dinner show to win fans for many years to come.
As of 2018, this attraction is now known as "Dolly Parton's Stampede Dinner Attraction," but it's the same fantastic show!
Needless to say, if you're planning your first trip to the Smoky Mountains, this dinner show is definitely one to add to your "must see" list.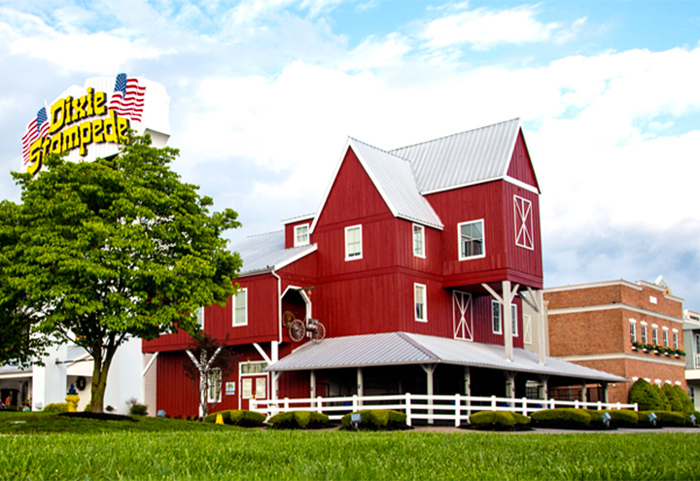 But how can you ensure you get to see Dixie Stampede on your vacation? A simple fix is to book a cabin near this attraction or at least a rental that's convenient to this action-packed part of the parkway.
We've saved you the trouble by making a suggested list of our cabins that are close to Dixie Stampede in the Great Smoky Mountains of Tennessee!
These resort rentals provide easy access to attractions, shops, and restaurants between traffic lights #6 and #10 on the Pigeon Forge Parkway. If you're unfamiliar with Pigeon Forge's traffic light layout, this is the end of the main drag that's closest to Gatlinburg and the "spur" road.
Dixie Stampede sits squarely near traffic light #8, so it's highly accessible for cabins on this part of the fun-filled Pigeon Forge Parkway. Be sure to check out these convenient rentals that are only minutes from the best sights and attractions in Pigeon Forge, TN!
Upper Middle Creek Area Near Dollywood
Upper Middle Creek Rd is a popular cabin resort area that rests only minutes from Dollywood, so cabins here are a natural choice for families. Guests here can enjoy great amenities like hot tubs, home theater systems, and cabin decks with stellar mountain views during their stay.
Better yet, these convenient resort cabins near Dollywood offer quick access to traffic light #8 on the Parkway – only minutes from the top-rated entertainment at Dixie Stampede.
In short, if you want to experience both of Dolly Parton's signature additions to the Smoky Mountains, Upper Middle Creek is a great place to stay.
Bear Cove Falls
A resort area that's located between Dollywood and Pigeon Forge would offer an even better location for your vacation – just like the cabins in Bear Cove Falls. With an exceptional spot near the Gatlinburg Golf Course, these resort rentals come complete with resort pool access for enjoying refreshing dips in the summertime.
After a day of working on your golf game or riding roller coasters at Dollywood, you can enjoy a fantastic dinner and a show at Dixie Stampede that's only minutes away!
Sky Harbor
Nestled high in the mountains above Gatlinburg and Pigeon Forge, Sky Harbor Resort offers cabins in peaceful forested areas that let you enjoy peace and seclusion on your vacation.
But even with beautiful natural settings, Sky Harbor cabins offer fast access to both Gatlinburg and Pigeon Forge since this resort area rests in between these two cities. These rentals off the Spur road that connects Pigeon Forge to Gatlinburg ensure you can experience top attractions like Dixie Stampede with ease.
Brookstone Village
You'll find Brookstone Village resort just off of Ogle Dr. a short trip from Pigeon Forge traffic light #6. Not only are these Pigeon Forge cabins with resort pools only minutes from the heart of downtown, but they also offer comfortable amenities like hot tubs, jacuzzis, and pool tables to enjoy during your stay.
While you may want to reserve one of your vacation nights for seeing Dolly's own dinner show, there are plenty of other great attractions like the historic Old Mill and the Old Mill Square.
Arrowhead Resort
Arrowhead Resort has built up a reputation for offering some of the best cabin rentals in Pigeon Forge, TN. They're also ideal for visiting top local attractions like Dixie Stampede. Since these resort rentals with swimming pools rest only a short drive from Pine Mountain Rd. and traffic light #6, you can stay only minutes from the heart of town.
Cabin rentals in Pine Mountain are another great option for guests. Since these lovely honeymoon cabins are located higher up on the mountain, they offer gorgeous views of the valley below and all the great attractions centered there.

Final Thoughts
No matter where you choose to stay along the Pigeon Forge Parkway, it's easy to find a cabin that brings together the perfect combination of amenities, privacy, and convenience to great things to do.
Better yet, when you book online with Cabins USA, you'll earn a 15% discount on your stay! Enjoy saving your vacation dollars for seeing Dolly's Dixie Stampede and other great attractions in the Great Smoky Mountains of Tennessee!
Written by Adam Shafer