According to the national park service, nearly 11 million visitors came to Pigeon Forge and Gatlinburg in 2013. Big numbers like this aren't too surprising. After all, the Smoky Mountains are a top destination for honeymoons, family vacations, and weekend getaways.
No matter how you look at it, that's a lot of people.
With jaw-dropping visitation numbers like these, you might be worried that all these crowds might make your vacation less enjoyable because of traffic or long lines.
On the upside, there are plenty of ways to dodge crowds in Pigeon Forge, TN! In fact, we've made this handy guide to help you experience your Smoky Mountain vacation to the fullest. Here's our guide on how to get away from crowds in the Smokies!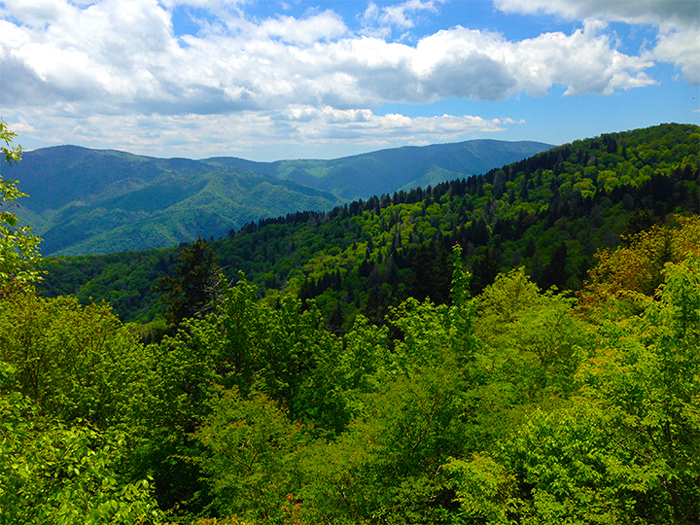 Visit During the Off Season
While Pigeon Forge and the Smoky Mountains are an incredibly popular destination, it's easy to find times of the year that are less crowded. But when are the busiest times in Pigeon Forge?
Unsurprisingly, the summertime is definitely the peak season for tourism. The period from Memorial Day to the month of August is when Pigeon Forge sees most of its visitors.
At the same time, there are some other popular times of the year to keep an eye on. These include busy holidays like Thanksgiving Weekend, Memorial Day, and the time between Christmas and New Years. Major events like parades, car shows, and festivals can bring in more visitors as well.
Visiting during a busy time of the year doesn't mean you're bound to have a crummy vacation. But it can occassionally mean longer waits in lines for attractions, restaurants, and fewer open seats at dinner shows.
If you can manage to schedule a vacation in-between the most popular weekends, you're bound to have a peaceful, stress-free, and fun stay in the Smokies. If scheduling around a busy time isn't possible, don't worry – there are plenty of other tips to help you enjoy your stay.
See Less Visited Parts of the Smoky Mountains
If you're planning a vacation during one of the peak seasons in the Smokies, but don't want to deal with crowds, there are plenty of opportunities to getaway from the hustle and bustle of town.
Visiting towns in the Smokies like Wears Valley, Townsend, and the Arts and Crafts Community in the Glades are beautiful places that don't receive too many vacationers.
While these spots don't have the glittering lights of the Pigeon Forge Parkway or the popular attractions of Downtown Gatlinburg, there are plenty of hidden gems to enjoy in these less-crowded places in the Smoky Mountains.
Dodge Crowds in the National Park
The Great Smoky Mountains National Park is definitely one of the main destinations for vacationers in Pigeon Forge and Gatlinburg.
Of the 11 million visitors to the Smoky Mountains region, the park service estimates that 9.4 million people go into the national park itself. Most of these visitors go to see the park in summer or the fall to see the beautiful colors of changing leaves.
On busy days in the Smoky Mountains, high visitation can lead to over-crowded hiking trails, congested roadways, and a less authentic nature experience.
Luckily, the Smoky Mountains National Park is quite large. At approximately 816 sq. miles, there's more than enough space for vacationers to get away to a peaceful place in the mountains. The key is just knowing where to look and avoiding the crowded spots on busy days.
Destinations in the Smokies like Cades Cove, New Found Gap, Clingman's Dome and hiking trails close to Gatlinburg receive the most recreational visits during the year.
If you plan on visiting the national park during a busy season, your best bet for finding peace and quiet in the national park are to visit places like:
Greenbrier
Cosby
Abrams Creek
Cataloochee Valley
These regions of the national park are definitely off the beaten track, but they are no less beautiful than the most popular areas of the Smoky Mountains.
Go to Big Attractions on Weekdays
Even though Pigeon Forge is easily one of the most popular vacation spots in the Southeast US, everything slows down on weekdays.
In fact, seeing big attractions like Dollywood or the Titanic Museum are bound to be more enjoyable without the crowds. You can spend less time waiting in line and more time riding roller coasters or enjoying exhibits.
This tip also applies to hiking trails and destinations in the national park. With the exception of holidays, weekdays are prime times to enjoy the big sights and hiking trails in the Smokies because visitation is lower.
Book A Secluded Cabin
A full-proof way to dodge crowds in the Smoky Mountains is to book a secluded Pigeon Forge cabin. Our peaceful retreats allow you to savor your own slice of the Smokies and get away from the hustle and bustle of the Pigeon Forge Parkway.
At the same time, our secluded cabins keep guests within easy reach of the sights and attractions you want to see. Enjoy the beauty and peace of nature, without having to commit to long car rides.
When you come back to your cabin surrounded by beautiful mountain scenery, you'll be glad you booked a cabin that allows you to truly unwind during your stay.
Final Thoughts
With a bit of planning and preparation, it's simple to enjoy a Smoky Mountains vacation even on the busiest of weekends and holidays. For even more insider tips and advice for your vacation, feel free to call our office to speak with our reservations specialists. We're knowledgeable about the local area and are happy to answer any questions about your visit.
Written by Adam Shafer