There's something special about the glittering lights of a city.
While many vacationers look for cabins with beautiful mountain views, some of us would love to stay in a Pigeon Forge cabin with city views.
Maybe it's the thrilling colors, the electric buzz of lights in the night sky, or a feeling you just can't describe, but a view of Downtown Pigeon Forge can take your vacation to the next level.
Why Book A Cabin With A City View?
Right away, we can think of 3 reasons to look for a rental with a view of town.
Reason #1 - Imagine sitting back in your hot tub high above the glowing lights of the action-packed Pigeon Forge Parkway. To some of us, that might just sound like the height of luxury.
Reason #2 - A good view of downtown allows you to see main drag of Pigeon Forge that stretches for miles and miles. If you like the view by day, just wait until the sun goes down. This creates a spectacular sight that's worth seeing at least once during your trip.
Reason #3 - From your peaceful mountain retreat, you may even be able to point out your favorite attractions like the Great Smoky Mountain Wheel or the Dixie Stampede Dinner Theater. During holidays like New Years and 4th of July, you'll have the best seat in town to watch fireworks displays in the valley below.
If it seems like a cabin with a city view is the right fit for your vacation, be sure to check out these resort areas that have views of the lights of Pigeon Forge!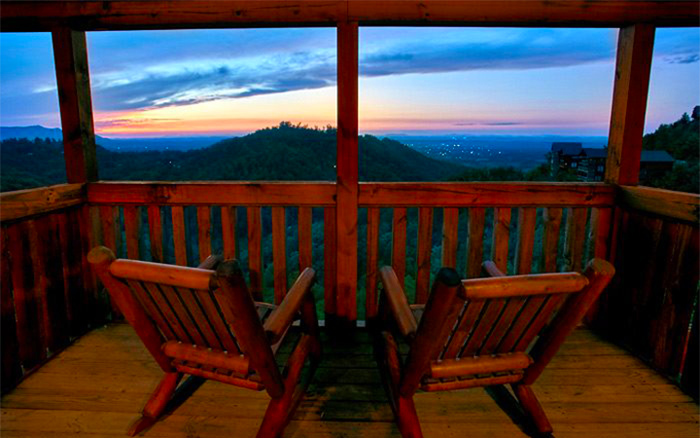 Eagle Crest
Perched high in the mountains above Pigeon Forge, you'll find Eagle's Crest Resort area. Not only are these cabins close to Dollywood Theme Park, but they also boast impressive vistas of the mountains and the nearby city of Pigeon Forge.
Pine Mountain
Our comfortable honeymoon cabins in the Pine Mountain area of Pigeon Forge offer two great advantages. First, these rentals are only minutes from the heart of Downtown Pigeon Forge. Second, our cabins on Pine Mountain Road offer beautiful nighttime views of the parkway. You'll love admiring these great views while you relax with sweetheart on your cabin's deck.
Starr Crest
The luxury cabins of Starr Crest Resort offer views of the Pigeon Forge Parkway. When you aren't busy exploring the Great Smoky Mountains, you'll love relaxing at these premium rentals with hot tubs, game rooms, and resort pool access.
Arrowhead Resort
Several of our Arrowhead Resort cabins offer great views of Pigeon Forge. There's also a good selection of 1 to 5-bedroom cabins in Arrowhead. Last, but not least, guests of this resort area can enjoy a seasonal swimming pool.
Mountain Park
Cabin rentals in Mountain Park Resort, like "Catch A Star" offer beautiful views of the lights on Pigeon Forge's main drag. While you can count on enjoying picturesque scenery year-round, these cabins have better views of downtown during the winter months when there's less foliage on the trees.
Final Thoughts
Make your stay in the Smoky Mountains truly special by booking a cabin with an impressive vista. You can enjoy all the beauty of the mountains, the exciting night life in Pigeon Forge, and the company of your closest friends and family in our rentals with one-of-a-kind views!
Don't forget to book your cabin rental online with Cabins USA to save big with our 15% discount. If you need any help planning your getaway to Pigeon Forge, feel free to call our office at (865) 429-4121. One of our helpful reservations specialists would be happy to help you find the best possible cabin for an unforgettable Smoky Mountain vacation experience!
Written by Mark Frazier