For your vacation in Pigeon Forge, why not truly get away from it all with a remote cabin in the mountains?
Our secluded Smoky Mountain cabins are just what you need for a restful and relaxing vacation in one of the most beautiful destinations in the county.
From your beautiful cabin in the woods, you can truly relax and enjoy your vacation. By booking your own personal retreat away from everyone else, you can enjoy the company of your family and friends without disruption. Plus, all of your cares and worries will melt away once the sights and sounds of nature surround you.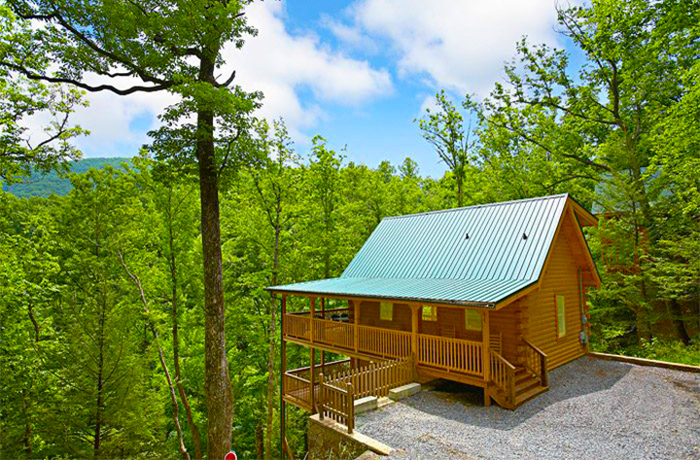 With a private getaway in the mountains, you'll find the change of pace that you need to truly get the most out of your vacation.
Better yet, you won't have to sacrifice comfort or convenience when you stay in Cabin USA's private properties. Here are 4 perks that set many of our secluded cabins from the rest.
1. Convenient to Local Attractions - The Smoky Mountains are really a large area. One way to find a secluded cabin is to simply book one that's far away from all the action in Pigeon Forge and Gatlinburg. While this suits some guest's vacation needs, not everyone wants to commit to a long drive to explore local sights and attractions.
To help you enjoy the best of both worlds, we hand select cabin rentals that are nestled in mountains close to town. The result? You can experience a secluded cabin that feels far away from the busy attractions of town, but in reality, you're only a few minutes away.
2. Feature Luxurious Amenities - For some, one of the greatest luxuries that vacations provide are a chance to get off the grid. On the other hand, no one minds a little pampering during their vacation. That's why many of our secluded cabins come complete with features like hot tubs, jacuzzis, pool tables, fireplaces, game rooms, theater rooms, saunas, and resort swimming pools.
3. Scenic Locations with Mountain Views - Our remote cabin rentals come with a range of location options. You can find mountain-top retreats with gorgeous views that stretch for miles or cabins settled in private forested lots. Whatever you envision for your stay, we can help find you the perfect private cabin for your Smoky Mountain vacation!
4. Affordable For Any Budget - Planning an affordable vacation? Or are you looking forward to a luxurious getaway to the mountains. In either case, we offer rentals to suit your vacation budget. On top of a range of options, our cabin's special 15% discount is bound to help sweeten the deal and save you money.
To see a complete list of our secluded cabins, visit this page with all of our private rentals in the Smoky Mountains.
Additionally, here are some other resorts and communities that you can find our secluded cabin rentals in Pigeon Forge, TN!
Wears Valley
This quiet community located just outside of the Great Smoky Mountains National Park is only a short drive from the thrilling attractions of Downtown Pigeon Forge. The private cabins in Wears Valley ensure that guests can savour their own slice of the Smokies.
Not only do these cabins boast beautiful locations close to Pigeon Forge, but they also provide quick access to the Great Smoky Mountains National Park. By taking the Metcalf Bottoms entrance, vacationers can easily reach sights like Cades Cove, Tremont, and Elkmont. The roadways in the national park also provide a great way to dodge traffic in Pigeon Forge if you plan to spend time in Gatlinburg, TN.
Sky Harbor
Nestled in the mountains above Pigeon Forge, you'll find Sky Harbor Resort. Our secluded cabins in Sky Harbor are only a short drive from the Spur road that is the main connecting Gatlinburg and Pigeon Forge.
If you want a secluded cabin vacation that's convenient to both Dollywood, the Pigeon Forge Parkway, Downtown Gatlinburg, Ripley's Aquarium of the Smokies, and the national park, it's hard to beat the central location offered by cabins in the Sky Harbor area.
Cabin Rentals Near Dollywood
The Upper Middle Creek Rd area is home to many cabin rentals near Dollywood. Not only are these mountain cabins famous for boasting beautiful views, but they also offer vacationers secluded retreats only minutes from all the action Downtown. Your vacation can be as fast or as slow-paced as you like when you book these remote cabins close to Dollywood!
Final Thoughts
Need more help finding the right cabin for your secluded Smoky Mountain vacation? Don't hesitate to call our office to find the perfect rental for your stay!
Also, don't forget that you can earn a special discount on your stay. Just book online or call our office to reserve your dream cabin in a private spot in the Great Smoky Mountains!
Written by Adam Shafer