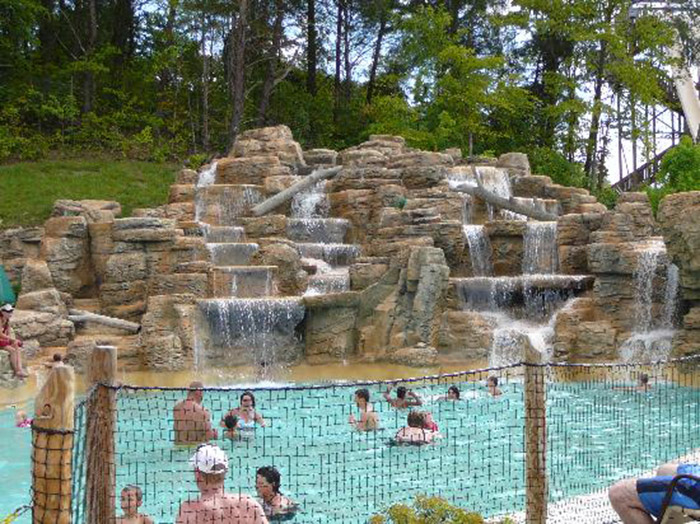 Imagine your heart pounding as you cross your arms across your chest and look down at a 70-foot drop. Feel the rush of the twists and turns of Tennessee's only water coaster. Enjoy the gentle waves of the beach in the hills of East Tennessee as you relax the wave pool. These are just a handful of the experiences you and your family can enjoy at Dollywood Splash Country, one of the best Pigeon Forge attractions for families who want to cool off.
Since opening in 2001, Dollywood Splash Country Water Park has expanded to include 23 thrilling rides and activities, providing the most exciting way to beat the heat in the Smokies. Sprawling over 35 acres, Dollywood Splash Country boasts the state's tallest twin water slides, a relaxing lazy river, interactive play areas, and much more. No matter your age Dollywood Splash Country encourages you to be as carefree as a kid on summer vacation.
With so much to do and see at Dollywood Splash Country, it's difficult to narrow down what Splash Country rides and activities to include on your exciting day at this Smoky Mountain Water Park. Here are some highlights and helpful hints to ensure that you make the most of your time at Dollywood Splash Country Water Park.
Tip #1 Take advantage of Dollywood Splash Country Space Saving Options
No one wants to lug around a heavy bag full of stuff around a water park. Thankfully, Dollywood Splash Country Water Park offers its visitors ways to enjoy the park without heavy loads. Storage lockers (regular and family-sized) are available for rent so that you can store your valuables and not worry about keeping up with them as you travel around the park. But what about carrying around a wallet? With Dollywood Splash Country's new Sunny Money system, there's no need to worry about losing credit cards or cash. Available in preloaded amounts, purchase one or more wristbands that work just like cash at an concession stand or store in the park. Any remaining amount on your wristband is refunded at the end of the day, allowing for hassle free spending.
Tip #2 Beat the Lines at Splash Country Rides
With so many exciting rides to choose from, you'll want to ride them all, but waiting in line can simply be a headache. Prevent waiting out in the hot sun for Splash Country rides with the Time Saver Pass. This pass allows guests to schedule slides at their favorite Dollywood Splash Country Water Park rides. After reserving you place in line, feel free to enjoy other rides and offerings throughout the park. Whenever it is your turn to return to your scheduled ride your waterproof wristband will notify you, so there's no worrying about missing your turn to enjoy your turn on some of the most exciting water rides in the South, including:
River Rush- Tennessee's first and only water coaster features twists, turns, and 4 drops for everything you love about regular coasters with the refreshing splash of water.
Fire Tower Falls- Feel the rush of sliding down the tallest water slide in the South. Dropping down 70 ft, this exhilarating ride offers adrenaline-seekers the thrill they crave.
Slick Rock Racer- Who will win on this race ride that spans 300 ft and boasts 4 lanes? Enjoy some friendly family competition on this ride.
Raging River Rapids- Experience the thrill of race down the rapids of the Smokies on this exciting ride filled with twists and turns.
And many more exciting rides!
Tip #3 Beat the Heat with Dollywood Splash Country's Retreats and Canopies
Not a fan of sunbathing? It's understandable to want a break from the swelter heat of Southern summers. Dollywood Splash Country Water Parks offers great ways for families, birthday parties, and other groups to cool of the shade with their Retreats. Dollywood Splash Country's Retreats provide guests with 2 lounge chairs on a deck, a dining table with 6 chairs, ceiling fan, and 27-inch television for a luxurious escape from the heat and crowds of the park. Canopies at Dollywood Splash Country provide shade and comfort for two at the park's swimming areas. Both Retreats and Canopies are available for daily rentals.
However, keep in mind if your plan is to ride as many rides as possible a Retreat or Canopy might not provide the best values for "on-the-go" park experience. There is plenty of seating throughout the Dollywood Splash Country for the more active park visitors to make quick pit stops.
Tip #4 Save money on Parking at Dollywood Splash Country
Guests staying at one of Cabins USA cabin rentals near Dollywood might want to take advantage of the Pigeon Forge's Fun Time Trolly service that runs from Patriot Park to Dollywood Splash Country Water Park. Vacationers on a budget will enjoy parking their car at Patriot Park and paying only 50 cents to ride to Dollywood Splash Country. The Fun Time Trolly also runs to several other popular area attractions, including Dollywood Theme Park.
Tip#5 Discounts
Everyone loves to save money on their Smoky Mountain vacation. Dollywood Splash Country Water Park offers several ways to save. With group rates, a military discount, and promotional offers that vary throughout the year (Check out the current Splash and Play offer that gives you three days at either Dollywood or Dollywood Splash Country for a discounted rate!)
With these tips and tricks you and your family can enjoy you time at Dollywood Splash Country as much as possible. So, pack the sunscreen, put on your swimsuit and sunglasses, and hop in the car for an adventure at one of the most exciting Pigeon Forge attractions for families. One thing's for certain your family will be talking about your trip to Dollywood Splash Country Water Park long after your vacation is over.
Stay close to all the action by staying in one of Cabins USA's cabins near Dollywood. With luxurious amenities, spacious rooms, and convenient locations near all the action of Pigeon, there's no reason not to stay in a cabin on your Smoky Mountain vacation!
Written by Brittany Tipton