Although many guests choose to stay in cabins with mountaintop views, some of us would prefer to stay near a peaceful pond or a babbling mountain creek.
After all, who doesn't love all love relaxing by a peaceful pond or a lovely lake? We're not sure if it's the pleasant scenery, the sounds of water, or just the chance go fishing, but many of our guests just can't get enough of our Pigeon Forge cabins by ponds.
If you're looking for a cabin in Pigeon Forge that's near water, feel free to use this helpful guide that lists our cabins by ponds, lakes, rivers, and creeks!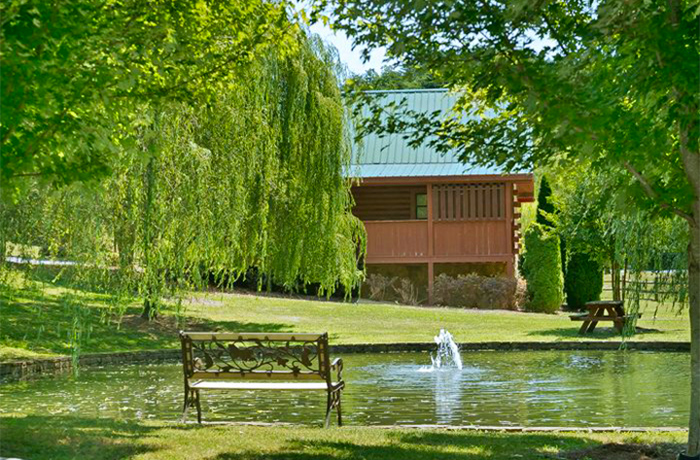 Cabins At the Crossing
Located a short drive from the heart of Pigeon Forge, you'll find this resort area complete with a swimming pool, a children's playground, and a nice pond with a fountain!
Several of our cabins are located right next to the pond at Cabins at the Crossing resort, so you can stay close to the water. Additionally, this resort property features a small waterwheel that makes an excellent spot for taking vacation photos.
This fishing pond is available for guests, so be sure to bring your rod and tackle on your Pigeon Forge vacation!
Little Valley Resort
In nearby Wears Valley, Little Valley Resort provides guests a peaceful getaway in the mountains. We offer secluded cabins in this resort area that features hot tubs,, jacuzzis, and wood-burning fireplaces. Additionally, guests in Little Valley Resort can enjoy resort facilities like playgounds, a badminton court, and a putt putt golf course.
Last but not least, there are several fishing ponds and streams on the resort property. These streams are periodically stocked with fish so you can be sure something's always biting!
River Point
Our cabins in the River Pointe Resort area rest alongside the banks of the Little Pigeon River. Pristine streams that originate in the Great Smoky Mountains National Park feed this scenic waterway. When you aren't out exploring the Pigeon Forge Parkway, you can enjoy relaxing strolls by the water or host a cookout in the picnic pavilion near the river.
Tanger Cabins
Several the log cabins near Tanger Outlets in Sevierville boast prime locations right by a large fishing pond. With cabin decks overlooking the water, this is a truly relaxing and comfortable space to enjoy your vacation. Tucked Away is one of our cabins with a nice yard area and a view of the water.
Wears Valley Cabins
On the road to Wears Valley, you'll find plenty of cabins alongside creeks and rivers. However, this peaceful community also has several cabin rentals by ponds. "Heart To Heart" is a favorite property that places guests in a comfortable cabin by a small lake in Wears Valley.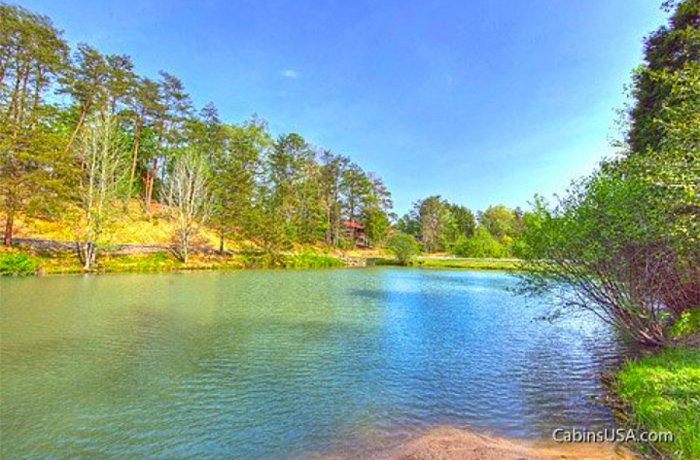 Lake Douglas Cabins
If you're searching for a great cabin on a big lake in the Smokies, consider booking your very own "Cabin on the Lake." This log cabin rental on Lake Douglas offers guests a convenient spot close to Pigeon Forge and Sevierville. Better yet, this comfortable cabin also features a resort pool area, a game room, hot tub, pool table, and more!
Final Thoughts
If you need any help at all finding a beautiful cabin on the water, don't hesitate to call our office. Our reservations staff will gladly assist you to find the right cabin for your stay.
As a service to our guests, we offer select properties with a 15% discount. To see how much you'll save, simply check the availability of the cabin you'd like to book to see if your dream cabin qualifies for this special discount!
Written by Adam Shafer