When it comes to pet ownership, leaving town for vacations can be challenging. Maybe you don't want to ask a good friend to watch your dog (again) or perhaps your pup becomes very anxious when you leave home.
Of course, paying for boarding is an option, but this isn't fun for you, your wallet, or your beloved dog.
In any case, you've got a dilemma. What's a good pet owner to do?
Luckily for you (and your pooch), Pigeon Forge and the Smoky Mountains are a great place a getaway. With a little preparation and local knowledge, you can enjoy an awesome pet-friendly vacation in Pigeon Forge, TN!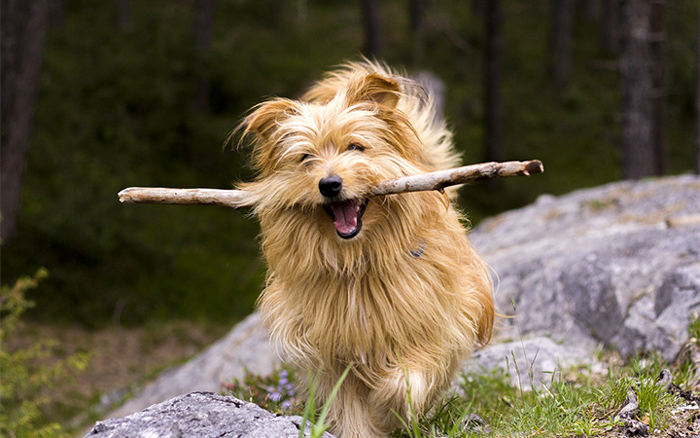 So you can your pet can enjoy a trip that's fun, stress-free, and simple, we've made this vacation guide for bringing your dog to Pigeon Forge!
Here are some tips you should know to make the most of your vacation.
Tips For Hiking With Pets
Like many of our guests you may be excited to bring your pup to the national park – unfortunately, there are some restrictions.
For the most part, it is forbidden to take your dog on hiking trails inside the Great Smoky Mountains National Park.
While this rule may seem harsh, but its in place for good reason: a dog might provoke bears, coyotes, or wild boars – so it is best to avoid encounters of any sort for the safety of your dog and local wildlife.
There are other reasons as well: dogs may chase other animals, contribute to spreading diseases, or lose their way inside the national park – all things that you wouldn't wish for a beloved family member.
Highly trained service animals that are necessary for assisting hikers are an exception to this general rule.
But don't despair! There are plenty of places you can bring your dog in the Great Smoky Mountains National Park.
A couple of trails have been deemed safe for walking dogs on leashes inside the national park:
The Gatlinburg Trail
The Oconaluftee River Trail
Other places in the Smokies that are dog-friendly are roadways, parking areas, designated campgrounds and picnic areas.
Some nice parts of the Smoky Mountains near Pigeon Forge that allow dogs are:
Chimney Tops Picnic Area – This lovely picnic spot is located on the Newfound Gap Road near Gatlinburg a few miles past Sugarlands Visitor Center.
Metcalf Bottoms – From Gatlinburg, drive towards Tremont and Cades Cove. This great picnic area by the river is a great place to spend a day.
Greenbrier – Located just off of Gatlinburg's East Parkway, the Greenbrier Entrance to the park is far less crowded than other regions in the Smokies.
Cosby – The roadways and picnic areas of Cosby are a prime place for taking your pup for a stroll in the beauty of nature.
Cades Cove – Cades Cove Picnic area is an excellent spot by a creek for your pup to splash and play.
Note: Be sure to bring waste bags to pick up after your pet, as well as a water source to keep Fido happy and hydrated.
Dog Friendly Attractions in Pigeon Forge Gatlinburg
Patriot Park – Located in the heart of Pigeon Forge, this scenic walking park is a great place to take your dog for a stroll on the banks of the Little Pigeon River. Walk to the historic Old Mill to see a grist mill that's been in operation since 1830.
The Gatlinburg Sky Lift – Ride to the top of Mt. Harrison on a Ski Lift. Some pets may become nervous on the trip, so make sure your dog is comfortable riding up in your arms.
The Village Shops in Gatlinburg – This popular shopping area styled after an old-world European Village is a nice place to bring your pet for a stroll. Although dogs aren't allowed inside businesses, you can stop inside by parking Fido outside for a bit.
The Island in Pigeon Forge - Dogs on leashes are allowed to hike in the Island in Pigeon Forge, a pedestrian friendly destination complete with amusement rides, shops, restaurants, and a beautiful fountain.
At the Island, there are several restaurants like the Mellow Mushroom or Timberwood Grill that offer a patio - a great place to enjoy a dinner in town with a pet at your side. Be sure to call ahead to see if your chosen restaurant in Pigeon Forge allows dogs.
Tips For Staying in Pigeon Forge with your Dog
Find the Right Cabin - When it comes to pet friendly rentals in Pigeon Forge, each cabin we offer may have different policies according to the owners wishes. Be sure to call our office so you can be sure your cabin is the right fit for your vacation. For example, some owners request that pets be no larger than 25 lbs.
If your dog loves being in the outdoors, our Sevierville river cabins offer pet-friendly accommodations on riverfront property complete with walking trails that are perfect for good pet owners.
Bring a Familiar Toy – Your dog is definitely happy to come along on vacation, but new surroundings can be stressful! Be sure to pack a familiar toy or crate to ease your pup's anxiety.
Consider Log Cabin Resorts - Booking a rental in a cabin resort with wide roadways or a cabin with a yard area. These cabins will offer your pet the space they need to get exercise and stimulation during their stay. This option is far better than pet-friendly hotels, because your dog will have far more space to explore.
Find Local Vets – In case of emergency, it's always a good idea to know where your pet can receive care. Some local veterinarians in Pigeon Forge are:
Animal Clinic
Parkway Animal Hospital
Mountain Home Veterinary Clinic
Boarding Your Dog on Vacation - If your pooch is uncomfortably with being left unattended, you can still enjoy great local attractions by utilizing a local doggy daycare. Several of these kennels offer services like walking, playtime, and grooming.
Loving Care Kennels - www.lovingcarekennels.net
The Barker Lounge - www.thebarkerlounge.com
Barks and Recreation - www.barksandrecgatlinburg.com
If you plan on visiting Dollywood, this classic Smoky Mountain theme park offers a convenient on-site kennel known as "Doggywood." Drop your pooch off for the day while you enjoy rides, great music, and delicious food inside!
Final Thoughts on Pet Friendly Vacations in the Smoky Mountains
As you plan your trip to Pigeon Forge and the Smokies, what questions do you have about bringing a dog on your cabin vacation?
Feel free to drop us a line in our comments section – we'd love to help answer your questions so you can enjoy a terrific stay in the Smoky Mountains with your favorite pet!
For help planning your cabin vacation, feel free to call our helpful reservations staff to find the perfect pet-friendly cabin in Pigeon Forge for your getaway!
Written by Adam Shafer