Where should you book a cabin in the Smoky Mountains?
Without a doubt, Pigeon Forge and Gatlinburg are definitely the most popular places to stay. After all, Pigeon Forge is home to Dollywood and Gatlinburg is adjacent to the national park – the biggest and best attractions in the Smokies.
Even though these destinations are a great choice, we think Smoky Mountain vacationers might be interested in this handy insider tip.
Whether you want to spend long days at Dollywood, go on hikes in the national park, or attend a special event in Pigeon Forge, having convenient lodging in the right location is important.
This may be why so many of our guests are looking for cabins in either Pigeon Forge or Gatlinburg. While these fun-filled mountain towns are great places to stay, they should perhaps consider another great option.
All in all, Sevierville cabins are arguably a best kept secret for Smoky Mountain vacations.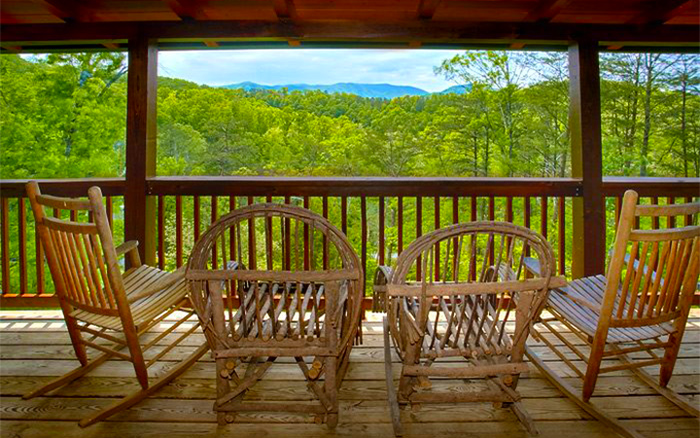 Why Book a Sevierville Cabin?
This may seem like an odd piece of advice. After all, wouldn't it be better to stay as close to your favorite attractions as possible? Why not book a cabin in Pigeon Forge or Gatlinburg instead?
Reserving cabins in these destinations would clearly be a better choice except for one fact: many log cabins with Sevierville addresses aren't actually located within the city limits of Sevierville, TN.
Actually, many of these cabins cabins are simply located within Sevier County. Because these cabins don't fall within the bounds of some other city, these rentals are usually listed as having a Sevierville address.
The bottom line is that many of our cabins with Sevierville addresses are located just outside of Pigeon Forge or Gatlinburg. These prime locations are not only close to great attractions, but they also provide guests with secluded getaways with lovely mountain views.
As an additional perk, it's often easier to make reservations for log cabins in Sevierville. This is because rentals in either Pigeon Forge or Gatlinburg are the first to be reserved.
We think more vacationers should know about these convenient cabins, so we made a short guide with the top reasons to reserve a Sevierville cabin for your next Pigeon Forge vacation!
1. You'll Stay Close To Pigeon Forge
The main drag in Pigeon Forge, also known as "The Parkway", is one of the most exciting and action-packed places in the Smoky Mountains. With great dinner shows, adventure attractions, restaurants, shops, go-karts, and mini-golf, there's something for everyone in Downtown Pigeon Forge.
Luckily, our Sevierville rentals offer guests quick access to all of the sights along the Pigeon Forge Parkway – a true must see for any Smoky Mountain vacation.
2. Prime Rentals For Exploring Dollywood
Many of our cabin rentals close to Dollywood, especially those in the Upper Middle Creek road area, offer guests quick access to this iconic theme park.
If you're planning a family vacation or a getaway with friends, this Smoky Mountain theme park is home to thrilling coasters, delicious cinnamon bread, and unforgettable Tennessee charm.
3. Convenient Access Throughout the Smokies
Some cabins with Sevierville addresses are actually located between Pigeon Forge and Gatlinburg. For example, the popular Sky Harbor Resort area is only minutes from the Spur Road that connects Gatlinburg.
The result? Guests staying at these log cabin rentals can just easily reach Dollywood in Pigeon Forge or Ripley's Aquarium in Downtown Gatlinburg – what a time saver!
4. Log Cabins Close to the National Park
If you're excited about exploring America's most visited national park, a vacation in a Sevierville cabin could be just right for your trip! This is because there are lots of Sevierville rentals that are located only a short drive from national park entrances.
This is especially true for cabins along Wears Valley Rd – the main route that connects Pigeon Forge to Wears Valley. Guests in this area can easily reach top sights like Cades Cove by entering the Great Smoky Mountains National Park at the Metcalf Bottoms entrance.
5. Getaway From The Crowds
Because Sevierville cabins are often just outside of more populated parts of the Smokies, you can enjoy one of the best things about a cabin vacation: true peace and privacy. Staying in a secluded log cabin is an excellent way to unwind during your stay. Luckily, many of our Sevierville cabins offer just that.
If you're looking for a cabin with beautiful mountain views, Sevierville cabins are also a prime choice for your getaway. This is because many of these properties are nestled in mountains above Pigeon Forge. From great locations like this, you can see for miles and miles while you sit back in a porch rocker or take a dip in your cabin's hot tub.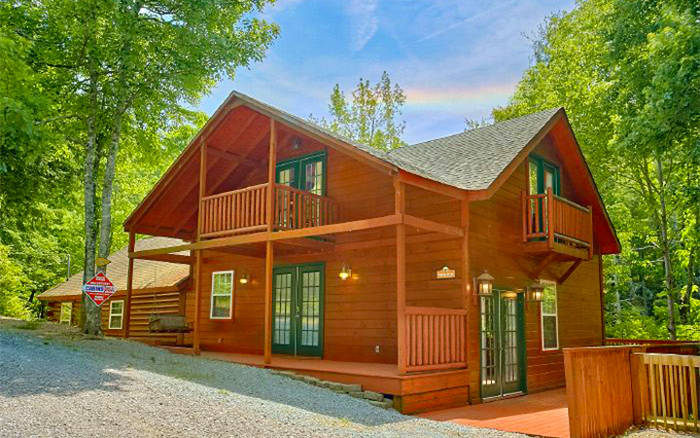 Final Thoughts on Sevierville Cabins
For help finding the perfect vacation rental for your stay in the Smokies, feel free to look over our comprehensive list of Sevierville cabin rentals!
Also, feel free to call our reservations office. One of our helpful reservations specialists would be glad to answer any questions you might have or suggest a great cabin for an unforgettable vacation in the Great Smoky Mountains of Tennessee!
Written by Mark Frazier