Planning a trip to Pigeon Forge?
Knowing what to pack can seem a little overwhelming, but Cabin USA is here to help you narrow down your packing list.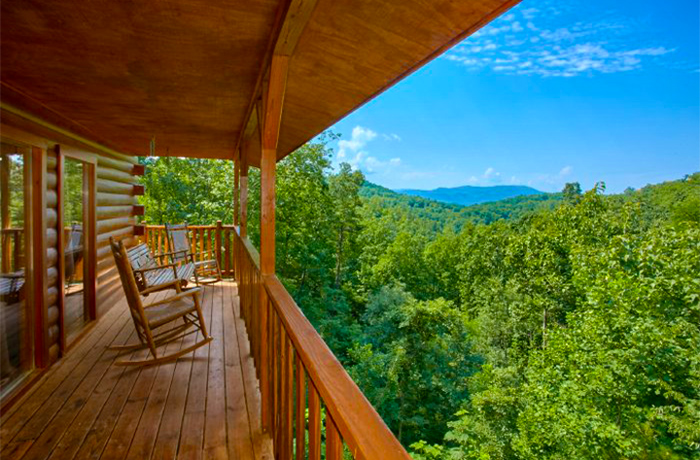 We've got some insider tips on what to bring in your suitcase for your Smoky Mountain cabin vacation!
What You Shouldn't Bring
When you book one of our rentals in Pigeon Forge or the surrounding areas, we'll take care of the following items:
Bed linens and Towels
Basic Kitchenware, Appliances, and Utensils
A Starter Pack of soap, Dishwashing Detergent, Toilet Paper, Trash bags, and Paper Towels
These basics are more than enough to make your trip simple and care free. But what other things should you think about bringing to one of our Pigeon Forge cabin rentals?
What should you bring?
Here are some basic essentials you'll likely need for your vacation.
Coffee Grounds and Filters – For mornings watching a Smoky Mountain sunrise with a warm cup of coffee in hand.
Cooking Ingredients – For making great meals to enjoy with family and friends. This includes spices and condiments. There are several grocery stores in the area, but it's often cheaper to bring some of your own food for meals.
Charcoal and Lighter Fluid – If your cabin comes with a charcoal grill, you'll need these supplies for hosting a cookout at your cabin!
Laundry Detergent – Many of our rentals come with washers and dryers, but most do not supply laundry detergent.
Personal Toiletries – Shampoo, makeup, and self-care items.
What To Pack For Different Seasons
For Summer – Bring sunscreen in your cabin comes with resort pool access. If you plan on hiking in the national park, that can of bug spray can be a lifesaver. Light, breathable clothing is perfect for humid summer day. Pack extra water bottles for staying hydrated.
For Winter – Bring a good winter coat that can keep you dry in the event of snow or rain. For cold weather, having layers of clothing that you can shed or add throughout the day is a tried and true method for staying warm. Gloves, hats, and scarves are also advisable.
For Spring and Fall – It can be cooler in the mountains that much of the Southeastern US. It's never a bad idea to bring a light coat in case of emergency, especially if you plan on going hiking in the national park. Umbrellas or ponchos can be incredibly useful if you get caught in a rain shower.
Note: In the event of winter weather, some of our cabins are best reached with 4-wheel drive vehicles. Generally, big snowfalls only occur in high elevations sections of the park. Snow at lower elevations typically doesn't remain for long. At the same time, we can't make guarantees doe to unpredictable weather and road conditions.
What To Bring For an Awesome Pigeon Forge Vacation
These items aren't "must-haves" for your stay in Pigeon Forge, but packing these extra things can certainly make your trip enjoyable and comfortable!
Your Favorite Movies - Several of our cabins come with DVD libraries, but these may not be to your liking. Bring your favorite DVDs or VHS tapes for fun movie night in your cabin. This is an especially great idea in our cabins with theater rooms.
Board & Card Games – Nothing beats the old fashioned fun of your favorite card or board games on vacation! Some of our cabins come with board games and puzzles, but brining your personal favorite is bound to be a hit!
Toys and Sports Equipment – If you're traveling with children, brining their favorite toys or stuffed animals is a must for enjoying a quality stay. Additionally, several of our rental units come with yard areas that are ideal for playing catch or tossing a football.
Plenty of Drinks and Snacks – Don't forget to bring delicious food to enjoy on your vacation. Brining your favorite treats and snacks to munch on is a great idea even if you don't plan on doing much cooking during your stay.
Note: For the safety and health of local wildlife, we ask that you avoid leaving food outside or in cars. Bears and raccoons are known for foraging for human food. In the event a bear makes a habit of breaking into cars or trashcans, these animals are commonly put down, so it is best to avoid providing an unnatural food source for bears.
Swimwear – Nearly all of our cabin rentals come equipped with outdoor hot tubs on decks, while other resort cabins offer guests resort pool access. Pool toys and floats may be a nice to bring as well. Bringing your bathing suit is a must for your vacation, even if you only plan on exploring swimming holes in the national park.
Backpack or Trusty Bag – Whether you're planning a hiking trip or just happen to pick up a few souvenirs or gifts downtown, a bag of some sort can make your vacation a lot easier.
A Good Pair of Shoes – Strolling through Dollywood, Downtown Gatlinburg, or the Pigeon Forge Parkway requires comfortable footwear. If you're planning on hiking in the national park, sturdy, broken-in shoes or boots are important for protecting your feet.
Bathrobe - Nothing beats a steamy hot tub on a cold winter's night! A bathrobe can make this even more comfortable.
First Aid Kit – It's never a bad idea to bring along band aids, bandages, and disinfectant in case of emergency!
Your Laptop or Smart Phone – Many of our cabins come complete with WiFi Internet access as a convenience for our guests. This amenity allows you to get up to date information about local weather, events, and information so you can have the best possible trip.
Your Camera – With all of the great sights, beautiful waterfalls, and scenic mountain views, you'll definitely want to document your Pigeon Forge vacation.
Final Thoughts on Our Pigeon Forge Packing List
Hopefully, this list of items is enough to get you started on filling up your suitcase. Also, we hope this will save you some space in your car by not bringing unnecessary things for your vacation.
Have any more questions on what to bring for your vacation in the Great Smoky Mountains? Feel free to ask in our comments section or call our reservations office for the local scoop for what to bring on your Pigeon Forge cabin vacation!
Written by Adam Shafer