Timing is everything. Especially when it comes to seeing beautiful fall colors in the Great Smoky Mountains.
If you're planning on visiting Pigeon Forge in October, there's no doubt you'll need some insider information to truly enjoy the gorgeous autumn season. Luckily, we have this peak fall foliage guide on where to see fall colors on your Pigeon Forge vacation!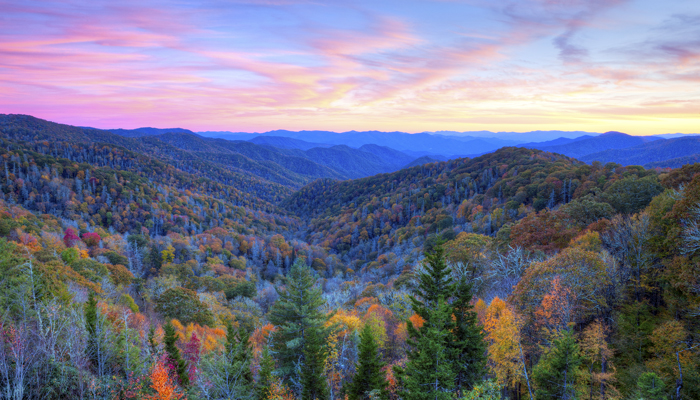 When Is Peak Fall in the Smoky Mountains and Where Can you See it?
Compared to other parts of US, the Great Smoky Mountains in Tennessee has a relatively long window of opportunity to see fall colors.
Why is this the case? Well, it all comes down to one thing: elevation.
In the Smoky Mountains, dramatic changes in elevation create changes in climate. Since the national park has an elevation range of over 5,000 FT, this landscape has significant differences in temperature depending on where you go.
The result? High elevation places in the park are cooler on average and low elevation areas are typically warmer. Once the cool winds come to the mountains, you'll start to see the forests display brilliant yellows, golden hues, reds, and oranges.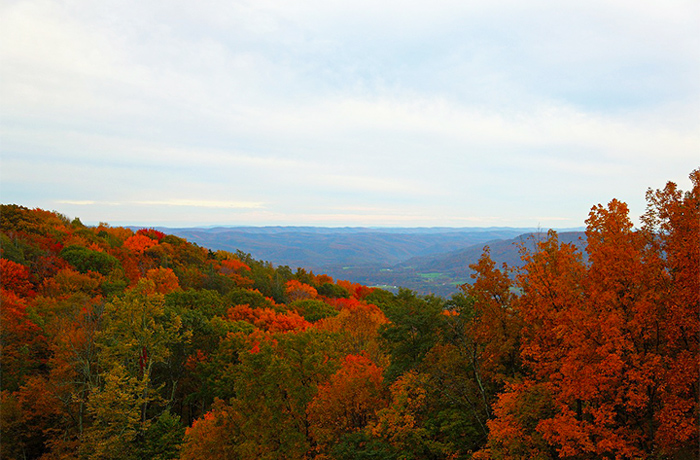 Peak Foliage in High Elevations – Oct. 7th – 14th
If you're visiting in early fall, drive (or hike) to the high peaks in the mountains. These include places like the Clingmans Dome and Newfound Gap areas of the national park.
Suggested Hikes: Andrews Bald, Charlie's Bunion, and The Jump Off
Peak Foliage in Mid Elevations – Oct 15th – 21st
As fall continues, the colors begin to creep down the mountainsides. Excellent places to view the leaves during this time are at elevations between 5,000 and 3,000 FT. Newfound Gap Road past the Chimney Tops Trailhead is a prime place to explore middle elevation areas of the park to see some stunning fall colors.
Scenic drives like the Foothills Parkway, Cades Cove Loop, Parson's Branch Rd. or Newfound Gap are excellent ways to view all the gorgeous colors. At this point, much of the mountains will be showing fall colors; scenic overlooks are the best way to view the changing landscape.
Suggested Hikes: The Chimney Tops and Alum Cave Trail
Peak Fall Colors in Pigeon Forge – Oct 21st – Oct 28th
Most low elevation places in the national park and surrounding communities like Pigeon Forge and Gatlinburg should see peak fall colors around this time. Generally, you'll want to seek out areas below 3,000 FT like Cades Cove, Tremont, Elkmont, Sugarlands Visitor Center, Roaring Fork Motor Trail and the Metcalf Bottoms Picnic area.
By this point, the leaves may have fallen in high elevation areas of the Smoky Mountains. This part of the season is a great time to take a stroll through the woods as they fill with color.
Suggested Hikes: Walker Sisters Cabin, The Middle Prong Trail, Old Sugarlands Trail, and Laurel Falls.
Disclaimer – These are only estimates. Factors such as rainfall, temperature, and high winds can drastically influence the timing and duration of peak fall foliage in the Great Smoky Mountains.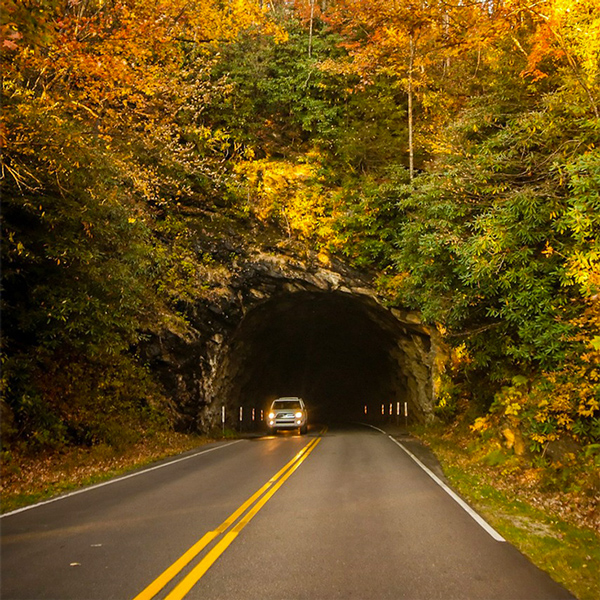 5 Unique Ways to See Fall in the Great Smoky Mountains
Now that you have an idea of when and where to see peak fall colors in Pigeon Forge, here are some unique ways you can explore the beautiful colors for yourself!
1. Ride Rollercoasters in Dollywood
If you're a thrill seeker who loves beautiful fall foliage, then you're in luck! Some of the high roller coasters in Dollywood give you glimpses of the changing forest colors in the mountains. Step in line to Thunderhead, a classic wooden coaster to see for miles and miles. Other rides like The Tennessee Tornado and Wild Eagle will also yield gorgeous views (although you may find the mountains are upside down.)
As an added perk, Dollywood celebrates the fall season with special décor and musical performances – a great way to enjoy autumn to the fullest!
2. Cruise on a Mountain Coaster or Soar on a Zip Line
These roller coasters are built into the land and give you the feeling of flying down a mountainside. You'll see beautiful colors as you cruise down the mountain while having a great time, plus you can strap on a GoPro so you can share the beautiful scenery with your friends!
Zip lines and ropes courses are built into the forest canopy and allow visitors to get up close to the gorgeous fall scenery.
3. Sit in The Great Smoky Mountain Wheel
If thrill rides and mountain coasters aren't a part of your relaxing vacation itinerary, you can also see beautiful views of the mountains from the Great Smoky Mountain Wheel in the Island. This Ferris Wheel is really an enclosed gondola that takes guests 200 FT in the air – the perfect vantage point for viewing peak fall foliage in the mountains.
4. Reserve a Helicopter or Aerial Tour
Get a bird's eye view of the Smoky Mountains by booking an aerial tour of the Smoky Mountains! Experienced local pilots know all the local landmarks and they'll give you an entirely new and exceptionally beautiful perspective on the Smokies. There are several outfitters that offer helicopter tours and one that will take you into the mountains in a restored biplane.
5. Book a Log Cabin With a View
When you book Pigeon Forge cabin rentals with beautiful mountain views, you don't have to go far to enjoy the gorgeous scenery. From sunrise to sunset, you can sit back in a porch rocker or a hot tub and take in the incredible fall colors that surround your cabin in the mountains.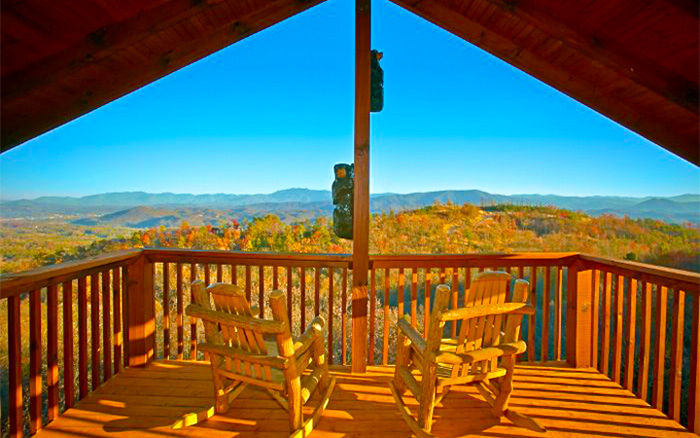 Final Thoughts
If you can't make it to Pigeon Forge in the fall, there's no need to despair. There's always next year! In the meantime, check out our webcam of Downtown Pigeon Forge so you won't have to miss the incredible colors this season!
Additionally, the national park maintains an excellent webcam on Purchase Knob in the North Carolina side of the Smokies. Or simply check out this video of the Smoky Mountains in fall.
We'd love to know – what are your favorite things about fall in Pigeon Forge? And where are your favorite spots in the national park to see the colors?
Written by Mark Frazier