Deciding where to stay in Pigeon Forge can be tricky – mostly because there are so many great options! On top of this, the Pigeon Forge Parkway is home to a new attraction that's set the bar for great Smoky Mountain vacation experiences: The Island.
This brand new walk-able plaza in the heart of Downtown Pigeon Forge rests upon a literal "island" created by a fork in the Little Pigeon River. There's something for everyone at this shopping center complete with restaurants, rides, and games.
One of the main crowd-pleasers in the Island is Paula Deen's Family Kitchen – a restaurant owned and operated by the South's preeminent celebrity chef.
Another popular attraction is the 200 FT tall Great Smoky Mountain Wheel. This enclosed gondola ride isn't your average Ferris Wheel – it offers comfortable scenic views year-round. By day, a ride in the Wheel provides an incredible view of the mountains and by night you'll admire the glowing lights of the main parkway in Pigeon Forge.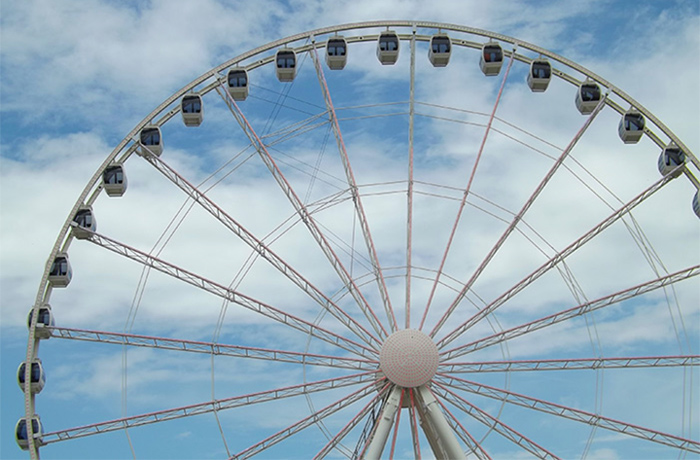 Why Stay in A Cabin Near The Island?
Of all of the great places to stay in Pigeon Forge, what makes staying close to the Island a particularly good idea?
For starters, our cabins near the Island provide quick access to an action-packed part of town. This area is one of the liveliest parts of the parkway, plus it's not far from the LeConte Center, a conference center that hosts many of the region's biggest events.
Dinner shows like Dolly's Smoky Mountain Adventure and popular attractions like the Tomb in Pigeon Forge are only a short drive away. There are also dozens of delicious restaurants and fun, family activities like mini-golf and go kart racing tracks in this part of town.
This end of the Pigeon Forge Parkway is also exceptionally close to Gatlinburg and several entrances to the Great Smoky Mountains National Park.
Last but not least, vacationers staying in this area of Pigeon Forge can easily reach Dollywood Theme Park.
All in all, booking a cabin rental near The Island in Pigeon Forge lets you can stay only minutes away many of the region's top attractions!
For your next Smoky Mountain trip, consider reserving cabin rentals in these resort areas so you can truly make the most of your getaway to Pigeon Forge and great unique local sights like The Island!
Nestled in the mountains above Pigeon Forge, these romantic honeymoon cabins offer guests a view of the iconic Smoky Mountain Wheel in the heart of The Island. After an evening stroll by the fountain, you'll love retiring to these cozy, 5-star rentals with beautiful night-time views of downtown.
Our cabin rentals in Brookstone Village Resort are only minutes away from thrilling things to do in downtown. There are plenty of large cabins in this area that sleep up to 10 guests – a great way for your group to experience the Smoky Mountains in comfort.
This well-placed resort community keeps guests close to some of the most popular sights in Pigeon Forge, while also offering privacy and peaceful forested settings. During your stay in the Mountain Park Resort area, you'll find it's easy to reach The Island, The Old Mill, and other iconic Pigeon Forge attractions during your stay.
Better yet, guests at this Pigeon Forge resort will love having resort pool access for keeping cool in the warm summer months.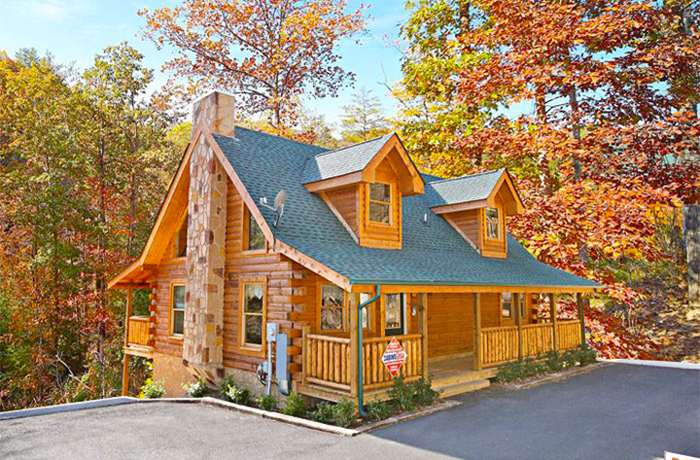 Final Thoughts
Whether you plan on riding the Smoky Mountain Wheel or you just want to sit back in a rocking chair and watch The Island's famous fountain show, there are more than a few advantages to reserving a cabin in this part of town.
For even more advice on where to book your cabin in Pigeon Forge, feel free to call our office at (865) 429-4121. One of our helpful reservations staff will be glad to help you find the perfect cabin for your trip!
Written by Mark Frazier