Can you feel a chill in the air? That means fall has come to Pigeon Forge, TN!
Every autumn season, thousands of vacationers choose to visit the Smoky Mountains for this most beautiful time of year.
Maybe it's the great local events, the gorgeous weather, or the jaw-dropping colors of changing fall foliage, but its clear that fall in Pigeon Forge is truly something special.
For your Pigeon Forge vacation in October or November, check out these top 10 Fall activities for 2015!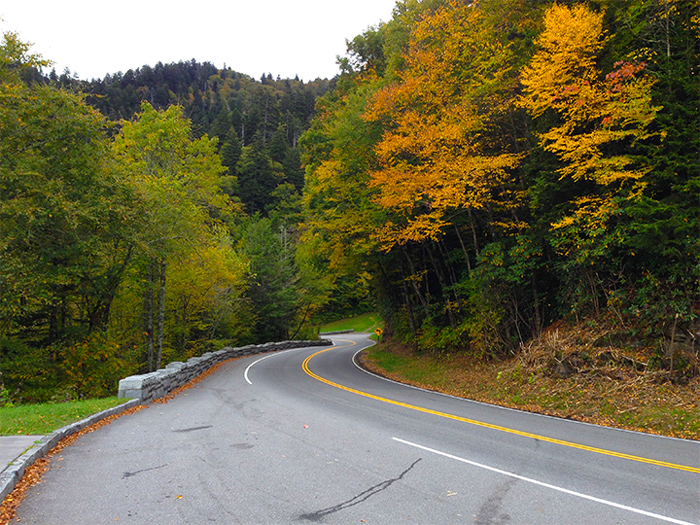 1. Drive the Newfound Gap Rd.
For seeing the beautiful changing leaves, it's hard to beat a drive through the scenic Great Smoky Mountains National Park. Of all of the scenic routes throughout the park, the Newfound Gap Road offers an exceptional chance to see fall colors different elevations.
From Gatlinburg to the Newfound Gap parking area, this rout climbs over 3000 vertical feet on your way up the mountain. Various overlooks and forest types create an incredible way to view fall leaves at different stages of color change.
2. Host a Campfire at Your Pigeon Forge Cabin
There's nothing like sitting by a campfire on a cool mountain night in autumn. If you'd like evenings by the fireside to be a part of your Smoky Mountain experience, be sure to reserve one of our cabin rentals with outdoor fire pits for your stay. Don't forget to bring s'more making supplies and your best ghost stories for fun evenings under the starry night sky.
3. Carve Pumpkins on your Rental's Deck
Pick up some pumpkins from a local farmers market or just grab a few at a local grocery store for some old-fashioned jack-o'-latern making! A cabin rental's deck is the perfect place for making your own custom Halloween decorations with nothing more than a pumpkin and a tea candle.
4. Walk Through a Corn Maze
When you're in the country, you may as well do as the locals do. Corn mazes are a beloved past time in Tennessee. At Kyker Farms in Sevierville, not only can you walk through a haunted corn maze trail, but you can also enjoy hay-rides, a petting zoo, and plenty of activities that are fun for all ages.
5. Zip Line Through The Trees
Soaring through the forest canopy is always beautiful, but just imagine what the trees will look like during peak fall foliage. Check out Smoky Mountain Ziplines to see the vibrant colors of fall from a new perspective and have an absolute blast at the same time!
6. See Fall At Dollywood
When fall comes to the Smoky Mountains, Dollywood kicks off the National Southern Gospel & Harvest Celebration. Dollywood is always a terrific place to visit for family fun, but this festival at Dollywood features great music and excellent décor throughout the park that complement this beautiful season.
7. Tour A Real Life Haunted House
Want to see an authentic haunted house in the Smoky Mountains? The Wheatlands Plantation in Sevierville has had its fair share of murder, tragedy, and spooky happenings.
This plantation was once the largest of its kind in East Tennessee and this historic house has been the site of many paranormal investigations. This could perhaps be due to a mass grave in the back of the property Indians who fell in the "Battle of Boydes Creek." The property has seen more than 70 murders and deaths through the centuries. Notably, bloodstains from one murder can still be seen on the parlor room floor.
This historic, and possibly haunted home is open for tours Thursday through Sunday from 11:00 am to 4:00 pm. Simply give the Wheatlands Foundation a call at (865) 365-1052 and ask about their Ghost Walk Tour.
8. Watch Scary Movies on Vacation
Enjoy a screaming good time by watching an old-school monster movie or bone-chilling horror flick in the comfort of your Pigeon Forge cabin rental. For an unbeatable film-watching experience, explore some of our luxury cabins with theater rooms that feature large screens, surround sound, and theater style seats that provide a true movie theater experience!
9. Celebrate the Harvest At Ober
Who knew you can experience an authentic Oktoberfest celebration in the Great Smoky Mountains?
Every fall, Ober Gatlinburg celebrates the harvest in Bavarian fashion complete with authentic German food, music, beer, and, of course, lederhosen. This month-long celebration is one of the more unique fall festivals in the Smokies and its well worth a trip to Ober Ski Mountain to see what all the fuss is about.
10. Sit Back on your Cabin's Deck with a Hot Tub
Even though there are so many fun things to do on your fall vacation in Pigeon Forge, sometimes it's best just to do nothing at all.
You can do exactly that by kicking back in the hot tub of a log cabin with a beautiful mountain view! Rest your weary bones in the steamy waters of your hot tub while you survey the beautiful leaf colors in the mountains.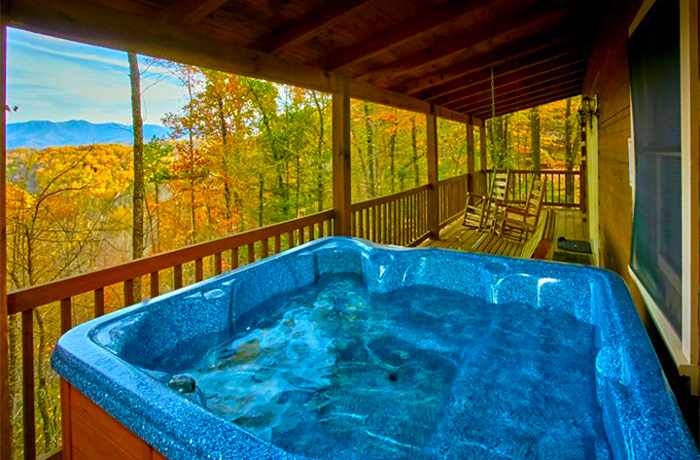 Map Of Fun Fall Activities For Pigeon Forge 2015
Final Thoughts
Above all, we know its your family and friends that make trips to the Smoky Mountains truly unforgettable. No matter what you do for your fall getaway in Pigeon Forge, we hope you have a terrific time.
We'd also love to know what your favorite things to do for fall in Pigeon Forge are? Do you like hiking trails in the national park? Or going to haunted houses in Gatlinburg? Or attending crafts fairs at convention centers? Tell us how you'll celebrate the incredible fall season in the Great Smoky Mountains of Tennessee!
Written by Adam Shafer