True football fans never take a break, even when they're on vacation. That's why if you find yourself in Pigeon Forge on game day, you're not one to miss watching your team compete.
Make sure you won't miss the big game by checking out our list of the top 5 places to watch the game in Pigeon Forge, TN!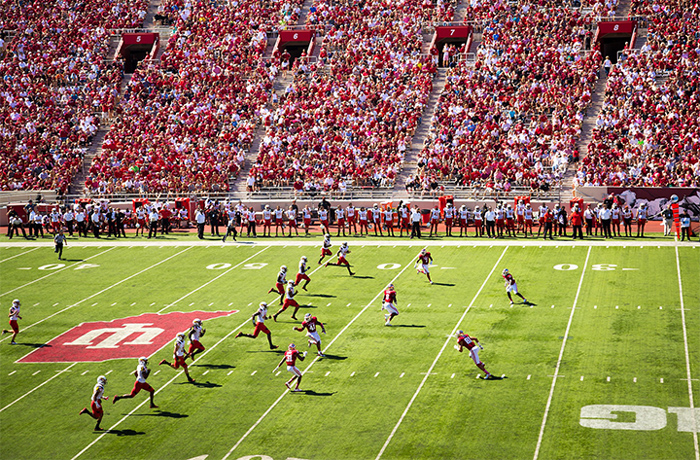 Best Places To Watch the Game in Pigeon Forge
These sports bars and restaurants in Pigeon Forge have lots of TV's, a fun atmosphere, and plenty of delicious food – a perfect place to watch football.
1. Smoky Mountain Brewery
This local brewery serves up locally brewed beers and delicious burgers, pizza, wings, ribs, and other game day classics. The brewery's soft pretzels and beer cheese dip is a real crowd pleaser and it pairs nicely with the Cherokee Red Ale. They offer 12 microbrews on tap as well as seasonal specials.
2. Timberwood Grill
Located in the Island in Pigeon Forge, Timberwood Grill is another prime place to catch the game. These large restaurant has plenty of televisions, so you won't have to worry about getting a bad seat for seeing your favorite team play. Ask for a seat in the bar area and try the Lumberjack Bison Chili or their specialty wings.
3. Blue Moose Burger & Wings
This family-friendly sports grill has over 20 flat-screen televisions to make it easy for guests to watch their favorite football team play. They're known for their jumbo chicken wings that come in 16 tasty flavors. The Blue Moose serves up plenty of burgers and sandwiches to keep your family happy and full.
4. The Roaming Gnome
You'll find the Roaming Gnome & Eatery in Governor's Crossing only a short drive from the main drag in Sevierville. This pub has jumbo TV's, tasty bar food, and some unique Irish dishes to try something different, but completely delicious while you enjoy the football game.
5. JT Hannah's
Hannah's is a new addition to the Pigeon Forge Parkway and has been a popular choice for visitors and locals alike. Although this restaurant isn't a proper sports bar, they do feature a great bar area with an excellent atmosphere. You'll find plenty of mouthwatering appetizers like the fried pepper jack cheese, fried pickles, hand battered chicken tenders, and house made onion rings while you cheer on your team.
Final Thoughts
In this part of the country, UT football is all important during this time of year. Fans of this storied program come from far and wide to see the home games in nearby Knoxville, TN. In fact, many loyal fans stay cabins in the mountains for their weekend of watching the Volunteers.
Though a cabin is a bit further from town, our guests love enjoying some time in the Smoky Mountains and Pigeon Forge during their stay!
Several of our cabins in Pigeon Forge offer the SEC Network or the NFL Network, so you won't have to go out to catch the game – simply relax in your luxurious mountain getaway!
For a Super Bowl party to remember, why not book a Pigeon Forge cabin with a theater room? This amenity gives you the perfect place to watch the big game because it comes with a large screen, immersive surround sound, and theater style seats. Better yet, our large cabin rental offer plenty of space to accommodate everyone in your group, so you can celebrate a great season with all your friends.
We'd love to know – where do you enjoy watching football and other sports in Pigeon Forge? Feel free to share in our comments section!
Written by Adam Shafer