We all want the perfect lodging for our vacation. However, finding the right cabin with the amenities, location, and affordable nightly rate can be a challenge.
Pigeon Forge is an exceptional place to find cabin rentals for your getaway, but choosing the right cabin can be a little overwhelming.
After all, you could find that your dream cabin is already booked or maybe your preferred cabin will put a strain on your vacation budget.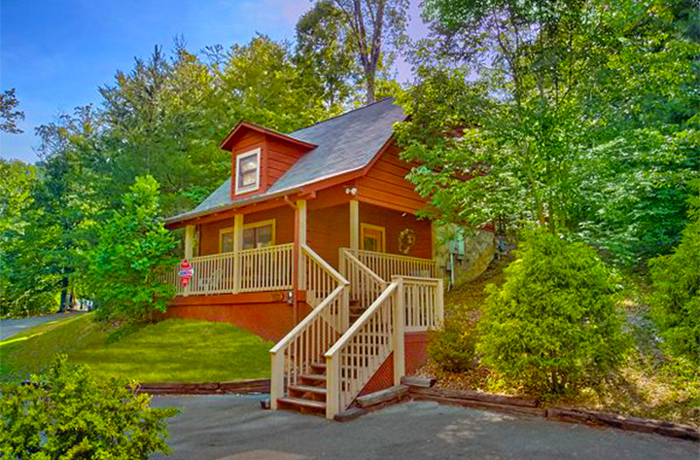 So how can you get the most out of your vacation in Pigeon Forge?
We want all of guests to have a fantastic stay in the Smoky Mountains, so we'll let you in on these insider tips for booking a cabin in Pigeon Forge, TN!
1. Book Ahead of Time
Like many things in life, the early bird gets the worm principle is also true for booking a cabin.
Over 12 million people visit the Smoky Mountain region annually and there are a limited number of cabin rentals to go around. Competition can be fierce.
During busy times of the year, it isn't surprising that all of the cabin rental companies will be fully occupied. No one wants to feel the disappointment of staying in a hotel when their heart was set on a rustic log cabin in the mountains.
Booking early, around 2 to 4 months ahead of time, is the best way to secure the best kind of lodging for your stay.
If you don't plan your getaways that far in advance, there's no need to worry! We have some other tips for your situation.
For the best chance of finding the right cabin for your stay, it's wise to book in advance, whether there's a specific cabin you'd like to book or a fun attraction you'd like to stay near.
2. Know the Busy Seasons
If your trip is short-notice, then you may as well know what to expect when you vacation in Pigeon Forge.
By considering the season of your visit, it's possible to estimate how crowded the Smokies are and how many cabins will be available. For example, you're bound to find a greater selection of cabins in the off-season when compared to the busiest times of year.
So when's the off-season in the Smoky Mountains?
The months of March, April, and May are probably the slowest season in the Smokies, but there are still plenty of vacationers in town to see beautiful wildflowers. All the same, vacationers in early spring can find more available cabins.
Though spring is the closest thing Pigeon Forge has to an off-season, other times of year are very popular. Summer is the perfect time for family vacations. Fall brings visitors who want to see the changing leaves. Winter brings in holiday crowds and skiers.
It's also important to factor in other popular events and holidays. Spring break weeks, Christmas, Labor Day, Memorial Day, and Thanksgiving bring in more visitors than usual. Additionally, major events like parades and major car shows like Rod Run also increase the number of visitors.
If you know you'll be visiting during one of the busier times of year, it pays to reserve your cabin rental as early as possible.
3. What Cabins Fill Up First?
Did you know that certain kinds of cabins are reserved before others?
For example, our cabin rentals with access to swimming pools are extremely popular in the summer. In the winter months, cabins with private indoor pools are in high demand.
Here are some cabins that are always in high demand:
1 & 2 Bedroom Cabins
Cabins With Theater Rooms
Pet Friendly Cabins
Cabins on Secluded Properties
Rentals With Mountain Views
Cabins Close To Dollywood
If your desired cabin falls in any of these categories, it pays to reserve a rental while you still can!
Cabin USA offers over 300 cabins in the Smokies, but even our great selection of cabins can be fully reserved.
4. Tips For Last Minute Getaways
Sometimes you really need a vacation. Spontaneous trips to the mountains can be just as rewarding as a vacation you've planned months in advance, but you'll some help finding the right cabin.
The good news is this: it's possible to snag a cabin for 1 night only in the Great Smoky Mountains.
Check out these cozy single-night rentals available throughout the Smoky Mountains:
Often, some of these last minute cabin deals are even available to two or more nights if you'd like a longer stay.
5. Look For Special Deals and Rates
Who doesn't love saving money on their vacation?
Of course we all want a great deal, the only problem is finding a special discount that can make your stay truly affordable.
Once you've settled on your vacation dates, keep an eye on special offers from cabin rental companies by signing up for newsletters or following them on social media.
For its part, Cabins USA is currently offering a 15% discount on select cabins. Simply check the availability for a specific cabin, and you'll see how much you can save during your stay.
Final Thoughts
Want even more insider tips on reserving cabins for rent in Pigeon Forge, TN? Call our reservations office to speak with one of our reservations specialists.
We're available daily to help you find the perfect cabin for your getaway. We'll also be happy to answer any other questions you might have about the best time to book your cabin.
Have you stayed in a Pigeon Forge cabin before? Are there any special tips you'd like to share for visitors who've never stayed in Pigeon Forge? We'd love to hear your suggestions in our comments section!
Written by Adam Shafer