Ever been to Winterfest in Pigeon Forge? It is truly a sight to behold.
During this festive celebration, over 5 million Christmas lights decorate the city for four months – practically the entire winter season.
Pigeon Forge has celebrated the magic of the holidays with ginormous light displays for over 20 years. Needless to say, Pigeon Forge knows how to put on a show.
Pigeon Forge isn't the only town that decorates with Christmas lights. However, it is one of the only places with such a staggering number of huge light displays.

To help you experience the beauty of Winterfest, we've made this handy guide on how to experience the festival of Christmas lights in Pigeon Forge, TN!
When Do the Christmas Lights Go Up in Pigeon Forge?
In 2015, we can all enjoy Winterfest Lights in Pigeon Forge from Nov. 9th to February 28th.
The dates do change slightly from year to year. Generally, the lights are up before Veterans Day. Visitors and locals alike can continue to enjoy the lights until the end of February.
November 10th marks the Winterfest Kickoff event, the official beginning of this seasonal festival. This celebration features the ceremonial lighting of the Christmas Displays throughout Pigeon Forge.
The festivities begin at Patriot Park at 5 pm with live music. At 6 pm, visitors can enjoy free trolley rides for one night only.
How Can I see the Lights in Pigeon Forge?
Guests have two options for viewing the Christmas lights.
First, you can simply drive up and down the main parkway in Pigeon Forge to view the gorgeous light displays. To ensure you don't miss a single display, you can pick up a guide with details and locations for all of the big features. You can see the guide online here.
Pamphlets for self-guided tours are also available at the Pigeon Forge Welcome Center and the Trolley Office in Patriot Park.
If you just want to sit back and enjoy the festive lights, you could also simply buy a ticket on the Trolley Ride of Lights!
When Does the Trolley Ride of Lights Begin?
The Trolley Ride of Lights runs from Nov. 10th until Jan. 10th. This tour only operates on week nights. Tickets are $5 per person and can be purchased at the Pigeon Forge Trolley Station in Patriot Park. Tours start at:
Don't forget to bring a camera to take pictures of these fantastic Christmas lights in intricate displays!
When Did this tradition start?
The first Pigeon Forge Winterfest was in 1989. 2015 now marks the 26th Annual Winterfest. By all accounts, this celebration of winter in the Smoky Mountains is still going strong and continues to grow in popularity every year!
Where Are the Best Christmas lights in Pigeon Forge?
You can see the lights of Winterfest between traffic light #0 and traffic light #10 in downtown Pigeon Forge.
Most of the light displays are located along Pigeon Forge Parkway, however there are other beautiful sights to see in other parts of town. There are some spectacular displays you won't want to miss along Old Mill Avenue, Teaster Ln, and River Road.
Christmas light display highlights include:
The Lights of Patriot Park
The Mill Scene
Eagles in Flight
Southern Charm
The Winterfest Express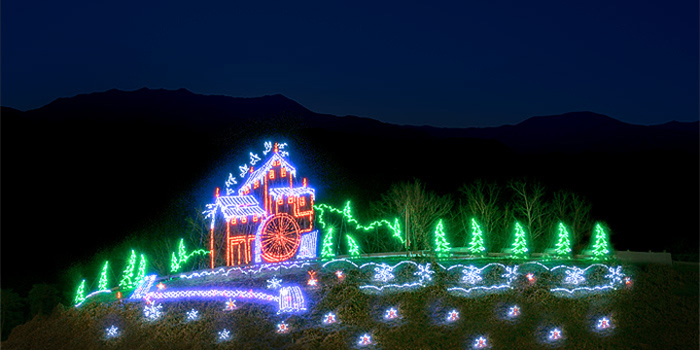 Other Places To See Wondrous Holiday Lights
Dollywood puts on an award winning Christmas celebration from Nov. 7th to January 3rd. You can see the entire park decked out with garland, holly, and millions of Christmas lights. This festival also features special holiday performances.
The Island in Pigeon Forge features a light show paired with Christmas Music. You can see the synchronous light show at the fountain and the Great Smoky Mountain wheel located at the heart of the Island.
For even more beautiful holiday lights, simply drive to nearby Gatlinburg, TN. This peaceful mountain community hosts its own Winterfest celebration that decorates the town in millions of LED lights and custom displays. Gatlinburg also hosts the Fantasy of Lights Christmas Parade on December 4th at 7:30 pm, a massive holiday parade that draws thousands of people.
Pigeon Forge doesn't have it's own Christmas Parade, but nearby Sevierville, TN celebrates one on December 5th at 11 am.
Final Thoughts
Have you ever experienced Winterfest in Pigeon Forge? What was your favorite part? Did you see any snow? We'd love to hear about your experiences in our comments section!
Also, if you've never seen the Smoky Mountains in the winter, we recommend booking your very own cabin rental in Pigeon Forge, TN for experiencing the magic of the holidays!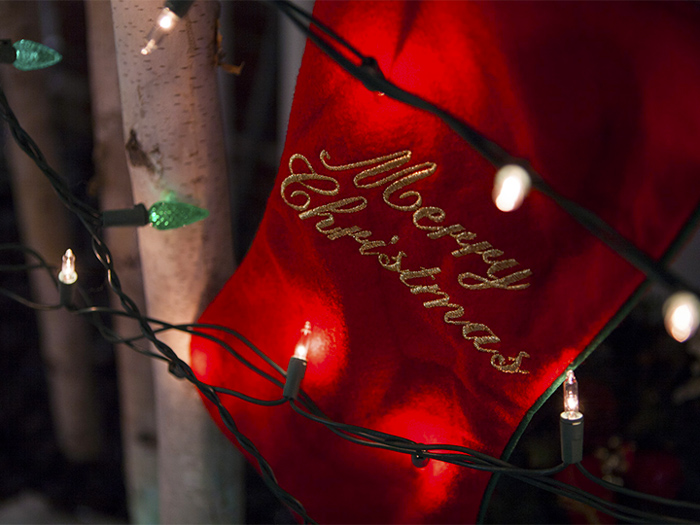 Written by Adam Shafer