It's well worth your time to explore the Great Smoky Mountains National Park in any season, but winter brings some truly special things to experience.
Not only is wintertime in the national park beautiful, but also there are some definite advantages for exploring the Smokies from December to February.
To help you get out on the trails, we've made this guide with the best winter hiking trails, road closure information, suggested hiking gear, and safety tips.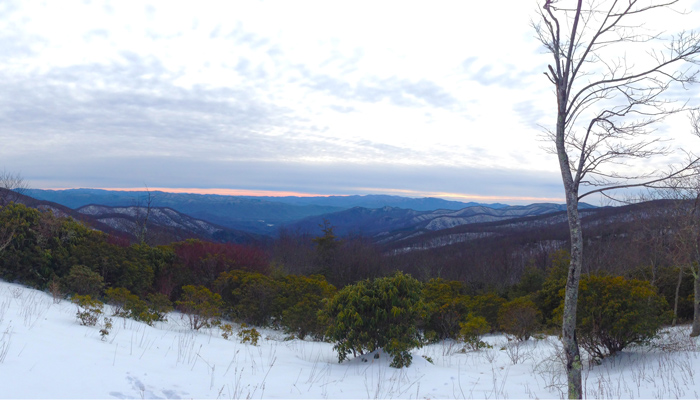 Wintertime can be an especially nice time to put on your hiking boots and go for an adventure. Here are just a few of the highlights you might enjoy on a winter hike:
Snow-Covered Mountains
Frozen Waterfalls
Rime Ice On Tree Limbs
Better Visibility For Mountain Views
Best Trails For Winter Hikes in the Smoky Mountains
For exploring the Smoky Mountains in the winter months, not all trails are created equal. You'll probably want to experience a trail that shows off the beauty of winter. So here are our qualifications for a good winter hiking trail:
A trail must be shorter since the days are shorter in winter.
If you are hiking without certain equipment, a low elevation trail will be safer because there is less ice and snow.
A trail must be accessible from roads that aren't closed for the entire winter season.
High Elevation Winter Hikes
Because high elevation regions of the park experience colder temperatures, hiking trails in these areas are more likely to have ice and snow. If you're interested in these winter hikes, be sure to bring winter hiking gear like sturdy boots and hiking poles for safety. We've included the round trip hiking distance to help plan your hiking excursion.
Alum Cave - 10 Miles
This top-rated hike in the Smokies takes a strenuous route to the top of Mt. Leconte. On the way, hikers are pass through a unique rock bridge, 100 foot tall bluffs, and several inspiring overlooks.
Chimney Tops - 4 Miles
The Chimney Tops Trail is a short hike with an incredible reward. At the top, you'll be treated to panoramic views and a large rock face that is perfect for climbing around with safety.
Anthony Creek Trail To Rocky Top - 12 Miles
Anthony Creek Trail begins in Cades Cove, but finishes atop one of the most iconic summits in Tennessee. On this long hike, you'll see Spence Field, a high elevation bald in the Smokies with 365-degree views.
Charlies Bunion or the Jump Off Via the Appalachian Trail – 8 Miles
Hike along the spine of the Smoky Mountains and see beautiful views from the iconic rock outcropping of Charlie's Bunion or the sheer cliff-face of the Jump-Off.
Mt. Cammerer Via Low Gap Trail – 12 Miles
This low-elevation summit is home to a western-style fire tower that's built into a mountain ridge. Hikers will be treated to beautiful views, especially in the winter months when the leaves have all fallen.
Low Elevation Winter Hikes
These trails are at lower elevations, so less ice and snow form along these trails. As a result, these routes are safer, but still exercise caution on these hikes, especially around waterfalls and stream crossings.
Ramsey Cascades in Greenbrier - 8 Miles
Ramsey Cascades is one of the tallest waterfalls in the national park. When temperatures dip below freezing, these massive falls become coated with impressive amounts of ice.
Laurel Falls Trail - 2.3 Miles
This short, paved trail is highly accessible and only a short drive from Gatlinburg, TN. Not only will hikers be able to see a lovely, multi-tiered waterfall, but they'll also enjoy beautiful views along the trail.
Abrams Falls Trail in Cades Cove – 5 Miles
Known as the highest volume waterfall in the Smoky Mountains, Abrams Falls is an excellent hike for seeing ice formations on colder days.
Spruce Flats Falls – 2 Miles
Located near the Great Smoky Mountains Institute at Tremont, this short waterfall hike features beautiful views of Thunderhead Mountain and a lovely 30-foot tall waterfall.
Middle Prong Trail in Tremont - 8.3 Miles
The level trail is situated along an old rail-road grade that passes by several waterfalls on a gorgeous section of river. Along the way, you'll see evidence of logging camps and CCC workcamps.
Little Greenbrier Hike in Metcalf Bottoms – 2.6 Miles
This short hike to a historic school house, grave yard, and the Walker Sisters cabin is a great way to explore the historic community of Little Greenbrier that was a thriving community long before the establishment of the Great Smoky Mountains National Park.
Map Of Hikes in the Smoky Mountains During Winter
Great Smoky Mountains National Park Winter Closures
For the winter season, most of the major roadways in the national park remain open except when ice or snow forces their closure. Here's a list of popular routes that are closed during the colder months.
The Roaring Fork Motor Trail – Closed December 1 To March 31.
The Clingman's Dome Road – Closed December 1 To March 26
Parson's Branch in Cades Cove – Closed November 16 to April 10
Since these routs are closed, you can't reach these popular hikes without a good deal of extra walking along roadways. These trails aren't closed for the winter, but they are more difficult to reach during seasonal road closures.
The Rainbow Falls Trail
Trillium Gap
Clingmans Dome Trail
Andrews Bald
Gregory's Bald
Please Note: Winter weather events frequently close Newfound Gap Rd (US-441) that connects Gatlinburg, TN and Cherokee, NC. If Newfound Gap Road is closed, you won't be able to reach trailheads like Alum Cave, Chimney Tops, or those the Appalachian Trail at Newfound Gap.
Large snow storms can cause the national park to close all of its entrances. If you want to be able to enjoy the snow when most park entrances are closed, you can usually reach trailheads like the Gatlinburg Trail or the Turkey Pen Ridge Trail that aren't far from the park's gates. If you can reach the Gatlinburg or Townsend entrances to the national park, these hikes make a great backup plan.
Here's what you might see in the Smokies after a snowfall.
Gear and Equipment You'll Need For Winter Hiking
Sturdy Boots - For ankle support and foot protection.
A Change Of Socks – In case your boots become wet.
Extra Layers – Wearing several layers of jackets and clothes allows you to adjust your outfit with your body's temperature. In cooler weather, sweat can be rather dangerous because moisture in cold weather makes it harder to regulate your temperature.
Trekking Poles – These provide stability and safety on slippery ice and snow.
A Flashlight or Headlamp – In the event you begin your hike late, you'll be able see the trail when the sun goes down.
Crampons or Gaiters – These slip-on boot accessories make it much easier to hike over ice and snow.
Plenty of Food and Water
For a complete list of hiking gear for day hikes or camping trips, check out this great list of suggested winter gear.
Safety Tips For Winter Hikes
Though the rewards are great, you'll want to exercise caution and be prepared for your winter hike. Hypothermia is a real risk hiking in the Smokies, especially in wet weather. These tips will help keep your adventure safe and enjoyable.
Stay On Trail – Leaving the marked trail can result in hikers becoming injured or lost.
Let Someone Know Where You'll Hike – In the event twist an ankle or become lost, having someone who knows your route can be a real life-saver.
Watch the Weather – The winter season can bring drastic changes in weather, so you'll want to research temperature and precipitation levels before starting your hike.
Bring A Map – Making a wrong turn can result in having to cover lots of miles, so it's wise to bring everything you'll need to navigate in the Smokies.
Final Thoughts on Hiking in the Smokies During Winter
With snow, ice, and cold temperatures, the mountains feature many natural wonders during the winter season. To make it easy to explore these excellent hikes throughout the national park, why not book one of our Pigeon Forge cabins that are only minutes away from the Great Smoky Mountains!
Written by Adam Shafer