You can plan a lot of things on your vacation, but there's one thing that's simply out of your control:
The weather.
Even though the forecast can keep you from enjoying Dollywood or an afternoon of horseback riding, there are still tons of incredibly fun things to do on your rainy day in the Smokies!
To keep your vacation plans from getting washed out, we've made this guide with the 10 best Pigeon Forge indoor attractions that you're bound to love rain or shine!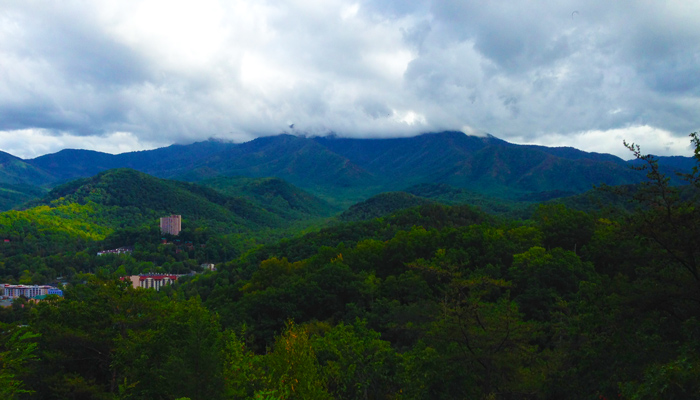 Don't let the rainy day blues ruin your vacation, instead try these fun indoor activities!
1. Play Indoor Mini Golf
Lazer Port Fun Center in Pigeon Forge has an 18-hole, black-light course that's entirely indoors. The kids will have a blast and the dazzling colors of this mini-golf course create a truly unique experience. It doesn't hurt that this attraction has other fun activities like laser tag and the largest video game arcade in the Smokies, too.
If you want to satisfy both your sweet tooth and enjoy a fun-filled family mini-golf experience, Crave Mini-Golf offers guests a chance to enjoy a candy-themed indoor golf course (There's also an outdoor course if the weather allows), mini-bowling, a sweet shop, and a milkshake bar.
2. Race Go-Karts on an Indoor Track
There are a lot of places to race go-karts in Pigeon Forge, but Fun Stop is one of the only places with an indoor go-kart track! Even when you find yourself in Pigeon Forge on a rainy day, you can enjoy some friendly competition racing against your family and friends.
3. Visit a Pigeon Forge Museum
Adding an enriching activity to your vacation doesn't have to be boring! Luckily, Pigeon Forge is home to some interactive museum attractions that are as educational as they are fun!
The Titanic Museum – It's hard to miss this attraction in Pigeon Forge that looks like a scale model of the great ship itself. Inside, you'll find full-scale recreations of rooms inside the Titanic, interactive displays, and the largest permanent collection of artifacts from the shipwreck in the world.
Visit Site: http://www.titanicpigeonforge.com/
The Sevierville Aviation Museum – As a living museum, the displays of the Sevierville Aviation museum are constantly changing. You can see airplanes from the earliest days of aviation to the remarkable fighter planes of WWII.
Visit Site: http://tnairmuseum.com/
If you love local Smoky Mountains history, stop by the historic Old Mill for a tour of one of the oldest structures in East Tennessee.
4. Experience Wonderworks
Ever notice that giant upside-down building in Pigeon Forge? Wonderworks is an incredible interactive museum with dozens of unique displays that show off the power of hurricanes, earthquakes, and other natural forces.
Wonderworks is also home to a full indoor ropes course, a large laser tag arena, and a magic show.
5. Stop By Sugarlands Visitor Center
Let's face it, the Great Smoky Mountains National Park isn't as fun to explore on a rainy day. However, there are still excellent displays at Sugarlands Visitor Center that are perfect for learning about America's most visited park.
This free museum tells the story of the Smoky Mountains region's past including the Cherokee, early settlement, and the development of the national park. There's also a 30-minute video about the Great Smoky Mountains.
Better yet, if the rain blows over while you're at the museum, you'll be able to quickly get back to hiking on trails or visiting historic cabins in the national park.
6. See Ripley's Aquarium of the Smokies
Aquariums are a classic rainy day activity. Better yet, Ripley's Aquarium of the Smokies in nearby Gatlinburg, TN has earned the distinction of being the most popular Aquarium in America according to Trip Advisor.
At this excellent attraction, you'll see large sharks, penguins, turtles, string rays, jellyfish, and hundreds of colorful fish!
7. Go Gem Mining in Pigeon Forge
There's gold in these hills! Well, at least there are beautiful gems, rubies, sapphires, and emeralds. Take a trip to the Pigeon Forge Gem Mine to find unique treasures.
Sift through the soil just like a prospector to find valuable gems that you can treasure forever. There's no telling what you'll find in your mining pan. Better yet, they even offer a jewelry store that can polish your gems and mount them into jewelry. You can find the Gem Mine in Pigeon Forge near 3 Bears General Store.
8. Have A Blast At Top Jump
Need a place for the kids to get out some energy?
Check out TopJump in Pigeon Forge, TN! This trampoline park offers 9 extreme adventure experiences that are perfect for kids of all ages. Bounce to new heights in the trampoline park, enjoy the challenge of a ninja course, or dunk like Jordan at this brand new attraction in the Smoky Mountains. Best of all, this trampoline attraction is entirely indoors.
Visit Site:https://topjump.com/
9. Tour Pigeon Forge Wineries
What can you do when the weather doesn't cooperate in Pigeon Forge? Tour local wineries of course!
Pigeon Forge is home to several wineries that are perfect for sampling local wine varieties and learning more about the wine-making process. Try some free samples to find a bottle you'll love and then take it back home as a unique souvenir. Stop by some of these local wineries for a tour on your next rainy day in the Smokies.
Mountain Valley Vineyards
Apple Barn Winery
Hillside Winery
10. See A Pigeon Forge Dinner Show
Pigeon Forge is known for great entertainment and country music revues. Better yet, you can enjoy your dinner with a show. Here are just a few dinner shows in Pigeon Forge to check out:
Dolly's Smoky Mountain Adventure Dinner Show
Dixie Stampede
Smoky Mountain Murder Mystery Dinner Show
Map of Indoor Attractions in the Smoky Mountains
Final Thoughts on Pigeon Forge Indoor Activities
Another way to keep rain from putting a damper on your vacation fun is to book a cabin rental.
We can all agree that hanging around a hotel room isn't the best way to spend a vacation.
If you book a cabin, you'll always have the option of playing billiards in the game room or simply relaxing in a hot tub or jetted tub. Better yet, other rentals come with fantastic amenities like theater rooms and indoor swimming pools that are bound to make your trip a delight no matter what the weather holds!
Find Your Cabin in Pigeon Forge!
Written by Mark Frazier