Planning a vacation for your spring break?
Whether you're planning a family getaway or a fun trip with friends, it's hard to beat the fun, affordability, and convenience of spending spring break in the Smoky Mountains of Tennessee!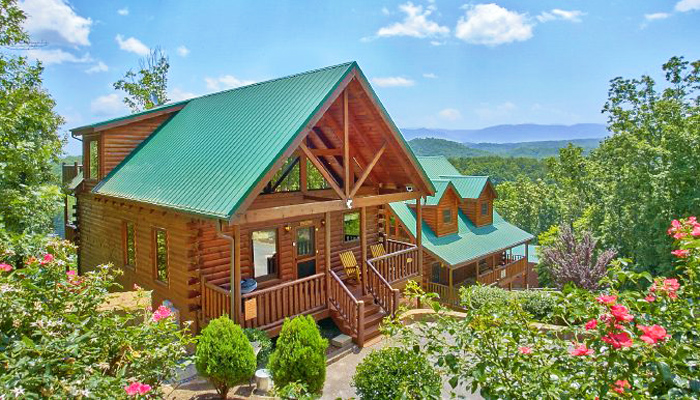 If you're looking for a unique destination, it's hard to beat Pigeon Forge, an action-packed town located just outside of the Great Smoky Mountains National Park.
So what's there to do in Pigeon Forge during spring break?
Although there's plenty to do in the Smokies during early spring, but here are the top 7 reasons to spend spring break in Pigeon Forge, TN!
1. Go To Dollywood When It first Opens!
After a brief break in the winter, Dollywood starts up for a new season on March 18th, 2017. This Smoky Mountain themed amusement park was created by Dolly Parton and has grown into on of the top attractions in the Smokies.
As a result, this is a great opportunity to experience roller coasters, rides, shows, and delicious food at Dollywood without the crowds.
Be sure to check out "Lighting Rod," the world's fastest wooden roller coaster that opened at Dollywood in 2016.
Visiting Pigeon Forge for spring break and taking a trip to Dollywood is the perfect way to ride this record breaking coaster!
2. Experience Irish Month at The Titanic
Just because your kids have some time off from school, it doesn't mean they can't learn something during spring break.
With hundreds of historic sights in the Great Smoky Mountains National Park and fun attraction museums, Pigeon Forge is a great place to plan an enriching trip.
Better yet, March is "Irish Month" at the Titanic Museum. During this time of year, the Titanic Museum takes the opportunity to commemorate the contributions of the Irish to America's culture. This is fitting for this museum, since the great ship was constructed in the shipyards of Belfast and many of its passengers hailed from the Emerald Isle.
Highlights of this celebration include special demonstrations of Irish history, music, step dancing, and storytelling.
3. Enjoy the Smokies Without The Crowds
Spring is definitely a less crowded time of year to visit the Smoky Mountains
Visitors may find that there's more traffic on weekends, but generally speaking, there are fewer cars on the roads, shorter lines for attractions, and more parking.
Here are just a few attractions to see while the crowds aren't in town:
The Old Mill
Go Kart Racing
Laser Tag
Putt Putt Mini Golf
The Great Smoky Mountain Wheel
Ripley's Aquarium of the Smokies
4. Wildflower Hikes in the Smokies
After a chilly winter season, the Great Smoky Mountains National Park comes alive with beautiful wildflowers and budding trees. By March, flowers are often blooming on lower elevation trails in the national park and the weather is often warm enough for hiking.
If you want to see some gorgeous wildflowers in early spring, we recommend exploring these parts of the national park:
Sugarlands
Elkmont
Tremont
Metcalf Bottoms
Cades Cove
When the crowds aren't in town, spring break is also a great time to enjoy hiking trails that are often to crowded to truly enjoy. As a result, now's the perfect time to cross popular hikes like Alum Cave Trail, Laurel Falls, and the Chimney Tops off your list.
By late March, the Roaring Fork Motor Trail is also open. This gives visitors quick access to the Place of a Thousand Drips, Grotto Falls, and the Bud Noah Ogle Cabin.
5. Explore the Smokies With Outdoor Adventures
As soon as the weather is suitable, local outfitters start offering adventures in the Smoky Mountains. Check out these fun outdoor activities that are perfect for experiencing the beauty of the mountains.
Zip Lines
River Rafting
Guided Horseback Rides
Mountain Coasters
6. Wineries and Distillery Tours
In the past few years, local wineries and moonshine distilleries have become incredibly popular in Pigeon Forge. Whether you and your friends are interested in finding the perfect bottle of wine on the Rocky Top Wine trail or you want to sample some authentic Tennessee moonshine, Pigeon Forge is the place to do it.
The Ole Smoky Moonshine Barn at the Island is a great place to see live music in Pigeon Forge. You can also try free samples of moonshine flavors that you won't find anywhere else.
7. Find Better Rates on Cabins
Of all the reasons to visit Pigeon Forge during spring break, affordability is definitely a huge perk. Since there are relatively fewer vacationers during spring break, rates for cabins are often lower.
For students visiting for spring break, it's often very affordable to reserve a group cabin. A larger cabin can sleep as many as 20 guests, so you can easily split the cost of your nightly rate to a fraction of the cost.
For family trips, there's also a great selection of cabins with excellent amenities that can take your getaway to the next level.
These rentals come complete with hot tubs, game rooms with pool tables, and decks with beautiful mountain views. Some especially luxurious amenities include private indoor swimming pools and theater rooms.
To help make your spring break trip to the Smokies affordable, Cabins USA is offering a 15% discount on select properties. Find your cabin today and see how much you can save on your vacation to Pigeon Forge, TN with these spring break deals!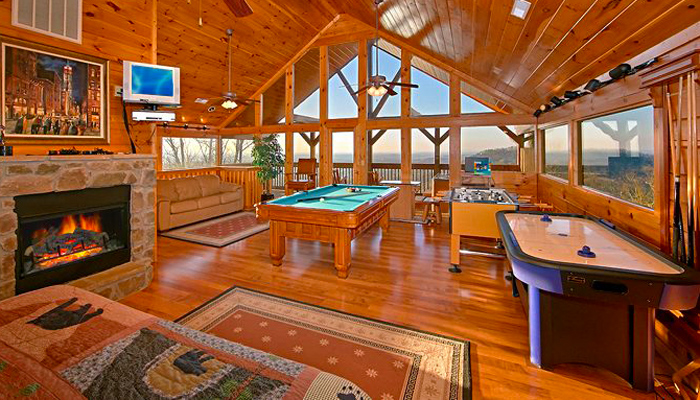 Written by Adam Shafer