Planning a family vacation to the Great Smoky Mountains of Tennessee?
Then you know that there's a lot that goes into making your trip a success! Not only do you have to research what attractions you want to see, but you also have to find a place to stay for your vacation.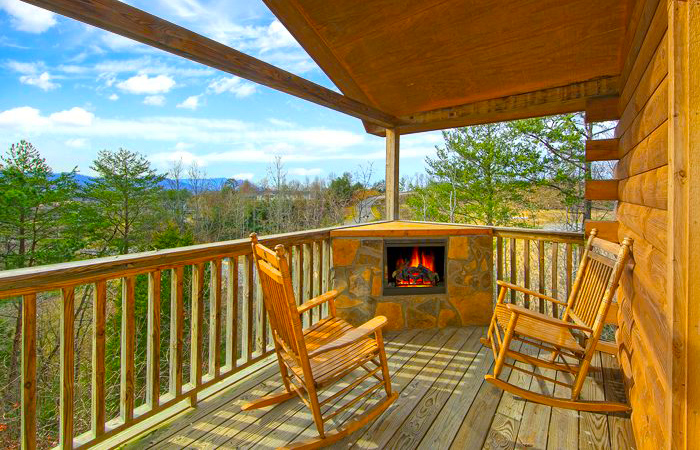 We know that it can be a little overwhelming to find the perfect accommodations for your getaway, so that's why we made this special guide on how to rent a cabin in the Smoky Mountains.
Authentic log cabin rentals are the perfect way to experience the natural beauty of the Tennessee mountains and they are also incredibly affordable. Best of all, cabins offer superior value to a hotel room since they offer privacy and comfortable amenities.
Check out this guide that can help you find the perfect rental in Pigeon Forge in four easy steps with Cabins USA!
1. What Size Cabin Do You Need?
To get the most value out of your vacation, you'll want to pick a cabin that offers plenty of space for your trip. Luckily, Cabins USA offers a range of 1 to 8 bedroom cabins for guests to enjoy.
Whether you're planning a romantic getaway for two or a large group gathering, our cabins can easily fit your lodging needs. As a result, our largest cabins can sleep up to 28 guests.
How many private bedrooms would you like to have? Selecting these links will set the number of bedrooms in the search bar.
Additionally, our search feature makes it easy to select how many people your cabin needs to sleep. It's often the case that a 2-bedroom cabin can sleep as many as 10 guests since these cabins often feature bunk beds, futons, sleeper sofas, or open loft bedrooms.
2. What Amenities Would You Like in Your Cabin?
Cabins USA comfortable log cabins also come complete with hot tubs, jetted tubs, indoor cabin pools, and a range of excellent amenities. The next step for choosing your log cabin is deciding what you want out of your cabin.
Do you want a cabin with a beautiful mountain view? A great location close to town? Luxurious amenities like hot tubs, game rooms, fireplaces, and theater rooms? Or all of the above?
Making a list of "must-have" features can really help you narrow down your search. Our cabin search tool is designed with this in mind, since you can pick which amenities you want.
Just start by opening the amenity search list.
3. Where Do You Want To Stay in the Smoky Mountains?
Next, you may decide what part of the Smoky Mountains you'd like to stay in. Each of these towns in the Smokies offers special perks and unique attractions to enjoy. Better yet, each of these areas is only a short drive away from the other. No matter where you stay in the Smoky Mountains, you'll have no trouble getting to the sights you want to see!
Just start by opening the city search tool on our search bar!
This action-packed town is home to the Pigeon Forge Parkway, a 12-mile long main drag that's home to dozens of restaurants, shops, and attractions. Pigeon Forge is a great place to stay if you love dinner theaters, live music, or interactive museum attractions. New attractions like The Island and historic sights like the Old Mill sit side by side in this beautiful mountain town. Pigeon Forge is also home to special events like parades, car shows, and festivals that draw thousands of guests every year.
Located only a short drive away from Pigeon Forge, you'll find the peaceful community of Wears Valley, TN. This picturesque valley is surrounded by soaring mountain peaks on all sides and is a great place to enjoy the scenery. Old fashioned mom & pop shops sit alongside new mountain coasters in this charming part of the Smokies. Additionally, Wears Valley also has an entrance to the Great Smoky Mountains National Park that makes it easy to reach sights like Cades Cove, Elkmont, and Tremont.
This historic community is located in the foothills of the Great Smoky Mountains. This beautiful area of rolling hills is only a short drive from exciting attractions in Pigeon Forge. Better yet, Sevierville offers lots of resort cabin rentals with excellent amenities like outdoor pools.
Nestled just outside of the Great Smoky Mountains National park, Gatlinburg is a top-rated destination with tons of fun attractions like Ober Ski Mountain, Ripley's Aquarium of the Smokies, and the Ole Smoky Moonshine Holler. Gatlinburg is known for its Bavarian-inspired downtown area that's perfect for enjoying a stroll.
4. Pick Your Vacation Dates
Our cabin search tool makes it easy to find what cabins are available for the dates of your stay.
If you haven't decided when you should take your trip or if you have some flexibility, you could aim to see the Smoky Mountains during a particular season.
Summer is a beautiful time of year when most businesses and attractions are open for long hours. Fall is a time when the mountain forests turn into beautiful hues of golds, reds, and oranges. Winter is a great time to go on a snowy hike in the national park. Spring is an excellent time to go searching for wildflowers.
Every time of year has its perks and we recommend that visitors try to plan to vacation in the Smokies in different seasons so you can see the mountains change with the seasons!
Simply select your arrival date and choose the number of nights you'd like to reserve your cabin!
Sometimes, it can be tricky to find a cabin that fits all of a guest's requests. We recommend starting by searching for cabins by your arrival date.
Once, you see all of the rentals that are available for this period, you can then use the other options to narrow down your search!
After you find the right cabin, simply select "Book Now" and enter payment information to reserve your cabin for the dates of your stay. Guests will then receive an email with information about checking in, directions to their cabin and booking confirmation details.
If you require assistance in finding your perfect cabin in the Smoky Mountains, don't hesitate to contact our helpful reservations staff.
Don't forget that you can save 15% on select properties when you book online with Cabins USA!
Written by Adam Shafer