The Great Smoky Mountains National Park is designated as an International Biosphere Preserve due to its incredible biodiversity.
There are over 1600 flowering plants in the Smoky Mountains, including 200 flowering trees and shrubs. Thanks to this incredible array of flowers, the Smoky Mountains are sometimes called "the wildflower national park."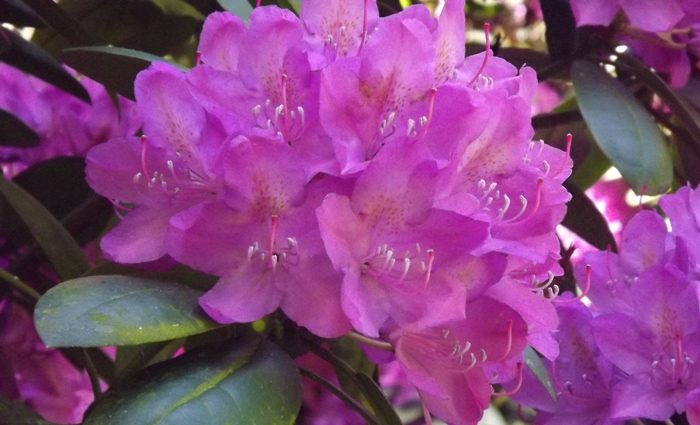 When Do Flowers Bloom in the Smoky Mountains?
If you've come to see wildflowers in the national park, you're in luck! There's a relatively wide window of opportunity to see flowers in the Smokies. From late February to September, it's possible to find beautiful wildflowers if you know where to look.
When's The Best Time To See Wildflowers in the Smokies?
In the Smoky Mountains, spring is commonly regarded as the best time to see wildflowers in the national park.
In particular, the fleeting spring ephemerals are particularly sought after in March. If you aren't in the Smokies during spring, there are some incredible sights like blooming Flame Azaleas and Turk's Cap that occur in summer.
Spring Flowers
The wildflower season begins with the spring ephemerals in March & April. These smaller flowers bloom before the trees' leave grow to take advantage of abundant sunlight on the forest floor. This includes plants like:
White Trillium
Crested Dwarf Iris
Columbine
Phacelia
Pink Lady Slipper Orchids
Purple Violets
During early spring, its possible to see the forest floor covered in beautiful purple or white flowers. Here's where to find early spring wildflowers in the Great Smoky Mountains National Park.
Schoolhouse Gap Trail
Middle Prong Trail
Little River Trail
The Old Sugarlands Trail
Baskins Creek Trail
Porters Creek Trail
If you aren't interested in hiking, the Cades Cove Loop and the Roaring Fork Motor Trail are some lovely drives that feature lovely spring wildflowers.
Please Note: For properly timing your visit, you should know that blooms occur depending upon elevation. Wildflowers first bloom in lower elevations of the mountains, but as temperatures warm, you can see them at higher elevations.
Here's a preview of some of the flowers you can see during spring in the Great Smoky Mountains.
By May, most of the spring ephemerals have gone dormant, but you can start to see early blooms of Mayapple plants, Red Cardinal Flowers and Pink Turtleheads throughout the park.
By late spring, you may also be able to see shrubs like mountain laurel, rhododendron and flame azaleas bloom from April to June depending on elevation.
One of the best ways to find spring wildflowers in the Smoky Mountains is to register for the Spring Wildflower Pilgrimage. This annual festival offers attendees guided tours of the mountains and special lectures on the history and ecology of the national park. This one-of-a-kind 4-day event occurs around the 3rd weekend in April.
Summer Flowers
Moving into summer, visitors to the park can look forward to a different display of wildflowers including:
Black-Eye Susans
Orange Jewelweed
Purple Turtlehead
Tall Bellflower
Bee Balm
Turk's Lily cap
Pale Jewelweed
Yellow Fringed Orchid
Wild Bergamot
Higher elevation areas like Newfound Gap Road feature some of the showiest wildflowers like the Orange Turk's Cap that blooms from July to September. Clingmans Dome road is another place to see beautiful wildflowers during the summer months such as Joe Pye Weed and the Green-headed Coneflower.
Some great hikes for enjoying summer flowers include:
The Chimney Tops Trail
The Forney Ridge Trail To Andrews Bald
The Appalachian Trail to Charlie's Bunion
One of the most spectacular sights in the national park is the bloom of the flame azaleas on Gregory Bald and Andrews Bald in June or July. Hikers can often find Rhododendron blooming at lower elevations, there are especially beautiful displays of Catawba Rhododendron on high elevation ridges in the Great Smoky Mountains.
Fall Flowers
To enjoy late summer and early fall flowers, seek out lower elevation regions of the park like Cades Cove to see yellow witch-hazel. However by this time of year, the real show-stopper are the beautiful colors of changing fall foliage.
Final Thoughts
If you're visiting Pigeon Forge in spring or summer, be sure to explore some of the incredible wildflowers of the national park.
Want to know one of the best ways to fully enjoy your trip? Here's how.
By booking a log cabin, you can enjoy top-notch amenities like hot tubs and game rooms for the same price as a hotel room. Book a multi-day cabin vacation to experience the diversity of flowering plants in the Smoky Mountains and earn a 15% discount on your log cabin!
Written by Adam Shafer