Don't want to go on another beach vacation? Looking for another kind of destination to make your trip worthwhile?
So where should you vacation in the South if you don't want to go to the coast or a large city?
Whether you're just looking for a new vacation idea or you just want to make the most of your stay, we're here to help!
Of all the great destinations in the south, we think the Great Smoky Mountains in Tennessee are just the sort of place you need for fun, restful, and affordable getaway.
Rather than just having one main attraction like the beach or an amusement park, the Smoky Mountains offer 3 main areas to explore. From the exciting sights of the Pigeon Forge Parkway to the charming mountain village of Gatlinburg to the natural splendor of the Smoky Mountains National Park, there's some much to do and see in this picturesque part of the country.
Here are 5 reasons To visit the Smoky Mountains for your next vacation in the South!
1. The Smoky Mountains Are Award Winning Southern Destination
You could say that the Smoky Mountains in East Tennessee are critically acclaimed.
Not only do over 10 million vacationers visit the Smoky Mountains every year, but also many of these trips are repeat visits. The Smokies are such a great destination that many people return to them year after year.
On top of having a great reputation with visitors, the Smoky Mountains have earned high marks from some of the biggest names in the travel industry. In fact, Gatlinburg, a popular town nestled in the Smokies, was named the #1 Destination on the Rise in the United States.
Local attractions in Smoky Mountain destinations like Pigeon Forge, TN also earn rave reviews.
Dollywood Theme Park consistently ranks among the top amusement parks in the country. Pigeon Forge has also drawn national attention from figures like Paula Deen, who opened a new restaurant at the Island in Pigeon Forge.
The towns of Gatlinburg and Pigeon Forge are only a short drive away from America's Most Visited National Park. And this leads us to another reason to visit the Smokies.
2. Experience the Natural Wonders of the National Park
The Great Smoky Mountains National Park expands over 800 square miles in the Southern Appalachian Mountains.
While there are virtually no lodging options inside the national park, aside from campgrounds, most visitors find it's convenient to stay in nearby Pigeon Forge and Gatlinburg to make day-trips into the park.
Just by taking a drive through the Smokies, you can witness gorgeous mountain views, spectacular waterfalls, and wildlife like bears, deer, and turkey. The Smoky Mountains National Park is also one of the top-rated hiking destinations in the Southeast.
Smoky Mountain trails like the Chimney Tops, Alum Cave, and Laurel Falls are regarded as some of the most popular hikes in the country. Even though millions of vacationers visit the national park every year, there are hundreds of miles of secluded trails that are perfect for getting away from it all.
Mt. LeConte near Gatlinburg is a favorite peak of many hikers. Check out this short video that shows off the stunning scenery of this area.
Additionally, the park is also a major preserve for cultural history. Historic sites in the national park like Cades Cove and Elkmont feature preserved cabins and churches that transport us back to days gone by.
3. The Smokies Are Accessible
Depending on where you want to vacation, you can sometimes spend most of your time travelling to get there. While there's no doubt that some places are worth a 12 hour drive, sometimes its nice to explore a place that's nearby.
Luckily, the Great Smoky Mountains area is only a few hours drive from most of the southeastern US! So if you're one of the 83 million Americans who hail from the south, it's likely that the Smokies are close enough to be your next weekend getaway.
When you visit the Smoky Mountains, you can spend more time enjoying your vacation rather than spending long hours in the car.
4. An Affordable Place To Vacation
For a destination with so much to do and see, you might start to think the Smokies are an expensive place to visit.
This couldn't be further from the truth.
In fact, the Smoky Mountains are one of the most affordable places to visit in the nation.
So what makes the Smoky Mountains a vacation destination that doesn't put a big dent in your budget?
Firstly, Tennessee has a low cost of living and these savings are passed on to tourists. Next, major sights like the Great Smoky Mountains National Park have no entrance fee, so you don't even have to purchase a ticket to have an incredible vacation. Lastly, there are so many places to stay in the Smokies that lodging prices are exceptionally low.
For example, it's often easy to reserve a small vacation cabin with a hot tub and a pool table for less than $90 a night. Special discounts and seasonally specials can often make the deal even sweeter.
5. Unique Place To Go
While you could take your family on another trip to the beach, why not mix things up with a getaway to the mountains?
With incredible scenic views, fun attractions, and budget-friendly lodging, there's no reason you can't treat yourself with a short getaway to the Smokies!
Better yet, you could have the unique experience of vacationing in an authentic Smoky Mountain cabin rental. These luxurious mountain lodges feature secluded locations, beautiful mountain views, and premium amenities to make your stay a true delight.
Use our cabin finder tool today to find an available rental for your getaway. Best of all, you can save big on your vacation with Kimble Cabin Rentals online discount!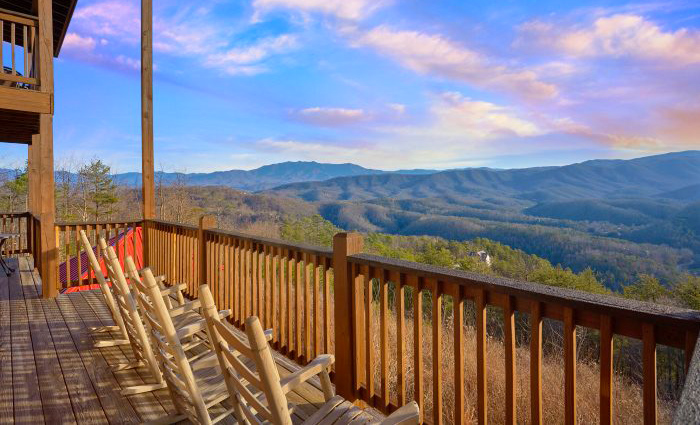 Written by Adam Shafer