Only a short drive from Pigeon Forge, visitors can witness a rare and spectacular natural wonder in Elkmont in the Great Smoky Mountains National Park.
It's known as the synchronous firefly event and it draws thousands of spectators every year.
To help you witness this one-of-a-kind event, we've made this handy guide with everything you need to know about seeing the synchronous fireflies in Elkmont!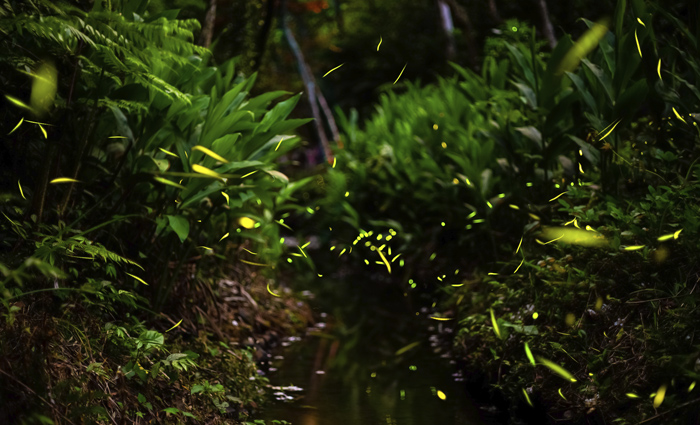 What is the Synchronous Firefly Event?
For a couple weeks during the year, fireflies in Elkmont blink on and off at the same time, creating a dazzling and mystifying effect.
Elkmont campground in the Great Smoky Mountains National Park is home to the biggest population of synchronous fireflies in the Western Hemisphere.
Though there are at least 19 species of fireflies in the Great Smoky Mountains National Park, only one kind is known to flash synchronously: Photinus Carolinus.
This rare phenomenon has only been documented in the Smoky Mountains and on river systems in Southeast Asia.
Bioluminescence, (the ability for a living creature to produce light), is a truly a wonder and you can see it on display in Elkmont like never before!
When Can You See Fireflies in Elkmont?
This rare firefly mating display typically only takes place for a couple weeks in early summer. Depending on factors like weather and temperature, the timing and scale of the display can vary from year to year.
Typically, park biologists are able to estimate the dates of the synchronous firefly display by late April. They generally predict the display will occur in late May or early June.
How To See The Fireflies in the Smoky Mountains
In 2016, the park service announced a new system for distributing parking passes for the synchronous firefly viewing event.
In past years, the park service had sold vehicle passes online on a "first-come, first-serve" basis. Though the parking pass is only $2.75, it's notoriously difficult to get one.
Because demand is incredibly high and space is limited, the reservation system often crashed and parking passes were sold out in a matter of minutes.
To preserve this natural wonder for future generations, the park service limits the number of spectators. For good reason, park rangers are concerned that allowing too many spectators may disrupt the fireflies during this critical 2-week mating period.
During the dates of the firefly event, the park service closes the road to Elkmont and only allows shuttles from Sugarlands Visitor Center to enter this area of the park. The only visitors who can board shuttles are those who purchase a parking pass for the firefly event.
To keep thing fair and equally accessible to everyone, the park introduced a new lottery system for distributing passes.
Here's how the synchronous firefly viewing event lottery will work:
April 25, 2017 – Dates of the Firefly Event and Shuttle Schedule Will be announced.
April 28, 2017 – Lottery for parking passes opens at 12:00 pm EST. Visitors can enter the lottery on this website.
May 1, 2017 – Lottery for parking passes closes at 8:00 PM EST.
May 10, 2017 – All lottery applicants will be notified whether they receive a vehicle pass or not.
May 30 to June 6, 2017 – The synchronous firefly viewing in Elkmont is scheduled for the first week of June. Ticket holders will be notified of when to arrive at Sugarlands on the evening of their viewing.
Visitors who receive a parking pass will go to Sugarlands Visitor Center at a specified date and time to park their vehicles. They will then take the firefly shuttle to Elkmont Campground to view the event.
Alternative Ways To See Synchronous Fireflies in the Smokies
Since it has become so difficult to view the synchronous fireflies in Elkmont, visitors may be wondering if there are other ways to view this stunning natural event.
Though Elkmont is home to the largest population of synchronous fireflies in the Smokies, some hikers have reported seeing this spectacle in other parts of the park.
This includes areas like:
These fireflies seem to flock to low elevation areas near the park that are relatively level that also have streams and rivers. It could be worth visiting these parts of the park during twilight to see if you can witness this fabulous display of twinkling lightning bugs.
Though we don't recommend hiking through the park at night, there have been reports of some brave hikers taking trails into Elkmont to view the fireflies. However, to return to their car after the event, so this would require around 10 miles of hiking, half of which would be after dark.
Over all the best way to view the fireflies in the national park is to enter the lottery for a parking pass. Even if you aren't lucky enough to win a pass this year, you can always enjoy this video of the synchronous firefly event in the Smokies!
If you're lucky enough to win a lottery pass, here are some rules for responsibly enjoying the firefly show in Elkmont.
Cover Lights with red or blue cellophane
Limit Flashlight Use
Point Your Flashlight at the ground
Don't Catch Fireflies
Stay on the Trail
Don't Leave Trash or Garbage
These rules are in place to help preserve this natural wonder for many years to come! We'd love to hear your stories, have you ever been to see the fireflies in Elkmont? Have you seen synchronous fireflies in other parts of the park? We'd love to hear your stories in our comments section!
Written by Mark Frazier