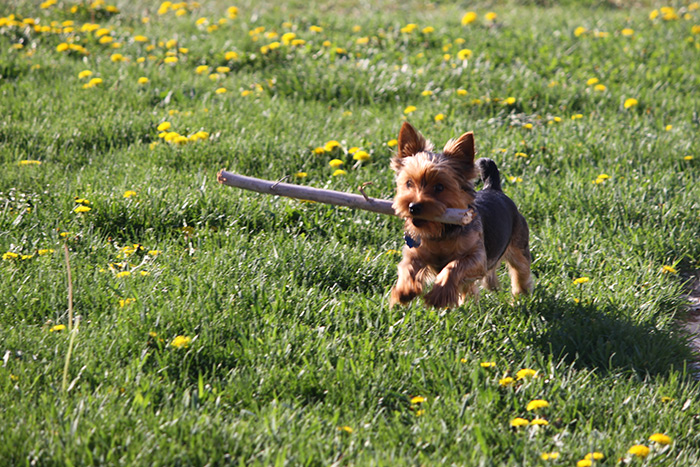 9 Awesome Activities for a Pet-Friendly Smokies Vacation
Dogs - they're man's best friend. They fill our lives with wet noses, kisses, and unconditional love. Every day they greet us after a grueling day of work with excitement, cuddles, and a smile. Why not take your most loyal companion on an exciting pet-friendly Smoky Mountain vacation? It only seems right to take the most loveable member of your family along for all the adventures, fun, and relaxation your Smoky Mountain getaway offers.
After finding a quality pet-friendly Smoky Mountain lodging with a big yard for plenty of games of fetch (and hardwood floors for those unexpected messes), vacationers might feel discouraged that their favorite canine has to spend most the day locked up alone while the rest of the family has all the fun. However, few visitors realize that there are several pet-friendly attractions in the Smoky Mountains that allow you and your dog to enjoy an adventure together.
From shopping to outdoor adventures, there's plenty to do and see outside your pet-friendly cabin in Pigeon Forge, Gatlinburg, and beyond! Here are 8 great ideas for a memorable vacation with your furry family member.
#1. Doggywood:
Pet-Friendly Lodgings at the Pigeon Forge Themepark
While everyone is familiar with the thrilling roller coasters and family-friendly atmosphere of Dollywood, few people know that just beside Guest Services at the Gates lies Doggywood. With 12 kennels and 4 colorful, country-themed cottages, Doggywood provides a comfortable place for your pets to stay while you and your family enjoy all the theme park has to offer.
These lodgings go fast, so make sure you reserve your kennel or cottage for the day you plan to visit on your dog-friendly Smoky Mountain vacation. Owners are responsible for bringing an adequate food supply for the stay as well as cleaning up the walk-area in your dog's kennel after his or her stay.
#2. Stroll Around The Island in Pigeon Forge
The Island in Pigeon Forge is a popular destination in the Smokies that's known for having great restaurants, interesting shops, and fun attractions! Better yet, you can bring your pet to the outdoor plaza at the Island that's home to a large fountain show and the Great Smoky Mountain Wheel!
#3. Smoky Mountain River Rat:
A Wild, Wet Pet-Friendly Adventure in the Smokies
If you and your canine companion are craving an outdoor adventure, why don't you take a trip down Smoky Mountain River Rat for a leisurely afternoon spent floating down the river with your favorite family member along for the ride Smoky Mountain River Rat offers a chance to enjoy the fun of tubing, rock jumps, and rope swings for a family adventure fit for the mountains. The best part about this pet-friendly Smoky Mountain attractions? Pets ride for free!
#4. Smoky Mountain Flea Market:
Find Some Bargains with Your Pet
This Smoky Mountain pet-friendly attractions allows you the chance to find some quality bargains. One of the most visited flea markets in the region, you can browse 1,000 indoor and outdoor vendors. From furniture to a farmer's marker, collectibles to household items this flea market offers a bit of everything for everyone. All dogs must be on a leash outside and within a dog carriage in the building.
#5. The Gatlinburg Trail:
Enjoy the Great Smoky Mountains with Your Dog
Few visitors to the Smokies realize there are only two authorized pet-friendly trails in the Smoky Mountains National Park. One of these trails, the Gatlinburg Trail allows you and your loyal companion to walk a short trail in the Smokies.
The 1.9 mile trail starts at Sugarlands Visitor Center and offers gorgeous views of the Little Pigeon River, which you eventually cross over on a wooden footbridge. Throughout the trail, visitors can spot the ruined foundations and remnants of chimneys from settlers' cabins. Like most pet-friendly Smoky Mountain attractions, all dogs must be kept on a leash. Additionally, any waste must be picked up and disposed off in the proper container.
#6. Cades Cove:
A Car Ride to Remember
What dog doesn't like to stick his head out the window to feel the breeze blow? At the Cades Cove motor trail, dogs are allowed to travel the loop in their owners car. However, park rangers request that owners refrain from taking their pets to the historic cabins that dot the motor trail.
Regardless, for man and beast, what could be better than leisurely car ride a crisp fall day?
#7. The Village Shops:
A Great Place to Walk your Pet and Shop 'Til You Drop
The Village Shops in Gatlinburg offer a quiet spot away from the busy buzz of the Parkway in Downtown Gatlinburg. With unique shops and a Bavarian village theme to all the buildings, it offers a quiet retreat where you can walk your dog and enjoy browsing through the shops.
While at The Village Shops, make sure to stop by Simply Animals. This shop boast plenty of items that animal lovers will adore. From cute novelty t-shirts for the owner to charming outfits for your dog, there's something here to delight everyone who owns and loves animals. In fact, the owners love animals so much, that you can even meet their pets Max ans Zoey in the shop!
#8. Oconluftee River Trail:
A Day Trip for Dog and Owner
If you're looking for a quick day trip for you and you pet, Oconluftee River Trail offers yet another chance for you to enjoy the Smokies with your dog. This trail lies just outside Cherokee, NC, which lies just on the other side of the mountains from Gatlinburg, TN.
Running along the Oconluftee River, this trail offers scenic views of the river along with a relatively flat trail, making it easy on both owner and pet. Like always, dogs must be kept on a leash, and any waste must be picked up and disposed of properly.
#9. Patriot Park:
A Great Pigeon Forge Attraction For Pets
Located right next to Old Mill Square, Patriot Park offers a great place to exercise your pet in the heart of Pigeon Forge. Offering plenty of green space and a 1/2 mile walking track that features the flags of each of the states, this is the perfect spot to for you play fetch with your dog before heading off to another fun-filled adventure along the Parkway.
After a day at the park, your pet-friendly lodging in Pigeon Forge, Gatlinburg, or Wears Valley offers you an your family (including furry members) plenty of space to unwind. From big yards to enclosed decks for your pets safety, a cabin stay in the Smokies allows your pet to enjoy the chance to roam free in the mountains, like the wild animal he is at heart.
No matter what you choose to do on your pet-friendly Smoky Mountain vacation. One thing is certain a wagging tail and an eager bark are sure to make any family vacation even more special. Come enjoy the fun, excitement, and natural splendor of the Smoky Mountains today with your ever-faithful furry companion by your side.
Written by Brittany Tipton