Though Pigeon Forge is home to dozens of restaurants, some savvy travelers want to know where the locals go for great food. Another strategy to find great food in the Smokies is to visit mostly non-chain restaurants, to ensure you're getting a unique experience.
To help you have the best places to eat on your trip, we've made this list of the top non-chain restaurants in Pigeon Forge that locals love! Be sure to check these 7 restaurants where locals eat in Pigeon Forge, TN!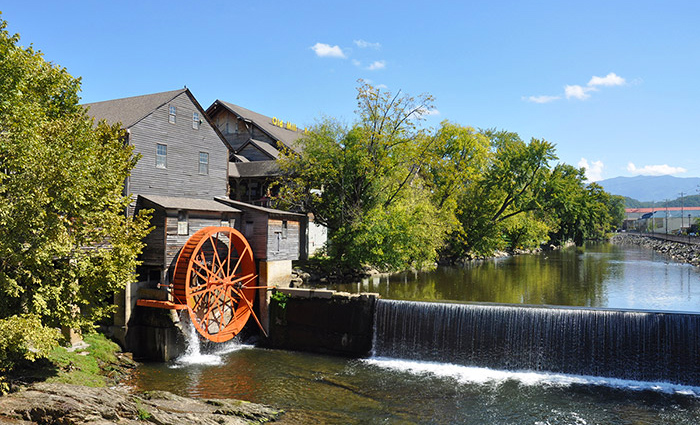 1. The Old Mill Restaurant
This excellent local restaurant sits right next to the most iconic sight in Pigeon Forge: The Old Mill. The Old Mill is, in fact, very old and was first built around 1830.
Not only is this restaurant a great place to explore Pigeon Forge's history, but also this restaurant's terrific menu is more than enough reason to take a trip to the Old Mill.
Though visitors frequent this restaurant, locals will tell you that the Old Mill has some of the best country cooking in the Smokies. See what the fuss is all about and try homemade classics like country fried steak, chicken and dumplings, and pot roast. Also, don't leave before you try their signature corn chowder or one of their homemade desserts.
2. JT Hannah's Kitchen
Though JT Hannah's is a more recent addition to the Pigeon Forge restaurant scene, it quickly won the loyalty of discerning diners of Pigeon Forge. It's no wonder why locals flock to Hannah's, not only is the food delicious, but the portions are generous and the prices are reasonable.
This locally owned restaurant was inspired by a local character named JT Hannah, a businessman who started a restaurant out of his warehouse. Today, this restaurant celebrates his legacy by serving up delicious burgers, steaks, and sandwiches.
Better yet, this restaurant is styled after an old warehouse, so it earns extra points for having a great atmosphere.
3. Apple Barn
For over 20 years, the Applewood Farmhouse Restaurant has been a beloved local favorite.
Located adjacent to an apple orchard on the Little Pigeon River, this lovely spot is a great spot to enjoy the beauty of the Smokies and to grab some delicious food.
Though this restaurant earns high marks for its excellent southern classics, visitors also rave about the apple fritters, apple butter, and apple julep, all made from fresh-pressed apples at the cider mill next door.
After you enjoy a delicious dinner, you can also tour the Apple Barn, the Cider Mill, a gift shop, and the Apple Barn Winery.
4. Huck Finn's Catfish
Located in the heart of Pigeon Forge, Huck Finn's Catfish is a great local restaurant that's earned a strong local following. Though there's lots of great food at this casual restaurant, visitors and locals really love the all you can eat catfish and chicken dinners.
Not only does Huck Finn's serve premium Mississippi Catfish, but they also have delicious homemade sides like coleslaw, white beans, and their signature hushpuppies. You can also find unique delicacies like Fried Frog's legs and gator tail.
5. Little Tokyo
Little Tokyo, of course! This great Japanese restaurant known for large portions and excellent sushi, has truly become a mainstay in Pigeon Forge.
Though this Japanese Steakhouse is located a bit further from the main parkway, this is a restaurant where Pigeon Forge residents love to eat.
6. Paula Deen's Family Kitchen
Paula Deen may hail from Georgia, but she's become an honorary local in Pigeon Forge thanks to her delicious new restaurant.
Paula Deen's Family Kitchen is located in The Island in Pigeon Forge, a entertainment and shopping center complete with a fountain show. This popular restaurant is incredibly popular, but it's well worth the wait.
The Paula Deen restaurant in Pigeon Forge serves its dishes family style, so everyone picks entrees and sides to share. From mouth-watering roast beef to incredible fried chicken, Paula Deen's Family Kitchen is southern food at its finest!
7. Smoky Mountain Brewery
Smoky Mountain Brewery is yet another top local pick in Pigeon Forge for its family-friendly atmosphere, delicious food, and great beer that's brewed in-house.
Though Smoky Mountain Brewery is a local chain in East Tennessee, it's still a great place to grab excellent burgers, pizza, and sandwiches. But visitors and locals alike also enjoy sampling their excellent beers like the Tuckaleechee Porter and the Cherokee Red Ale. These are brewed in small batches to ensure quality and they complement the excellent menu.
Map of Best Local Restaurants in Pigeon Forge
Final Thoughts
We'd love to hear your thoughts in our comment section! What are your favorite local restaurants in Pigeon Forge and the Smoky Mountains?
Written by Mark Frazier