As we all know, there are some incredible places to grab a bite to eat in the Smoky Mountains.
While there's a lot to be said for enjoying a meal at local favorites like the Pancake Pantry, The Old Mill, or Huckfinn's Catfish, you may want to try out some newer additions to the Smoky Mountain restaurant scene!
There are new local restaurants as well as some popular chains that have come to the Smoky Mountains area in the last few years. Check out these 9 new places to eat in Pigeon Forge on your next vacation in the Smokies!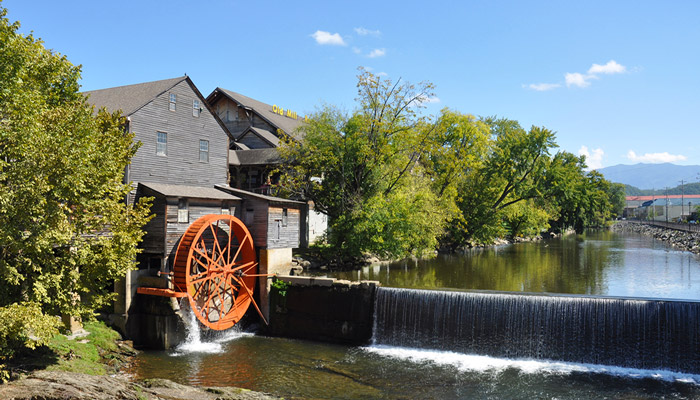 1. Paula Deen's Family Kitchen
The Island, a popular destination in Downtown Pigeon Forge has brought several new restaurants to the area, but it's hard to top the reputation of Paula Deen's Family Kitchen. Owned by the famous southern chef, this family-style restaurant serves up some incredible, home-cooked recipes like Paula's "Ooey Gooey Butter Cake" and her "Best Ever Southern Fried Chicken."
Here's what Paula Deen had to say about her new restaurant in the Smokies!
2. Margaritaville
You'll find plenty of easy-going vibes and lots of Jimmy Buffet songs at this new restaurant in Pigeon Forge at the Island. With a great spot by the synchronized fountain show, this popular chain restaurant offers lots of Island-inspired cuisine and of course a "Cheeseburger in Paradise."
3. Timberwood Grill
This new restaurant has earned great reviews for offering a "genuine taste of the mountains!" Located in the Island in Pigeon Forge, many seats at this restaurant offer a nice view of the Great Smoky Mountain Wheel and the Little Pigeon River.
4. Chipotle
A rare phenomenon for chain restaurants, Chipotle has reached near mythic status for its gargantuan burritos and quality ingredients. The Smoky Mountains are now home to a brand new Chipotle franchise, so you won't have to go without a meal from this delicious Mexican grill while you're on vacation!
5. Steak N' Shake
This beloved chain is well-known for serving up delicious burgers, fries, and of course, milk-shakes. If you find yourself hankering for some classic American grub while you're in the Smokies, you won't have to drive far to enjoy a great meal at Steak N' Shake in Sevierville.
6. Harpoon Harry's
This new seafood restaurant in Pigeon Forge, TN is actually one of the largest restaurants in the state with 26,000 sq. ft. of dining space and room for 650 diners. The interior is ornately decorated with dozens of beautifully carved wood sculptures and comes complete with a sushi bar and wine bar as well. If you have a hankering for towering platters of seafood, steaks, burgers, and buckets of crab legs, Harpoon Harry's is the place to go!
7. Billy Goat Tavern
This new bar & grill features delicious food and lots of specialty craft beer you won't want to miss and a great atmosphere for dining with friends. With a great lineup of burgers, pasta, steaks, and jumbo chicken wings, this new tavern in Pigeon Forge has earned quite the following. Be sure to try their Fried Green Tomatoes with goat cheese, bacon jam, and caramelized onions.
8. Sitar in Pigeon Forge
Exotic, rich, and savory flavors are the center-piece of any quality Indian Restaurant and Sitar is no exception. This Indian restaurant is part of a popular state-wide chain that's earned rave reviews for its all-you-can eat lunch buffet and the complex flavors of its curries, chutney, and fluffy naan bread.
9. Crockett's Breakfast Camp
Inspired by a local legend David "Crocket" Maples, this delicious breakfast restaurant that celebrates the rugged, frontier heritage of the Smoky Mountains. There's a lot to love about this restaurant's delicious pancakes, omelets, and waffles, but the real crowd-pleasers are the Huntcamp Skillets, heaping portions of protein-packed breakfasts served in a cast-iron skillet.
Map of New Restaurants in Pigeon Forge
Final Thoughts
Be sure to check out these great new places to grab a bite to eat in the Smoky Mountains!
Have you tried any of these new restaurants in Pigeon Forge? Which was your favorite? We'd love to hear your thoughts about them in the comment section below!
Written by Mark Frazier