Want to take your dog on a walk in the Smoky Mountains?
Be sure to check out our guide with the top 6 trails in Pigeon Forge that allow dogs! Some of these hikes are located inside the Great Smoky Mountains National Park, while others are located in beautiful locations off the beaten track.
So grab your leash and your playful pup to walk your dog in the beautiful mountains of Tennessee!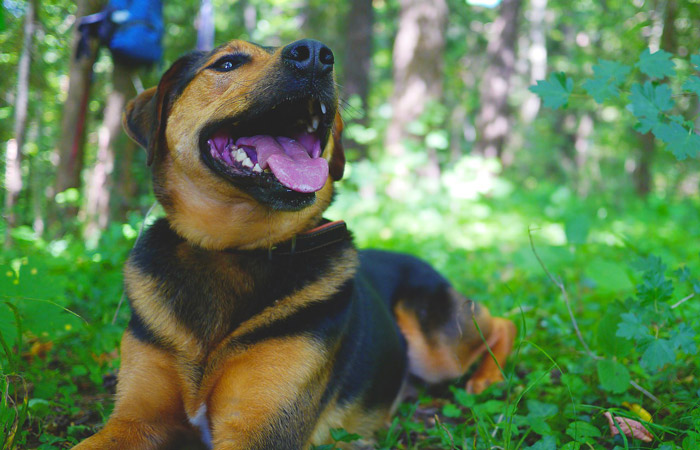 1. Patriot Park in Pigeon Forge
Located on the banks of the West Prong of the Little Pigeon River, you'll find Patriot Park. This lovely spot in the heart of Pigeon Forge has a 0.5 mile walking trail past several war memorials to the veterans of Pigeon Forge.
From here, it's easy to take your pup to see the historic Old Mill, first built in the 1830s. If you'd like a longer walk, you can also reach the River Walk Greenway that follows the river as it snakes its way through town.
2. Townsend Trail
Located on the peaceful side of the Smokies, just outside of the Great Smoky Mountains National Park, the picturesque community of Townsend has a 9-mile bicycle trail that also doubles as a nice dog-walking trail. This route follows the Little River in Townsend and provides access to shops, restaurants, and several historic sites.
Access for the trail at the Townsend Visitors Center only a short drive from Pigeon Forge, TN!
3. The Gatlinburg Trail
If you'd love to take your dog for a walk inside the Great Smoky Mountains National Park, the Gatlinburg trail is one of only two trails that dogs are permitted on.
This pleasant walk starts at the Sugarlands Visitor Center and follows the river 1.9 miles to Downtown Gatlinburg. On the way, you and your dog will see remnants of old cabins and you can access several spots by the river for a quick swim!
4. The Oconaluftee River Trail
By taking a short drive away to Cherokee, NC you can also take your dog on a walk of the Oconaluftee River Trail. This 1.5 mile, dog-friendly trail in the national park offers beautiful views of the river and brings hikers to the outskirts of Cherokee, NC. This hike is a great option for beginners since it's route is relatively flat.
5. Wear Farm City Park in Pigeon Forge
This newly built park just off of Wears Valley Rd in Pigeon Forge features playgrounds, shelters, and walking trails, so it's a nice play to take your pet to get some exercise in the great outdoors!
6. Mynatt Park in Gatlinburg
This pleasant park is located just outside of the Great Smoky Mountains National Park, so it's the next best thing to taking your pet for an adventure in the Smokies!
Along with picnic areas, playgrounds, a covered pavilion, this Gatlinburg city park sits on a lovely property with a creek and several walking trails for taking your pet for a stroll.
More Tips For Dog Walking Trails in Pigeon Forge
If you're staying in a cabin resort area, you could also walk your dog through the resort. Sometimes, resort areas offer walking trails for guests, while others have wide, paved roads that are perfect for taking Fido for a stroll.
Though dogs aren't permitted on most trails in the Great Smoky Mountains National Park, there are other ways that your pet can enjoy their visit to the Smokies. Luckily, dogs are allowed on roads, picnic areas, and parking areas in the Great Smoky Mountains National Park, though they must be on a leash. As a result, you could bring your dog to spots like:
Cades Cove
Tremont Road
Elkmont Campground
Metcalf Bottoms Picnic Area
Newfound Gap
Clingmans Dome
Sugarlands Visitor Center
Please don't take your dog past these areas. If a Park Ranger spots you, they will issue you a fine for breaking park regulations.
These rules are in place to protect both your dog and native wildlife. All animals, even man's best friend, can behave unpredictably. A dog may try to attack or provoke local wildlife. Potentially, a visitor might lose their dog in the park after it chases after a squirrel. Even worse, a dog could have a run in with a mountain predator like a coyote or a bear.
Though dogs are restricted from most trails in the park, there are plenty of ways for your furry friend to have a fun and safe day enjoying the Great Smoky Mountains of Tennessee.
Written by Mark Frazier