Want to see beautiful, modified and restored Impalas, Mustangs, Bel Airs, Camaros, and Novas? If you can't get enough of classic cars, then you ought to come experience one of the largest car shows in the Southeast that happen every year in Pigeon Forge, TN!
Three major car shows and numerous smaller car shows come to Pigeon Forge, so it's just the place for car enthusiasts to gather and check out some beautiful vehicles!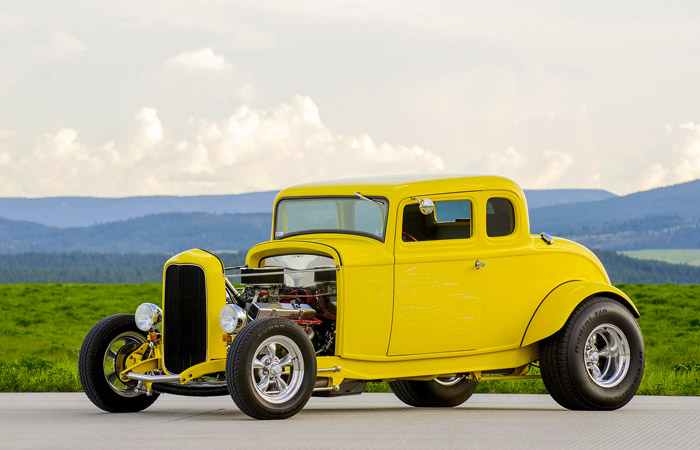 Pigeon Forge Rod Run & Car Show Calendar
The Corvette Expo - March 2-3, 2018
The Spring Grand Rod Run - April 19-21, 2018
Pontiacs in Pigeon Forge - May 31 - June 3, 2018
Great Smoky Mountain Jeep Invasion - August 24-25, 2018
The Shades of the Past Pigeon Forge Car Show - September 7-8, 2018
The Grand Fall Rod Run - September 13-15, 2018
About the Big 3 Rod Runs
The largest car shows in Pigeon Forge are the Spring Rod Run, the Shades of the Past Car Show, and the Fall Rod Run.
Rod runs in Pigeon Forge are tons of fun, even if you don't particularly like cars. Visitors from across the nation line up on the Pigeon Forge Parkway and watch the beautiful cars roll by. Many set out lawn chairs and coolers so they can enjoy a picnic while they see some magnificently restored antique cars. Many describe it as a "parade" of incredible restored cars from different eras.
Here's a sampling of the cars you'll see at these incredible Smoky Mountain car shows:
How Do Pigeon Forge Rod Runs Work?
While there's an "official car show," where cars are judged and prizes are awarded, the biggest event is often the unofficial festivities that take place on sidewalks and parking lots in downtown. During Rod Run weekend, you can enjoy seeing muscle cars, customized rides, and hot-rods day or night cruising the Parkway or parked at meet-up spots throughout the city.
For spectators, the unofficial event is free to enjoy, but if you'd like to see the official festivities, visitors can pay a small entrance fee (usually $10-$12) to enter the LeConte Center or the Dollywood Splash Country parking lot. The official car show will have vendors with rare parts and some of the most stunning cars you've ever seen, so it's well worth stopping by.
If you'd like to enter your car into the competition, there are also registration fees.
During the weekend, you may see lots of "For Sale" signs on cars. After all, there are few better ways to advertise your car for free than taking it to a major car show. So if you're in the market for a classic car, the Rod Runs are a great place to shop around!
Here are specific things to know about the big 3 cars shows in Pigeon Forge!
The Spring Grand Rod Run - April 19-21, 2018
Known as the Spring Rod Run, this popular car show draws thousands of visitors every year for a Thursday, Friday, and Saturday in April. At this show, you'll see every make & model of classic muscle cars. The official event is held at the LeConte Center in Pigeon Forge and contestants compete for $8,000 in cash prizes.
Past winners of this competition were beautiful cars like:
1970 Silver Chevelle
1957 Black Ford-300
1970 Red Nova
1969 Pewter C-10
1969 Green Camaro Z28
Shades of the Past Car Show - September 7-8, 2018
Every year, this popular car show is held at Dollywood Splash Country and exclusively features classics, hot rods, and customs up to 1972. Many of the cars you'll see at these shows are restored classic cars or old roadsters that have been modified with a modern twist. In past years, the prizes for this roundup were a 1932 Hi-Boy Roadster and $10,000 in cash. Every year brings fantastic new prizes, so there's no telling what your sweet ride could win!
You can find free parking for the Shades of Past Car Show at the Pigeon Forge municipal lot and Veterans Boulevard with trolley service to the car show. Paid parking is available at Dollywood lot "F" for $12 per day.
The Fall Grand Rod Run September 13-15, 2018
Arguably the biggest car show in Pigeon Forge all year long, the Fall Rod Run takes place on a Thursday, Friday, and Saturday in September following the Shades of the Past car show. The combination of cooler weather, fewer summertime visitors, and the start of the beautiful fall leaf viewing season bring big crowds to the Smokies on this weekend.
Here are some past winners from the Fall Rod Run:
1969 Red Camaro
1937 Black Ford
1957 Grey Chevrolet
1962 Black Impala
1972 Green Chevy
You can find additional parking for the Pigeon Forge Fall Rod Run at the Pigeon Forge Municipal Parking Lot located at 2936 Teaster Ln.
Map of Rod Runs in Pigeon Forge
3 Insider Tips For The Big Car Shows
If you plan on visiting Pigeon Forge to participate or spectate at one of the rod runs, you're in for a real treat! While smaller car shows are fun to visit, the largest car shows are city-wide events you won't want to miss! Use these insider tips to ensure you have a great time at a Rod Run in Pigeon Forge!
1. Getting the Best Deals on Lodging
Understandably, Rod Run weekends in Pigeon Forge are one of the busiest times of the year and many of the best lodging options are booked up quickly.
If you'd like to see rod run in Pigeon Forge, we recommend reserving a cabin as early as possible before they're all gone. Better yet, Cabins USA offers a special discount on their cabins you're bound to love!
2. Planning For Rod Run Traffic
With car shows come lots of extra cars. As a result, the major car shows are known for creating a lot of traffic in the Great Smoky Mountains area.
What will the roads be like for a major rod run in Pigeon Forge? Here is a short description of Fall Rod Run traffic according to local officials.
Traffic begins to be heavy around 1:00 PM and comes to a standstill around 6:00 PM on Friday and Saturday of Rod Run.

The Parkway in Pigeon Forge is passable in the left lane until about 6:00 PM. After this, traffic slows to about 3-4 MPH with periods of no movement.

By 6:00 PM on Friday. Wears Valley Road from Townsend to Pigeon Forge comes to a standstill. Similarly with the Spur Road, there are reports that it takes hours to travel the 5 miles from Gatlinburg to Pigeon Forge.

In Pigeon Forge, side roads like Dollywood Lane and Veterans Blvd. are also congested from 4:00 PM until midnight.

Any motorists in the area should exercise extreme caution and patience when traveling through Pigeon Forge. They should also be aware that there is lots of pedestrian traffic during rod run weekends.
That being said, the most important thing is to know the dates of the car shows ahead of time when planning your vacation. A worse case scenario for some vacationers is rolling into town and discovering that the roads are clogged with car show visitors.
The best way to prevent this is to know the dates of the "big 3" car shows and prepare yourself if you plan your vacation on one of the Pigeon Forge rod run weekends.
The biggest car shows in Pigeon Forge can bring traffic to a standstill, but at least the scenery is incredible. Luckily, there are several ways to dodge traffic during rod runs in Pigeon Forge.
Arrive Early/Leave Late – Traffic in Pigeon Forge during rod runs is usually at its worst during the initial arrival and exodus of visitors to and from town. If you arrive in town before 3 PM on Thursday or Friday, you can usually beat most of the arrival traffic. Similarly, most car show visitors leave on Sunday, so if you extend your stay a day longer, you can avoid congested roadways.
Start Early – Whether you'd like to enjoy the car show festivities or not, it's worthwhile to start your day as early as possible. Rising with the sun will have a big payoff because you'll be able to find a great spot to see cars on the parkway or you can go see attractions like the Great Smoky Mountains National park before there's too much traffic.
Walk Instead of Driving – If you're able to, parking your car at the Pigeon Forge municipal lot on Teaster Ln and walking is a great way to avoid getting stuck in traffic. Luckily, there are lots of restaurants, shops, and attractions all within easy reach on the Parkway, so there's not much need to drive if you don't have to!
Use Alternative Routes – If you don't plan on making one of the major car shows a part of your vacation experience, it may be best to steer clear of Pigeon Forge on these weekends. There are lots of alternative routes and back roads you can use to bypass Pigeon Forge, such as Chapman Highway or Gatlinburg's East Parkway.
3. Pigeon Forge Car Show Laws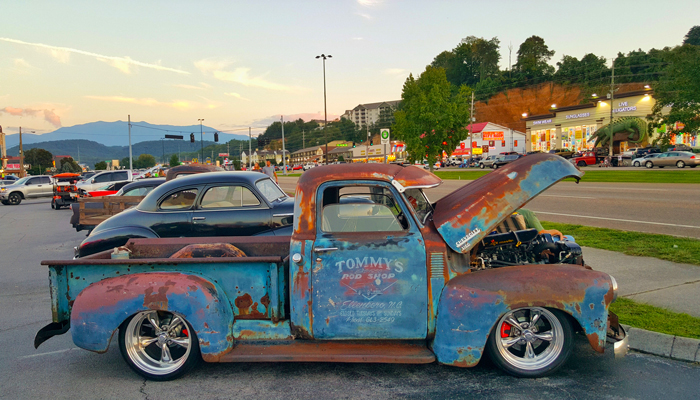 Here are some laws and regulations to know when attending a car show in Pigeon Forge, TN.
Golf Carts - In past car shows, visitors have brought golf carts to drive around the city. Car show attendees should know that traditional golf carts are not permitted on Tennessee roadways unless they are modified to meet vehicle safety requirements.
Use of Vehicles on Sidewalks - Pigeon Forge City ordinances prohibit driving automobiles, bicycles, skateboards, and motorcycles on city sidewalks.
Public Drinking Laws - Open containers and public drinking are not permitted in the state of Tennessee unless you are in a properly licensed bar or restaurant. Alcoholic beverages can be sold anytime from 8 AM to 3 AM. Additionally, alcoholic beverages cannot be purchased in Pigeon Forge before noon on Sundays. Only beer and wine are available for sale in restaurants and bars.
Selling Merch During Car Shows - Using the sidewalk or street to sell merchandise is prohibited.
Selling A Car During Road Run - Rod Run is a popular place to buy or sell beautiful cars. Please note that a vehicle can only be parked in a legal space for no longer than 72 hours.
Lifted Vehicles - Cars brought to Pigeon Forge Rod Runs must abide by Tennessee frame and bumper height laws.
Parking - Parking may be difficult to find during a busy car show. There is free public parking available in the municipal lot on Teaster lane. Improperly parked vehicles are subject to fines.
Squealing Tires and Blowing Smoke - These car show pastimes are prohibited by Pigeon Forge city ordinances.
Final Thoughts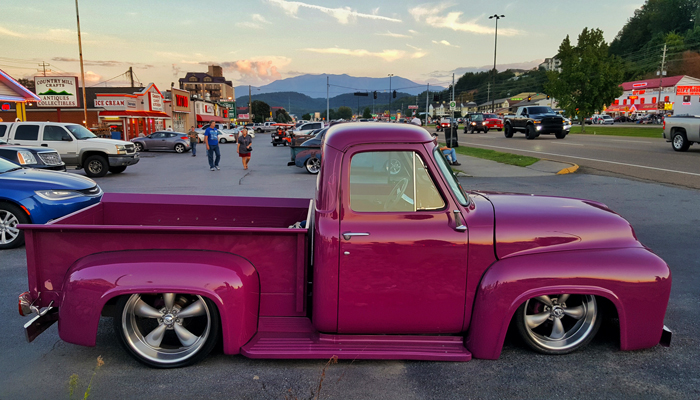 If you don't want to see Rod Run in Pigeon Forge, it's still easy to enjoy a peaceful Smoky Mountain vacation away from all the action in Pigeon Forge. Simply book a cabin in areas like Sevierville or Wears Valley, and you can be sure you'll run into less traffic.
Also, if you don't want to get stuck in Rod Run traffic, you may have to avoid seeing popular attractions like Dollywood, The Old Mill, The Island, or the Titanic Museum during your stay.
Even the Great Smoky Mountains National Park will be more crowded on these weekends since rod run motorists love to take scenic drives through the park. Luckily, you can always visit quieter areas in the national park like Greenbrier, Tremont, Cosby, Cataloochee Valley, or Big Creek.
Start planning your trip to Pigeon Forge to experience this town's fantastic car shows! You'll love the electric atmosphere, friendly community, and unique muscle cars you'll see on these action-packed weekends in the Smokies!
Written by Mark Frazier