Have you heard the news? Dollywood Splash Country in Pigeon Forge, TN is debuting a brand new ride for 2017!
Here's what we know about TailSpin Racer, soon to be the newest addition to Dollywood Splash Country Waterpark!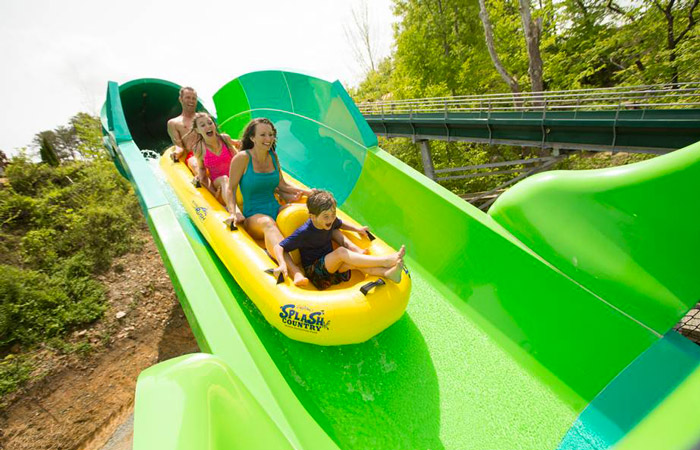 If it's anything like more recent additions like RiverRush, visitors to the Smokies are in for a real treat!
1. It features High Speed AquaTubes
Riders will descend on racing mats through the twists and turns of this wet and wild slide through AquaTubes, translucent waterslide tubes that make daring drops and tight turns. This new waterslide will feature 6 twisting, intertwined courses that will be located near the park entrance.
From the initial, hair-raising drop, this new waterslide takes traditional mat racer-style rides to a new level. All in all, these high-speed tubes will be more than a football field in length and the tower will stand 5 stories above the park, so you can be sure this new ride delivers a thrilling experience.
2. You Can Race Your Friends
This new ride uses ergonomically-designed starting blocks to ensure that 6 riders all start TailSpin Racer at the same time. If there's anything that could make this ride more fun, it's definitely some head-to-head competition with your closest friends!
The AquaTubes that riders pass through are translucent, so you can see the surrounding scenery and also keep an eye on your competition as you race.
3. It's Going to Make a Big Splash
This 2 million dollar waterslide makes a big splash in more ways than one. After an exciting ride through the twisting AquaTubes, riders will emerge onto a traditional, 6-lane, matt racing, track slide. From here, its an all out sprint to the finish: a large swimming pool!
This high-speed race is sure to end with a big splash, so racers can look forward to a big finish at this new waterslide in Dollywood!
Dollywood Splash Country is already home to a great lineup of rides including Big Bear Plunge, Fire Tower Falls, Raging River Rapids, and more. This popular waterpark in the Smoky Mountains has long been known for launching innovative rides like RiverRush, Tennessee's only water-coaster. TailSpin Racer is sure to be a great new addition to Splash Country's 34 water-based rides!
TailSpin Racer is slated to be open for the next season beginning in May of 2017.
Start planning your next summer vacation to Dollywood Splash Country in Pigeon Forge by reserving a cabin in the Smoky Mountains!
Written by Mark Frazier