Since 1981, this locally owned Pigeon Forge restaurant has earned rave reviews for its delicious country cooking and southern hospitality. The Apple Barn is actually a full complex complete with a General Store, Cider Mill, Winery, and Restaurant. Altogether, this is a classic destination in Pigeon Forge with something for everyone to enjoy.
The real star of the show is the restaurant at the Apple Barn, which earns rave reviews for its hearty portions, and of course, its homemade apple fritters and apple juleps. Better yet, this destination rests on a peaceful property by a river and an apple orchard that's only a few minutes away from the heart of Downtown Pigeon Forge!
If you're looking to rent a log cabin that's near the Apple Barn, check out this guide with the best places to find a cabin near this iconic Smoky Mountain restaurant.
This guide features cabin resort areas near Apple Valley road where you'll find the famous Apple Barn Restaurant and Orchard. This area is also close to the Smoky Mountain Opry, Wonderworks, the Hatfield & McCoy Dinner Show, Tanger Outlets and lots of other attractions on the main Parkway in Pigeon Forge.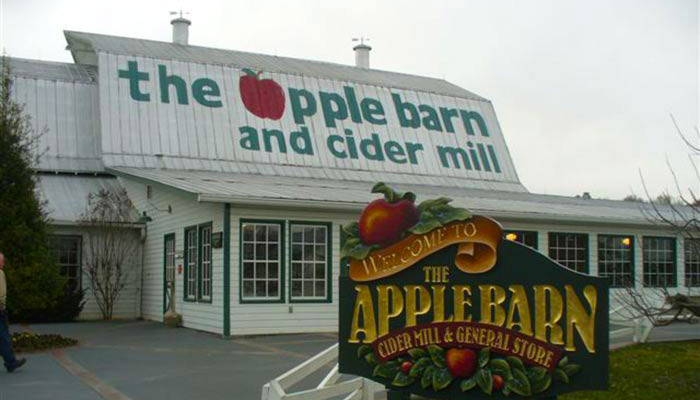 Many of these cabins are located in the Hideaway Hills Resort area that rests just off of New Era Road. Not only are many of these properties only a couple of miles from the Apple Barn, but they also boast a peaceful location for unwinding during your stay. If you'd like to explore other top attractions in the Smokies, these cabin rentals also keep guests close to shopping at Tanger Outlets, the Titanic Museum, and Dollywood.
Nestled just off of the main parkway in Downtown Pigeon Forge, you'll find the comfortable cabins of Pin Oak Resort. It's hard to beat the convenience these cabins offer since they rest only minutes away from the biggest attractions in Downtown Pigeon Forge. Better yet, guests at these cabins will enjoy visiting the nearby Apple Barn Restaurant for delicious dinners during their stay.
Hidden Mountain Resort is another place to find cabins that are only a short distance from the Apple Barn Cider Mill and General Store. This resort area is known for its beautiful setting, comfortable cabins, and its prime location that's only minutes from the heart of Pigeon Forge and the popular Apple Barn General Store & Cider House.
Map of the Apple Barn
Final Thoughts
If you're looking for a cabin in a particular part of Pigeon Forge, don't hesitate to contact our reservations office. Our reservations specialists will be glad to help you find the perfect cabin for your getaway to Pigeon Forge and the Great Smoky Mountains.
Written by Adam Shafer