Planning to be in the Smoky Mountains on Veterans Day? This special military holiday is always observed on November 11 and the patriotic towns of Pigeon Forge and Gatlinburg are a perfect place to celebrate it!
Veterans Day observances can be traced back to November 11, 1919, when WW1 ended on the 11th hour of the 11th day of the 11th month in the year. The holiday was first observed as Armistice Day to celebrate the end of the war, but in the following decades, it was expanded to celebrate all veterans of our military.
While all members of our armed forces deserve our gratitude for their courage, service, and sacrifice, Veterans Day reminds us to especially honor our fallen and past heroes.
If you'll be in Pigeon Forge or the Smoky Mountains on Veterans Day, there are lots of fitting ways to observe this special holiday during your vacation!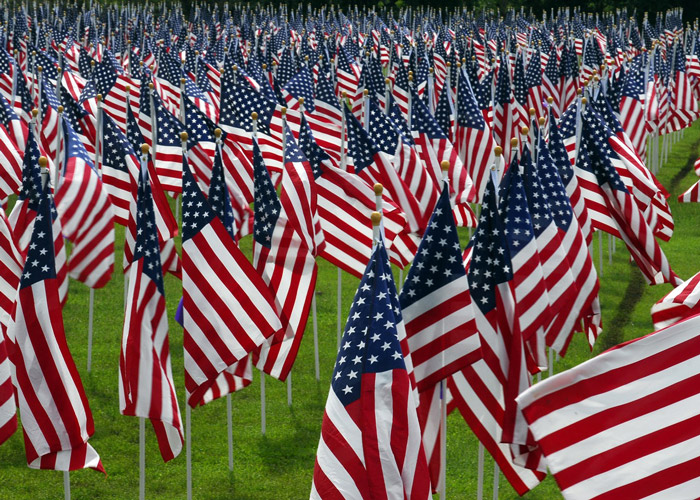 Gatlinburg's Veterans Day Celebration
Gatlinburg is home to the largest observance of Veterans Day in the Smoky Mountains.
Every year, hundreds attend this moving ceremony that's a fitting tribute to the brave men and women who gave – and continue to sacrifice - so much in the service of our nation.
This annual Veterans Day observance takes place at 11 AM on November 11th in the Plaza at Ripley's Aquarium of the Smokies.
In the past, this observance has featured:
The Presentation of Colors
Speeches
Patriotic Music
Performances Local Marching Bands
A Military Flyover
The Presentation of A Bald Eagle
Gatlinburg's Veterans Day celebration is free and open to the public. If you are a current or former member of our nation's military, the city of Gatlinburg would be honored to thank you for your service at this moving annual tribute.
As one of only 2 cities in Tennessee recognized by the Department of Veterans Affairs as an official site for the observance of Veterans Day, this patriotic mountain town truly knows how to thank our nation's veterans. Due to this distinction, this observance is officially affiliated with the Observance at Arlington National Ceremony.
Here's a short video of what you can expect at this Veteran's Day Celebration in the Smokies:
Other Things To Do On Veterans Day in Pigeon Forge
Apart from the main Veterans Day Observance in Gatlinburg, there are plenty of other ways to reflect on the courage and sacrifices of our nation's heroes. Here are just a few ways to remember our Veterans on this special day:
Take Stroll Through Patriot Park – Located in the heart of Downtown Pigeon Forge, this park rests on the banks of the scenic Little Pigeon River. This park is home to several monuments of local war heroes. Also, you can find Civil War and Revolutionary War Veteran's Graves in some cemeteries inside the Great Smoky Mountains National Park.
Visit the Pearl Harbor Exhibit At Ripley's Aquarium – Ripley's Aquarium of the Smokies in Gatlinburg debuted a new exhibit in 2016 that tells the story of "a day that will live in infamy." This exhibit on Pearl Harbor is an excellent way to learn about the attack that launched America into the largest conflict the world has ever known.
Stop By The Tennessee Museum of Aviation in Sevierville – This excellent museum in Sevierville is home to several restored military airplanes including two airworthy P-47 Thunderbolts from WW2. As you stroll past these magnificent planes, you can imagine the bravery of our soldiers who took the skies in defense of our nation.
Final Thoughts
After you attend the Veterans Day Ceremony in Gatlinburg or honor our nation's veterans in your own way, you can look forward to relaxing at your log cabin in the mountains!
For assistance in planning your trip to Pigeon Forge during Veterans Day, feel free to contact our reservations office at (865) 429-4121 today!
Written by Mark Frazier