Planning on visiting the Great Smoky Mountains in April? Spring is a truly beautiful time of year to see America's most visited national park! To help you get the most out of your trip, we made this handy guide on fun things to do in the Great Smoky Mountains National Park in April!
Things To Do in the Smoky Mountains in April
There are a lot of things to do and see in Pigeon Forge and Gatlinburg during this time of year, but this guide focuses on activities you can enjoy in the Great Smoky Mountains National Park. If you're staying in Pigeon Forge, be sure to check out our guide on experiencing Pigeon Forge during April.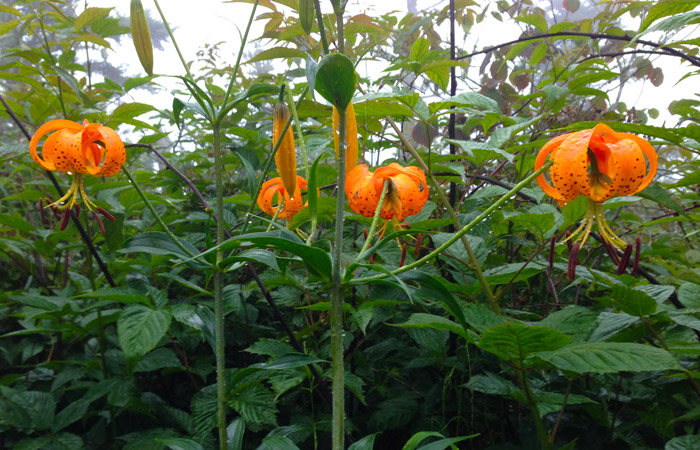 Go Find Wildflowers
The Great Smoky Mountains National Park, nicknamed "the wildflower national park," is home to 1,500 varieties of flowering plants and boasts more flower diversity any other park in North America.
Visiting the Smoky Mountains during April is the perfect time to see this wondrous diversity of life vividly displayed in the form of beautiful wildflowers. During a stroll in the Smokies, you can see these gorgeous flowering plants.
Lady Slipper Orchids
Fire Pink
White Trillium
Crested Dwarf Iris
Phacelia
To find your favorite flowers, you can use this species mapper tool to find the best hiking trail for your wildflower hike.
Experience Outdoor Adventures
After a short break in the winter season, most outfitters are fully operational by April, so you can enjoy fun springtime activities like:
Zip Lining
Ropes Courses
Mountain Biking
ATV Tours
Guided Horseback Rides
Mountain Coasters
For a guided outdoor adventure inside the national park, it's best to book a tour with a Smoky Mountain horseback tour, since these tours operate inside Cades Cove and other concession trails in the national park.
Attend The Spring Wildflower Pilgrimage
If you love learning about the history, culture, and life of the Great Smoky Mountains National Park, then this annual event is for you. The Spring Wildflower Pilgrimage brings in experts from across the nation to give talks and lead guided tours inside the national park. Since it is held during the spring, many of the guided tours focus on the beautiful flowering plants of the Smokies. Tickets for the pilgrimage can be reserved in advance and this multi-day event usually takes place the 2nd week of April.
Best April Hikes in the Smokies
One of the best ways to explore the Smoky Mountains during the beautiful month of April is to go hiking in the national park.
Low elevation regions of the park are the perfect place to find beautiful wildflowers. Luckily, higher elevation hikes have their perks as well. Leaf color in the forests isn't fully grown in until May, so higher elevation hikes have lots of opportunities to see beautiful views.
Here are the best hikes for enjoying the Great Smoky Mountains in April:
Porters Creek Trail – This hike begins in the Greenbrier area of the national park and takes hikers past several homesteads, waterfalls, and a beautiful array of wildflowers.
Meigs Creek Trail – This hike begins at the Sinks Waterfall on Little River Road in the national park. This hike is a lesser known trail, but it boasts waterfalls, beautiful streamside settings, and lots of flowering plants.
Roaring Fork Motor Trail Hikes – This area of the park is home to the Trillium Gap Trail, Baskins Creek Trail, and Grapeyard Ridge Trail. The Roaring Fork Motor Trail reopens in late March, so April is a great time to explore this beautiful area of the national park.
Little River Trail – This level hike in the Elkmont area of the national park is perfect for beginners and it features lots of April wildflowers.
If you're unable to go hiking, taking a scenic drive through the park on the Cades Cove Loop road or the Roaring Fork Motor Trail is a fantastic way to enjoy the beauty of spring in the Smokies.
Map of April Hikes
What's The Weather Like In April?
By April, the general unpredictability of spring weather in the mountains gives way to mild temperatures and sunny skies. This time of year is pleasant and it's known for having sunny weather with highs in the 70s and 80s. The national park averages 4 inches of rain during the month of April, mostly in the form of afternoon showers.
Avg. High: 69°F
Avg. Low: 43°F
In higher elevation areas of the park, temperatures may be 5°F to 10°F cooler. If you plan on visiting Newfound Gap, Mt. LeConte, or Clingman's Dome, you may want to bring a light jacket to account for this. Similarly, if you're planning a day hike, it's a good idea to pack a rain coat just in case you're caught outside in a spring shower.
Where To Stay in the Smoky Mountains in April?
Of all of the places you could stay during your April trip in the Smokies, why not book a log cabin rental? Cabins are perfect for enjoying the beautiful scenery of the Smokies, whether they offer a gorgeous mountain view or a peaceful spot tucked away in a secluded setting. Better yet, many of our log cabins are only a short drive away from the national park!
For help finding your cabin for your April vacation, feel free to contact our reservationists at (865) 429-4121 or use our cabin finder tool to find the right rental for your stay!
Written by Mark Frazier