Do you love exploring America's scenic roadways on your motorcycle, cruiser, sport bike, or touring bike?
With scenic mountain views, verdant forests, and gorgeous streams, the Smoky Mountains are a natural destination for riders. Better yet, Pigeon Forge is the perfect base for exploring some of the most beautiful motorcycle routes in Tennessee, North Carolina South Carolina, and Georgia.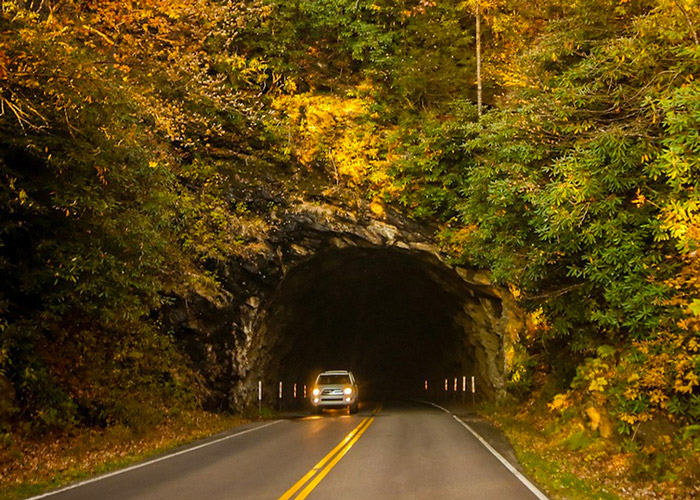 The Smoky Mountains offer rides for every kind of rider. Scenic routes like the Foothills Parkway and Blue Ridge Parkway are perfect for relaxed rides with long graceful turns and incredible scenery, while other routes like the infamous Tail of The Dragon are perfect for more adrenaline pumping rides.
To get the most out of your motorcycle trip to Pigeon Forge, we've made this guide with the top rides in the Smokies, maps of popular routes, and more to get the most out of your trip!
Top 5 Motorcycle Rides in Pigeon Forge
These beautiful motorcycle rides are all only a short trip away from Pigeon Forge, so you can easily explore them during your stay!
1. The Tail Of The Dragon
Only a short trip south from Pigeon Forge, you can find what is arguably one of the most famous motorcycle routes in the country. The Tail of the Dragon on US-129 passes through the Tennessee/North Carolina border at Deals Gap through impressively rugged terrain.
Famously, this 11 mile stretch of road is packed with 318 curves to offer riders of all stripes a challenge. There is a posted speed limit of 30 MPH, but the thrilling turns and sharp descents make it tempting to pull up the throttle.
As an added perk, this route is closed to large commercial vehicles and there are no intersecting roads or driveways on the dragon, so you can focus on enjoying the ride. Do note that this route is regularly patrolled by law enforcement looking for speeders.
2. The Foothills Parkway
This lovely parkway skirts the boundary of the Great Smoky Mountains National Park and connects Tellico, TN to Wears Valley, TN. Along the way, it offers majestic views of the high peaks of the Smokies and the expansive East Tennessee Valley.
This ambitiously planned highway was designed to follow the foothills ridge from Tellico to Cosby, however, the rugged terrain and funding issues have stymied the project since it first began in 1944. Luckily, a key section of the road should be completed in 2017, so riders can enjoy an even longer trip on this beautiful route.
3. Little River Road And Newfound Gap
For all of the beautiful routes in Tennessee, it's hard to beat the beautiful rides you can find inside the Great Smoky Mountains National Park. On the Little River Road, you can follow a beautiful mountain river past waterfalls and old home sites. The highlight of this route is the Cades Cove Loop Road, an 11-mile section of road in an old Smoky Mountain community that boasts incredible views of soaring mountain peaks.
The Newfound Gap Road that connects Gatlinburg, TN to Cherokee, NC is also another must-see motorcycle route. This route passes through the heart of the Great Smoky Mountains National Park and climbs over 3,500 feet in elevation. Along the way, you'll enjoy impressive mountain views that stretch for miles and miles.
4. The Blue Ridge Parkway
In Cherokee, NC, you can catch a ride on the Blue Ridge Parkway, a scenic parkway that winds through 469 miles of the beautiful Southern Appalachian Mountains. While you might not have time to enjoy the whole route, it's a great addition to a long day's ride in the mountains of Tennessee and North Carolina.
5. Cherohala Skyway
Like the Newfound Gap Road, this route passes through beautiful scenery on the North Carolina/Tennessee border but is receives much less traffic. This 23-mile route connects Tellico Plains, TN to Robbinsville, NC.
This Skyway climbs above 5,400 feet above sea level and features some beautiful views of the Cherokee National Forest and the Nantahala National Forest.
Map of Day Rides in the Smoky Mountains
To help you get the most out of your motorcycle trip, we've made a map of day rides that incorporate the above-mentioned routes.
Great Smoky Mountains National Park Loop
Distance: 141 Miles
Ride Time: 5 Hours
This route includes Newfound Gap Road, The Dragon, The Foothills Parkway, and the Little River Road. Along the way, you'll see some of the most impressive scenery in the Great Smoky Mountains National Park. You can also incorporate trips to Cades Cove, Clingmans Dome, or the Blue Ridge Parkway with ease.
The Dragon and Cherohala Skyway Loop
Distance: 124 Miles
Ride Time: 3 Hours
This less-traveled route features the Dragon and the Cherohala Skyway. It explores beautiful areas of the North Carolina and Tennessee Mountains, specifically the Joyce Kilmer Memorial Forest, the Nantahala National Forest, and the Cherokee National Forest.
Smoky Mountain Motorcycle Shops
If you're collecting Harley Davidson Dealerships collecting pins, here's where you can find them. If you need parts, gear, or a motorcycle to rent, you can also stop by Rocky Top Harley Davidson in Pigeon Forge. There are several Indian Motorcycle Dealerships in the area as well.
Tennessee and North Carolina Motorcycle Laws
Safety Helmet - Required by law in both states.
Eye Protection - Required by law unless equipped with windscreen in TN only.
Passenger Age - No Restriction in both states.
Helmet Speakers - No Restriction in both states.
Mirrors – One mirror required by law in both states.
Headlight - Daytime headlight required and modulating headlight permitted in both states.
Turn Signals - Not Required in both states.
Handlebars - No Restrictions in both states.
Muffler – No Restrictions in TN. Muffler required in NC and cut-outs prohibited.
Noise Restrictions - No Restrictions in both states.
Riding Two Abreast in Lane: Not Allowed in both states.
Lane Splitting – Not Allowed in both states.
Final Thoughts
We hope you enjoy exploring the beautiful scenic roadways of Tennessee and North Carolina as much as we do. Please use caution when driving these scenic routes. Be sure to check out these motorcycle safety tips provided by the national park service for the Smoky Mountain region.
Additionally, booking a tour with a motorcycle guide is another great way to navigate unfamiliar roadways. Groovy Tours is an excellent local Smoky Mountain motorcycle tour company that will be glad to show you the best that the Smokies can offer.
We'd love to know, what's your favorite motorcycle route in the Smokies? What's your favorite thing about riding in the mountains of Tennessee and North Carolina? Please share your thoughts in our comments section!
Written by Mark Frazier