Bringing a large group to Pigeon Forge and the Smoky Mountains? You can enjoy a completely new way to reserve log cabins for your stay.
Cabins USA is excited to add the group cabin booking tool to our website, a new feature that lets you book two or more cabins in the same area for your trip!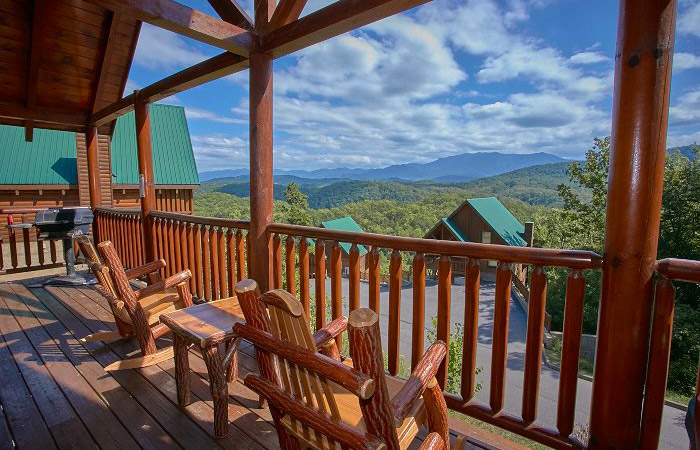 What Is The Group Booking Tool?
This new feature on our website allows vacationers to reserve multiple cabins in the same area. In the past, visitors would have to contact our office to find cabins that are located close to each other. Luckily, now you can find groups of cabins in the same area and book them online in a few easy steps.
To use the Group Booking Tool, simply provide your arrival and departure date, and we'll show you what cabins are available, along with a map of cabin locations.
Who Will Benefit From It?
Pigeon Forge is a top destination for large groups, who come to explore the beauty of the Smoky Mountains or attend major events. Some of these gatherings are so large, that sometimes, it is difficult to find enough accommodations for big groups, especially if you'd prefer to stay in a log cabin rental.
There aren't many cabins in Pigeon Forge that sleep 30, 40, or 50 guests, but our cabin group tool makes it possible to accommodate large numbers of guests with ease.
Here are just a few groups that might benefit from this new feature:
Family Reunions - With lots of big attractions and a beautiful landscape, the Smoky Mountains are a popular place for family gatherings. A Smoky Mountain cabin vacation is the perfect way for your family to reconnect.
Sports Teams - Rocky Top Sports World in Gatlinburg, the Cal Ripken Experience, and The LeConte Center in Pigeon Forge all host youth sports tournaments and events. For a truly unforgettable conference experience, why not book two or more log cabins for your team?
Church Conference Groups - Major church events like The National Gospel Quartet Convention, Ramp, Rock The Smokies, Family Fest, and more all bring large church groups to the Smokies. Additionally, some churches plan retreats to the Smoky Mountains just to enjoy fellowship and community in this beautiful part of the country.
Smoky Mountain Events - Major events like Pigeon Forge Rod Runs, car shows, parades, festivals, and hobby conventions, all bring large groups to the Smokies.
Business Retreats - While many come to the Smoky Mountains to relax and play, many others come to the Smokies to work and make big plans for their business. The Smokies are a nice place for corporate retreats since there's something for everyone to enjoy after a good day's work.
Why Book More Than One Cabin?
Cabins USA does offer lots of large cabins that accommodate as many as 28 guests, so what are the advantages to booking several cabins in the same area?
Sometimes Group Cabins Aren't Available - The Smoky Mountains are a popular area and sometimes lodging for large groups is hard to find. Being able to reserve several cabins gives you more flexibility.
More Comfortable Sleeping Space - Being able to reserve several cabins ensures that you'll have plenty of private bedrooms and that all of your group has a comfortable place to get a good night's rest.
More Amenities - When you reserve two or more cabins, you can enjoy access to multiple hot tubs, game rooms, kitchens, indoor pools, and decks with lovely mountain views.
Need Help Planning Your Own Multi-Cabin Vacation?
The group tool can be used to book several cabins in the same location. This is ideal for most groups because it simplifies logistics for your trip. In some cases though, you might want to reserve to or more cabins that aren't close to each other.
In this case, we recommend that you contact our office at (865) 429-4121 to start planning your getaway to the Great Smoky Mountains of Tennessee!
Written by Mark Frazier