Coming to a big event in Pigeon Forge? With this handy parking guide, you can find free parking to see excellent events like Rod Run, Dolly's Homecoming Parade, or the Pigeon Forge Patriot Festival.
While it's true that most shops, restaurants, and attractions in Pigeon Forge have parking for customers, vacationers coming for major events are encouraged to use these parking lots instead.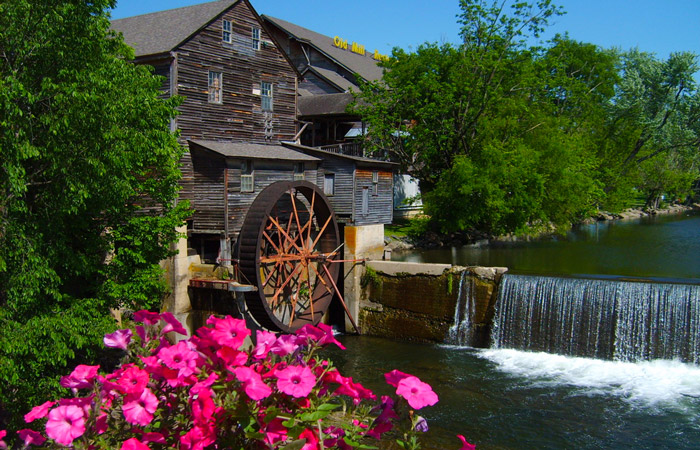 Places To Find Free Parking in Pigeon Forge
Patriot Park
186 Old Mill Ave, Pigeon Forge, TN 37863
Patriot Park on the banks of the Little Pigeon River offers lots of free parking. Not only is this area close to the Historic Old Mill, but it's also home to the main trolley office in Pigeon Forge. From here, visitors can catch the trolley to access:
The North Parkway
The South Parkway
Dollywood
The Gatlinburg Welcome Center
For more information on the Pigeon Forge Trolley, visit this website and use this trolley map to plan your route.
Not only is parking at Patriot Park free, but using the trolley service is cheaper than paying for parking at destinations like Dollywood Theme Park.
From Patriot Park, you can also access the Riverwalk Greenway and the Pigeon Forge Parkway. Most of the Pigeon Forge Parkway is pedestrian friendly complete with crossing signs and sidewalks.
Pigeon Forge Municipal Parking Lot
2936 Teaster Lane Pigeon Forge, TN 37863
Located just a short walk from the LeConte Center in Pigeon Forge, you'll find the Pigeon Forge city lot. This parking area is ideal for attending conferences and events at the LeConte Center and this area also offers plenty of parking year-round. There are 1,500 spaces in this lot, so you won't have a problem finding a space.
As an added perk, you can also get free trolley transportation to Patriot Park, where you can access every trolley route in Pigeon Forge. You can also access the Riverwalk Greenway, so you can stroll to fun attractions like The Island or The Historic Old Mill.
Pigeon Forge Parking at the Island
131 The Island Drive, Pigeon Forge, TN 37863
While this parking lot is for visitors going to shops, attractions, and restaurants at The Island, many visitors wonder where they can find parking for the Island. Visitors can park at this lot at no cost.
Map of Free Parking in Pigeon Forge
Final Thoughts
For finding free parking for Rod Run and other major events in Pigeon Forge, we recommend using the Municipal Parking lot on Teaster Lane and the parking area at Patriot Park. These parking areas provide quick access to the Pigeon Forge Trolley System, so you can easily reach any destination on the parkway without having to worry about parking.
Luckily, most shops, restaurants, and attractions in Pigeon Forge offer plenty of parking spaces for customers, so you should have no trouble finding parking during your Smoky Mountain vacation!
Written by Mark Frazier