Looking for unpaved gravel or dirt roads to explore in the Great Smoky Mountains National Park?
Check out this handy guide with the best scenic unpaved roads in the Smokies!
Whether you're just interested in exploring more remote areas of the national park or you want to take your Jeep for an adventure in the mountains, these routes are the perfect way to explore the wilderness of the Smokies from the comfort of your vehicle!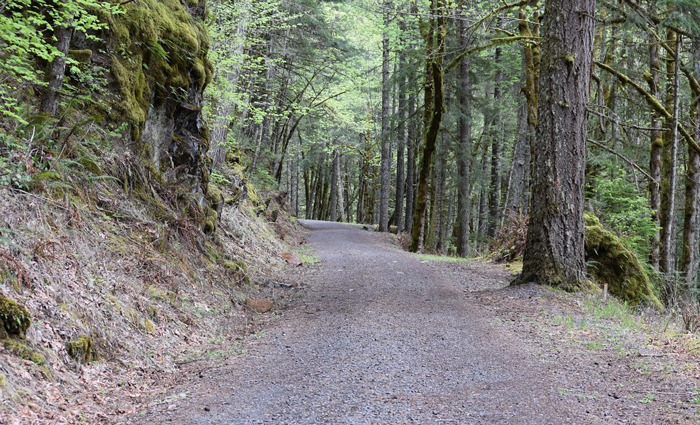 1. Greenbrier Road
The Greenbrier area of the national park is entirely unpaved and the scenic roads inside are around 4 miles in length.
Greenbrier road follows along a beautiful stretch of the Little Pigeon River where there are several spots for fishing and swimming. Once you arrive in Greenbrier, you'll find trailheads for several popular hikes including Ramsey Cascades Trail and Porters Creek Trail, an excellent route for exploring old homesteads in the Great Smoky Mountains National Park.
2. Forge Creek/Parson Branch Road
Please Note: This gravel road is currently closed to vehicle traffic due to tree hazards. It is open to hikers, horseback riders, and bicyclists. This route is also closed during the winter months.
This 8 mile, the one-way road begins just after the halfway point of the Cades Cove Loop. On the way, you'll cross 18 creeks and see lots of beautiful creek scenery. A vehicle with 4-wheel drive is recommended for safely traveling this route.
Parson branch road ends at US 129, known as the "Tail of the Dragon." This curvy paved route is popular with motorcyclists and it's an excellent way to explore the Fontana Dam area just outside of the Great Smoky Mountains National Park.
3. Rich Mountain Road
This curvy mountain road also begins from the Cades Cove Loop road.
This 12-mile route features some beautiful scenery and it's rarely traveled. At Cades Cove Missionary Baptist Church, you'll find Rich Mountain Road branching off to the right. This curvy unpaved gravel route makes its way up over a mountain ridge, before descending into the neighboring valley of Townsend.
4. Tremont Road
The upper section of Tremont Road, past the Great Smoky Mountains Institute, turns into a gravel road. This route follows a lovely mountain stream with several waterfalls. This unpaved route is only about 3 miles in length, but the surrounding scenery is exceptionally beautiful.
The road ends at the Middle Prong Trail Trailhead, where you can enjoy an easy waterfall hike. Additionally, you can find the trailhead for Spruce Flats Falls at the Tremont Institue during your visit.
5. Cataloochee Road
Explore historic buildings and get a chance to see wild Elk when you visit the Cataloochee area of the national park. A gravel road winds through this valley that was once the largest settlement in the Great Smoky Mountains National Park. On your way, you can enjoy views of 6000' mountains and imagine what life was once like in this isolated community in the mountains.
6. Balsam Mountain/ Heintooga Ridge
This secluded route begins just off of the Blue Ridge Parkway near Cherokee, NC. The Heinatooga-Round Bottom road is around 14 miles in length. It begins at an elevation of 5,535 feet and descends about 2,000 Ft, so it's a great way to explore the biological diversity of the Smokies. This route is closed during the winter months.
On National Park maps, this gravel road is known as Balsam Mountain Road, but the signage for this route calls it, Heintooga Ridge.
Map of Gravel Roads in the National Park
A Note on Back-road Safety
Please drive safely while exploring these routes. Most gravel roads in the national park are in good condition, but we recommend using caution on these roads. Keep an eye out for other vehicles and wildlife and even the occasional downed tree. Cell signal is often poor in these areas, so it may be a while before you are able to call for assistance.
Final Thoughts
Scenic gravel roads in the national park are the perfect way to explore the beauty of the Smokies, plus they give you a sense of adventure or even take you back to a simpler time.
You can even rent a Jeep for your trip, so you can explore these beautiful mountain roads with the top down!
Written by Mark Frazier